How have cinnamon rolls gotten by all these years calling themselves breakfast? Cake gets classified as dessert with all it's sweet layers, but somehow if it's rolled up rather than stacked up it's fine for morning time?? Plus cinnamon rolls have filling AND frosting! Two creamy, sweet, normally sugar-laden components yet it's still allowed before 10 a.m.? It's a double standard I tell you.
Now these cinnamon rolls, these can reasonably be classified as breakfast. A dough made with sweet potato. A filling made with dates, sugar optional. No oil or gluten. A much healthier morning meal than anything that pops out of a cardboard tube.
Frosting. I just used coconut whipped cream to top these swirly sweet rolls. You could thin out the coconut whipped cream to more of a glaze consistency with non-dairy milk or the liquid from the can of coconut milk. Or you could just blend up a really easy date frosting like I used on the first trial with just dates and water.
Cinnamon rolls are something I've been attempting for a while, but I could never get the dough quite right. Inspired by this soft flexy flatbread I discovered that sweet potatoes make for a much more manageable gluten-free dough. And it's still soft after baking, especially those inside parts that are snuggled next to the delicious date filling!
I do suggest baking them in a muffin pan otherwise they turn into cinnamon blobs instead of rolls.
A spiral of gooey cinnamon caramel wrapped in a soft sweet potato dough perfect to tear apart and eat as sticky layers or even better with a cloud of coconut on top. Now doesn't that sound enticing…
Print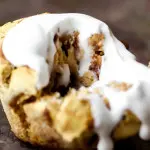 Oil-Free Cinnamon Rolls (Vegan + GF)
Prep Time: 45 minutes
Cook Time: 18 minutes
Total Time: 63 minutes
Yield: 8 rolls 1x
---
Sweet potato puree
2 cups diced sweet potato
1.5 cup water
Date paste
16 pitted Medjool dates
1 cup water
Dough
2 cups gluten-free all purpose (I used King Arthur's GF Blend which is gum-free)
1 cup tapioca flour
1 tsp baking soda
2 tsps baking powder
2 tsps apple cider vinegar
1 cup sweet potato puree (above)
3/4 cup date paste (above)
1 tsp cinnamon
Filling
1 cup date paste (above)
1/3 cup coconut sugar (optional)
1 tsp cinnamon
Frosting
1 can full fat coconut milk (chilled)
2 tbsps maple syrup or powdered sugar
---
Instructions
Sweet potato puree: Combine the sweet potato and water in a sauce pan. Cover and boil until tender. Cool for a few minutes then blend till smooth. Set aside.
Date Paste: Blend the dates and water on high until smooth. Set aside.
Filling: In a bowl, stir together 1 cup of the date paste, the coconut sugar, and the cinnamon.
Dough: In a large mixing bowl combine the flours, baking soda, baking powder, and cinnamon. Gently stir.
Add the the remaining date paste (about 3/4 cup), 1 cup of the sweet potato puree, and the apple cider vinegar. Mix with your hands to form a soft supple dough.
To assemble: Preheat the oven to 350F.
Press/roll out the dough on a piece of wax paper to about 1/2 inch thickness. Try to keep it as rectangular as possible.
Sprinkle the side facing up with flour. Cover with another sheet of wax paper and flip so the flour side is down. This will ensure it doesn't stick as you roll.
Standing at one of the long sides, spread the filling on the 2/3 of the dough closest to you.
Using the wax paper to help you roll, roll the dough to form one long log. (See video if you are confused)
Slice off the tapered ends, then slice the log into 8 rolls.
Transfer the rolls to the muffin pan (lightly oiled) and bake for 16-18 minutes at 350F.
Frosting: Open the can and spoon out the solid part. Whip with the sweetener until smooth. You can thin it out to more of a glaze by adding more of the liquid left in the can.
Once the roll are cool, frost and enjoy!
---
Oil-free cinnamon-filled soft sweet swirly cinnamon rolls! #vegan #glutenfree
Click To Tweet
SaveSave