I know I'm cutting it close with Thanksgiving only two days off, but at the last minute I decided to post some "real" food. So if pumpkin pie alone isn't enough of a meal for you, then I have a nutritious savory power bowl that gives an little nod to the traditional Thanksgiving feast.
You can pull this entire bowl together in about an hour. Yes that is a lot longer than I usually spend on one meal, but it's a lot faster than the usual Thanksgiving prep time. This bowl is perfect for a solo Thanksgiving or a vegan Thanksgiving amidst omnivores. But make sure to leave a little extra of everything, because most likely your family and friends are going to be at least somewhat intrigued by the plant-based goodness you're having.
Tangy cranberry sauce that gets it's sweet side from fruit juice and maple syrup.
Lentils simmered till soft and seasoned with the herbs typical of gravy.
Brown rice and veggie "stuffing".
Sweet potato cubes baked till crispy.
A bed of baby greens.
Thanksgiving meals usually end up as a hodgepodge of helpings from different dishes all jumbled on one plate, so why not just start that way…
Print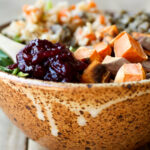 Thanksgiving Power Bowl
---
CRANBERRY SAUCE

12 oz

. fresh cranberries
Juice of

one

orange
Zest of

one

orange

3/4 cup

pineapple juice

1/3 cup

maple syrup
LENTILS

1 cup

lentils (pre-soaking optional)

1 cup

veggie broth

2 cups

water (only

1 1/2 cup

if pre-soaked)
Seasonings/herbs: thyme (rosemary, garlic, black pepper)
BROWN RICE STUFFING

2 cups

cooked brown rice

3/4 cup

chopped carrot

3/4 cup

chopped mushrooms

3/4 cup

chopped celery
SWEET POTATOES

1

medium sweet potato
For serving: mixed baby greens
---
Instructions
FOR THE CRANBERRY SAUCE: Combine everything in a saucepan. Bring to a boil. Reduce to simmer. Cook for about 30 minutes until thick. (I made mine the day before and refrigerated overnight)
FOR THE LENTILS: Combine everything in a pot. Bring to a boil. Reduce to simmer and cook uncovered for about 20 minutes.
FOR THE BROWN RICE STUFFING: Combine the carrots, mushrooms, and celery in a saucepan. Add 1/4 cup water or veggie broth. Bring to high heat, then reduce to medium, cover, and cook for about 5-7 minutes or until all the veggies are fork tender.
Add the brown rice. Cook for another 2-3 minutes to warm up the rice. Turn off the heat and mash with a potato masher until stuffing textured.
FOR THE SWEET POTATOES: Preheat the oven to 450F. Chop the sweet potato into large chunks. Spread out on a baking sheet lined with parchment paper. Bake at 450F for about ?25 minutes.
---
A very Happy Thanksgiving to you!