Before this week, I don't know that I had ever had a crepe. Certainly never made a crepe. Haven't even thought about crepes more than a handful times in my life. But this past week has been crepe crazy in my kitchen coming up with these Sweet Oil-Free Crepes!
Two requests for one recipe back to back is either a coincidence or the world telling me to crepe. Now!
But taking on a classic when I have zero experience is a daunting task. They are just a very thin, delicate pancakes with slightly lacey crispy edges in which you can wrap all sorts of fruit fillings, right? Okay good, we're on the same page. Funny how I'm always right when I type to myself 😉
Crepes. Just the word evokes all sorts of fancy feelings, something my palate is not. In France do they have #crepesunday while the rest of us are over here eating our fluffy stacks of cake?
Now of course I'll be breaking lots of crepe rules already because no eggs or milk or butter/oil or wheat flour. But I did my research. Since I am a complete crepe-making newb, I have to give credit to a few vegan crepe recipes I used as guidance…
– Vegan Gluten Free Crepes from Simple Vegan Blog
– Easy Basic Sweet or Savory Crepes from Unconventional Baker
– Chocolate Buckwheat Crepes from Vie de la Vegan's ebook
– Vegan Oat Spelt Crepes from Nadia's Healthy Kitchen
So how did I make them my own?
First, I used a combination of brown rice + oat flour to make them gluten-free and have great texture. All oat flour made them too gummy with the banana in there too. All brown rice flour made them too grainy. I tried a few other flours too, but this is my favorite combination.
I wanted to work fruit into them in some way, so for the liquid ingredients I used water + banana. Basically like making banana milk, but since the entire batter comes together in a blender you can just toss it all in with the flour too.
I also added in a teaspoon of baking powder. Perhaps this is crepe blasphemy, I don't know, but non-vegan crepes have egg which does do some leavening. The batches I tested with seemed to have a better texture, less risk of gummy insides, so I'm leaving it in.
Coconut sugar and a pinch of salt are both optional but suggested.
Knowing exactly what temperature and when to flip takes a little practice, so you might end up with one a little too brown the first time around. But if you just make 12 batches in one week like I did I promise they will be coming out perfectly browned every time very soon 😉
Thin delicious banana-based crepes for an elegant but easy breakfast! #Vegan, GF, and oil-free
Click To Tweet
Print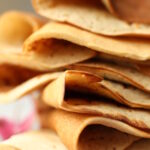 Sweet Oil-Free Crepes (vegan + GF)
Prep Time:

5 minutes

Cook Time:

5 minutes

Total Time:

10 minutes

Yield:

5

crepes

1

x
---
1 cup

water

1

ripe banana

1/2 cup

oat flour

1/2 cup

brown rice flour

1 tsp

baking powder
Optional
1 tbsp

coconut sugar
Pinch of salt
---
Instructions
Blend all the ingredients in a blender.
Heat a non-stick pan to medium-high heat (6 out of 10 on my stove worked best).
Pour about 1/4 cup of batter into the pan. Lift it off the heat and tilt/turn it to spread it as thin as possible.
Cook for 2-3 minutes or until the edges are loose enough that you can slide a spatula underneath.
Flip. Cook the second side for another 2 minutes.
Remove from the pan.
Repeat with the remaining batter. It should make 5 crepes.
Fill with your choice of fruit or enjoy on their own.
---
SaveSave