Soft simple Healthy Gingerbread Muffins that are holiday perfect plain or extra special dressed up with a sprinkle of sugar and dreamy frosting dollop! Vegan, gluten-free, oil-free.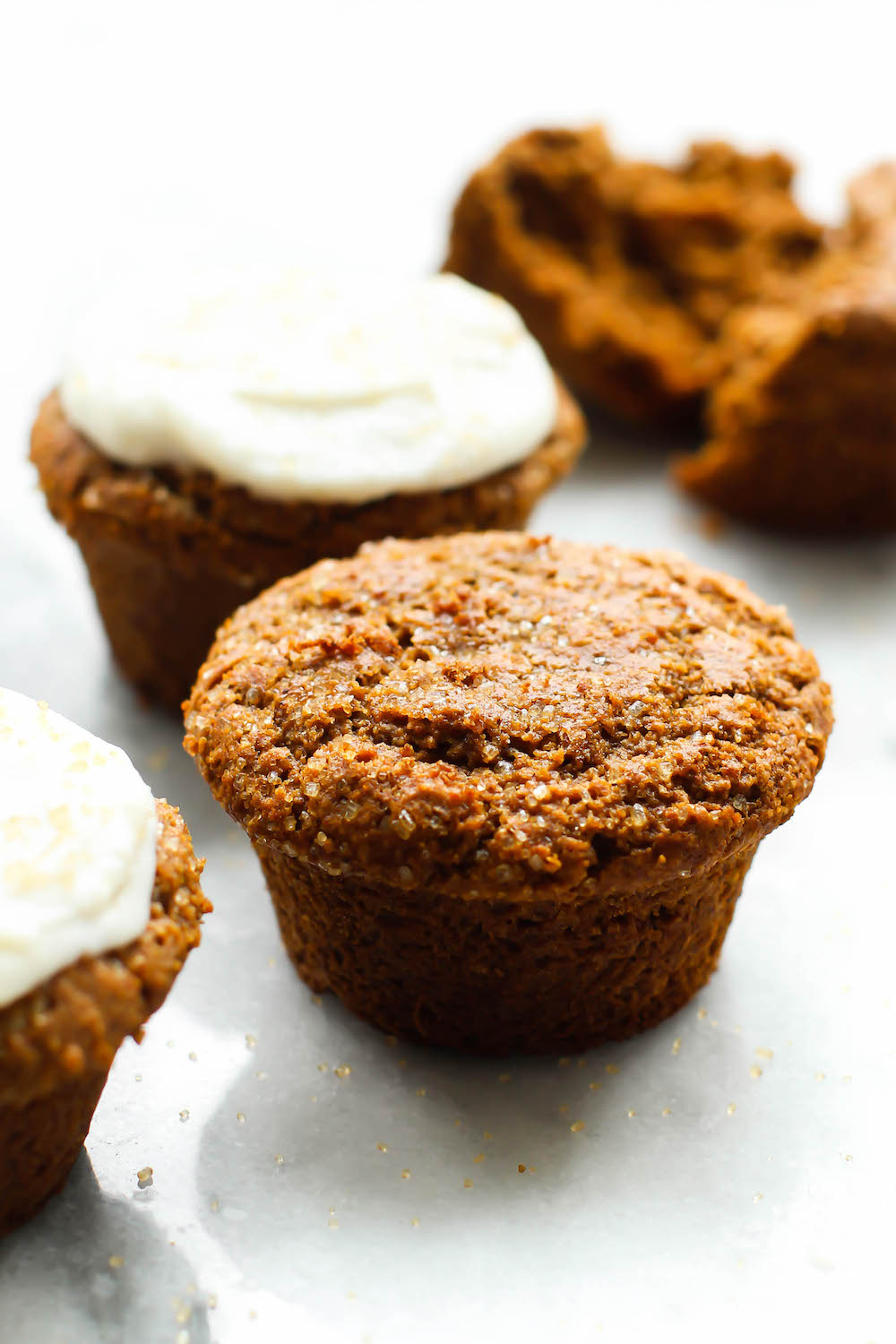 Just when you thought I had forgotten about gingerbread…nope, not even close! Now that it is actually December, posting countless gingerbread things feels less weird than when I started like a month ago. There are at least a couple more ginger spiced recipes coming up on FF, and those are just the ones I know about at this point. There's no telling what else my brain may gingerbread dream-up and beg me to make before Christmas.
I may have mentioned it before, but growing up there was lots of cookie baking in my house for the holidays, and every year my sister and I made cookie houses. Well maybe not every year, but from the age at which I was coordinated enough to use a piping bag up until the age at which it was no longer cool.
I say houseS with an 's' on the end because there was absolutely no sharing or joint effort involved. She hated gingerbread, I thought making a "gingerbread" house out of sugar cookie was a disgrace, so we both did our own thing.
She was much more ambitious than I was, making boats and tree houses and sky scrapers. They sometimes collapsed mid construction and rarely made it past 24 hours. But you know what collapsed cookie house tastes like? Still-standing cookie house. Cookie is cookie, and cookie is yummy. I on the other hand made most of my design decisions based on what candy I really wanted to eat afterwards (and during!), purposely over-buying just in case.
I always looked forward to cookie house day immensely–starting off with big plans and ending with a big stomach ache. Good times!
So I thought I would embarrass myself completely and dig up some old cookie house photos to share with you. Because that's what the holidays are all about right, sharing? Sharing things that no one really asked for, that's what I'm doing here today. And yes, yes I did crop myself out of the later ones because six year old me is much cuter than dorky glasses-wearing middle school me trying to pull off bangs…not a good look.
In the early days I kept things simple. Classic. Four cookie walls, white frosting glue, gum drop and candy cane landscaping, an obscene amount of M&Ms–that house could've come right out of a kit and saved my mom me lots of rolling, cutting, baking time. Where's your imagination little Natalie?? Also I have no clue where that photo was taken because we never had black countertops or a black table…?
Then I got a little more ambitious, pulling off a two story house with upper level balcony. Although the lack of an actual door or windows is a little concerning. And the next year I kept it simple (and rather squat) in shape but with a retro diner-floor-inspired roof. Don't mind the actual pound of frosting in the background with a spoon sitting in it…snacks for later.
There was the year I tried to go modern but the whole house ended up looking like it was melting. Except the Lifesaver chimney, that thing was on point! And the year I went 2D as if I was a theater set designer. And the year I made a castle complete with moat and penguin wearing a fuzzy chocolate hoodie. The year I ditched cookies completely, pretended pretzel sticks were Lincoln Logs (they are not), and built a log cabin. And no, the marshmallow insulation did not actually stay put between the logs.
And then the vegan year that I tried to make a veggie house. NOT recommended…stick to cookie! There were some years in between that I couldn't find photos from, but I think that is enough abysmal architecture for one day.
For days afterwards dessert would consist of tearing the entire thing apart, salvaging the best candy first, and leaving the boring candy canes behind along with stale cookie and dried-out too crusty icing.
So that's a little peak into holidays in my house growing up. And a peak into where my sweet tooth got it's start. Not the most nutritious tradition, but one that made for a lot of fun and delicious memories. And quite a few messy, crumbling-cookie disaster memories too!
There was even this one time in college I had my whole class build cookie houses as the hands-on component of a presentation in my interior design class, so I suppose I have these messy years of practice to thank for that grade.
Did you ever build a cookie house? If so, I need to hear all about it. Photos welcomed!
Anyways…back to the present day, non-horrendous photos, and more mature things. Muffins.
Why so much cookie talk in a muffin post? Because I posted these cut-out gingerbread cookies last year and that is still my go to vegan gluten-free gingerbread cookie recipe so I had to sneak this cookie talk into a non-cookie gingerbread post. Although it does makes me wonder, gingerbread muffin house…?
But these Healthy Gingerbread Muffins don't need the edible embellishments or frosting fanfare, they are already humbly holiday perfect just as they are. A sprinkle of sparkly sugar or a dollop of coconut frosting doesn't hurt of course, but simple, soft, warm from the oven still wins my most-delicoius-way-to-eat-a-muffin vote!
Print Healthy Gingerbread Muffins
Prep Time: 15 minutes
Cook Time: 25 minutes
Total Time: 40 minutes
Yield: 8 muffins 1x
---
Description
Soft simple Healthy Gingerbread Muffins that are holiday perfect plain or extra special dressed up with a sprinkle of sugar and dreamy frosting dollop! Vegan, gluten-free, oil-free.
---
1 ¾ cups oat flour
1/2 cup maple syrup
¾ cup pumpkin puree
¼ cup molasses
1 tbsp lemon juice
1 tsp vanilla extract
1/2 inch chunk fresh ginger
¼ cup tapioca starch
2 tsps baking powder
1 tsp baking soda
1 tsp cinnamon
½ tsp ground ginger
½ tsp cloves
Optional: coarse sugar for sprinkling on top
Frosting
¼ cup coconut butter
1 tbsp maple syrup
2–3 tbsp nondairy milk
1 tsp lemon juice
1 tsp lemon zest
---
Instructions
Preheat the oven to 350F.
In a blender combine the maple syrup, pumpkin, molasses, lemon juice, vanilla, and fresh ginger. Blend until combined and no chunks of ginger remain.
In a mixing bowl, combine the oat flour, tapioca starch, baking powder, baking soda, and spices. Stir.
Add the wet to the dry and mix until well combined and no lumps remain.
Line or lightly oil a muffin pan. Fill each muffin cup 3/4 of the way with batter, you should get 8-10 muffins depending on your pan.
Optional: sprinkle the tops with coarse sugar.
Bake for 25 mins at 350F.
Remove from the oven and allow to cool completely before frosting.
For the frosting, melt the coconut oil. Add the maple syrup, lemon juice, and lemon zest. Add the non-dairy milk 1 tbsp at a time until smooth and creamy. Use as a glaze or refrigerate for a firmer frosting.
---
---
Nutrition
Serving Size: 1 muffin
Calories: 200
Sugar: 20g
Sodium: 170mg
Fat: 2g
Saturated Fat: 1g
Carbohydrates: 43g
Fiber: 2g
Protein: 3g
Click Below To Pin
SaveSave