I always end up posting holiday recipes way too close to the actual holiday. But most of the world procrastinates anyways right, so maybe I'm actually right on time.
This Maple Mulberry Brittle has not a single ingredient in common with the classic nutty variety, but it's a very close mimic nonetheless. The texture is somewhere between brittle and lace cookie. The taste is extra sweet. And the ingredient list is very short.
It's the sort of sweet concoction that you won't want to stop munching. But you have to save some to crumble on top of your next bowl of nicecream, I promise it's topping perfection!
Maple Mulberry Brittle creation took a few tries…
Take 1: I tried cooking the sugars on the stove, true candy-making style. Got impatient, thought I smelt sugar burning, freaked out and turned it off before it ever reached hard crack temperature.
Take 2: I decided to step away from the stove and put down the candy thermometer. I know not all of you have a candy thermometer, and I know lots of specific temperature talk in a recipe can definitely make me run the other way.
So to keep it simple, I went for an oven alternative. Mix the mulberries and maple syrup dry, lay out, bake. Think extra sweet granola in one ginormous chunk. But the mulberries were too large and not absorbent enough, so it ended up a mulberry mess in a puddle of maple.
Take 3: Grind the mulberries! Small mulberry pebbles are the key to better brittle. I adjusted the ratio of maple syrup to coconut sugar a bit too. And success!
This brittle passes the hammer test–it shatters and snaps and is still sticky sweet, everything brittle should be. See for yourself…
Print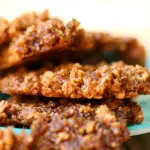 Maple Mulberry Brittle (nut-free!)
Prep Time:

10 minutes

Cook Time:

15 minutes

Total Time:

25 minutes

Yield:

6

-

8

pieces

1

x
---
1 cup

dried white mulberries

3

tbsps maple syrup

1/4 cup

coconut sugar
---
Instructions
Preheat the oven to 325F.
Process the mulberries in a dry blender on low speed or a food processor until they are in small chunks. Don't over process, you don't want them to become powder or start sticking together.
Add the mulberries, maple syrup, and coconut sugar to a bowl. Mix to coat the mulberries completely.
Spread out on a baking sheet lined with parchment paper or a silicon baking sheet.
Bake for 15 mins at 325F.
Remove from the oven, let it cool, then refrigerate for at least 4 hours.
Remove from the fridge and break apart into large chunks.
Keep in the fridge to retain the hard brittle texture. Or you can freeze if for an even harder texture.
---
SaveSaveSaveSaveSaveSaveSaveSaveSaveSaveSaveSaveSaveSaveSaveSaveSaveSave