The delicious oat + fruit + nut mix of bircher muesli turned sweet crumbly streusel! On top of my favorite banana bread = perfect snacking. Vegan and gluten-free!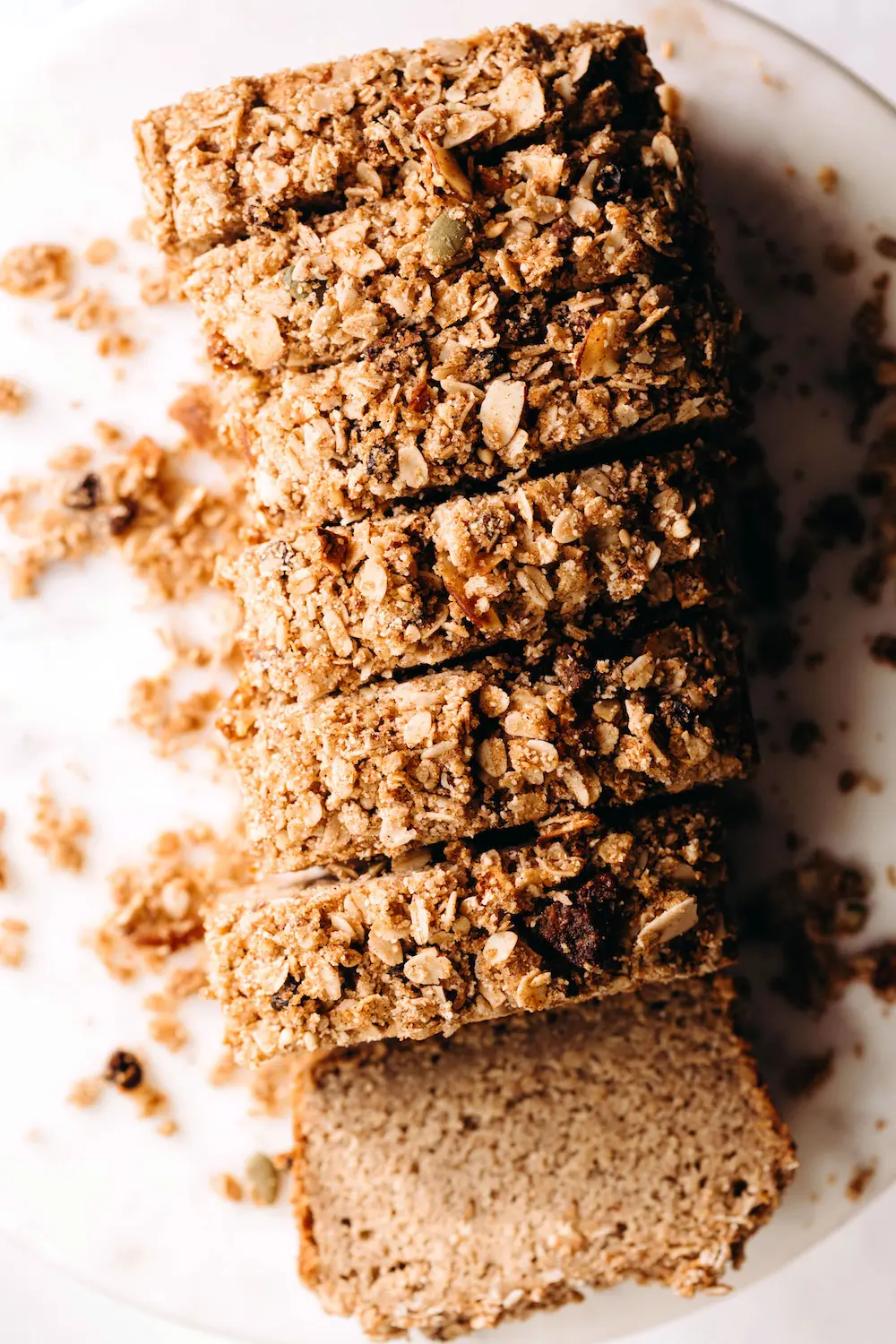 ---
When you take something already so perfect and wonderfully scrumptious and make it even MORE perfect and scrumptious with one simple little ingredient swap…that's what we're doing here. That something is streusel, and that ingredient is muesli, and its a match made in crumbly topping heaven!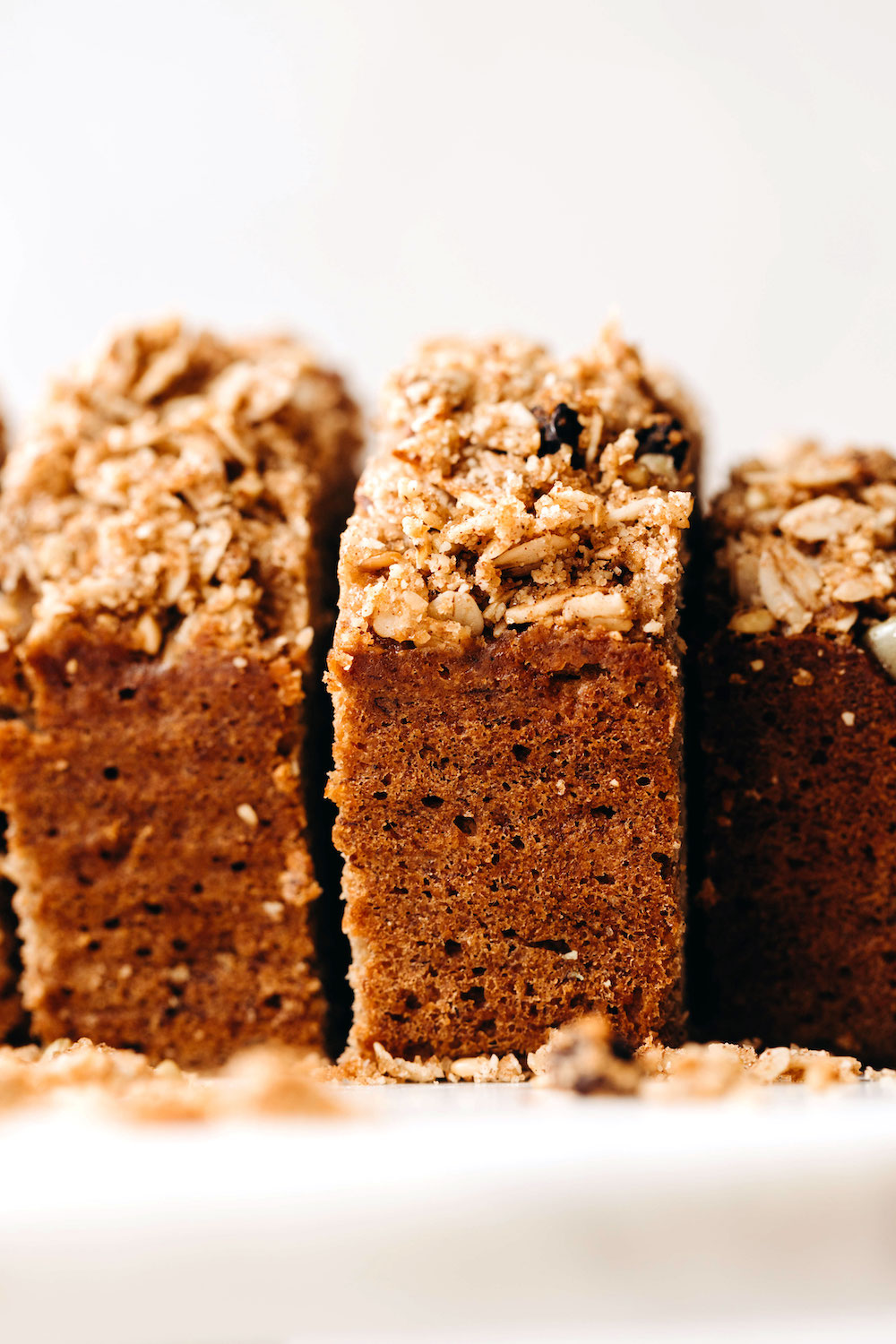 How To Make Muesli Streusel
This might seem upside down, but we're going to talk about the topping before the loaf because a) I am just reeeeeeeally excited about the topping and b) this streusel could be a standalone recipe ready to be sprinkled on any flavor of cake or muffin or loaf bread you wish. It's really more of an idea than a recipe, but I'm going to give you measurements and amounts too of course. We are using:
Seven Sunday's Classic Bircher Muesli. The star of this streusel, and my favorite brand of muesli for many years now. I got hooked on their blueberry muesli a few years ago, and at this point I've breakfast-ed my way through all the flavors. For streusel making I decided to go Classic Bircher, but any variety would be yummy. It's filled with oats, buckwheat, almonds, currants, dates, apples, cinnamon, cardamom, pumpkin seeds, coconut chips, and more! All of which are very delicious additions to a crumbly sweet streusel topping, that one cup of muesli brings a LOT more flavor than one cup of oats ever could.
Almond flour. In addition to the streusel, you meed a little bit of flour to help it all bind and meld together. The naturally high oil content and non-gumminess of almond flour is perfect for streusel.
Coconut sugar. Or brown sugar would be fine too.
Coconut oil. The liquid ingredient out streusel needs to be moist and just sticky enough.
Cinnamon. Feel free to add in any other warming spices you love.
And a pinch of salt.
Toss it altogether and mix until sticky and crumbly and well combined, a fork or fingers work best. This is a generous amount of streusel for one loaf, I like to overload mine personally, but you may have a little extra if you don't pile it on as heavily as I do.
And if you've never tried any of Seven Sunday's wonderful mueslis, you can shop with the code FEASTINGONFRUIT for 30% off. Their cereals are amazing as well, I highly recommend adding a few flavors of those to your cart too!
My Favorite Fluffy Vegan Gluten-Free Banana Bread Recipe
The streusel is the main attraction of course, but it needed a trusty well-loved loaf to go underneath. Banana bread is always an easy wholesome way to go, and this is my favorite vegan and gluten-free recipe. Made with a mix of oat and almond flours, the texture is moist and pillow-y without any hint of gumminess or need for fancy flour blends. Sweetened with a little coconut sugar in addition to the bananas, and spiced up with cinnamon and cardamom inspired by the muesli on top. I personally prefer to blend the bananas with the wet ingredients instead mashing by hand, I find it easier this way, but if you really want those banana chunks you can mash instead. As soon as you slice in you'll see why this is my go-to recipe…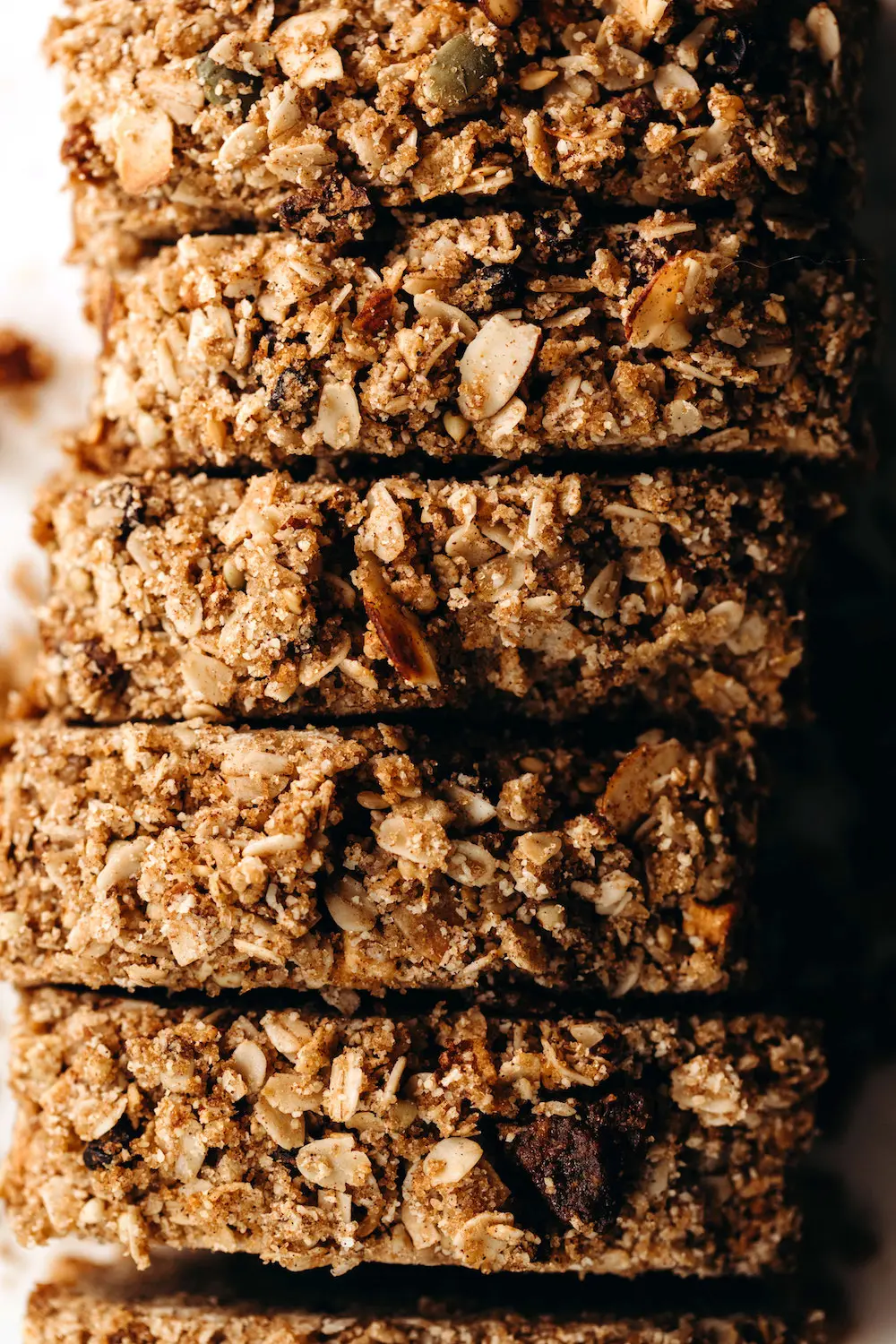 More Yummy Loaf Breads You'll Love
Print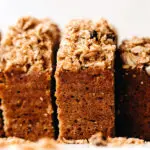 Muesli Streusel Banana Bread
Author:
Prep Time: 10 minutes
Cook Time: 55 minutes
Total Time: 1 hour 5 minutes
Yield: 10 slices 1x
Category: bread
Method: baking
Cuisine: american
---
Description
The delicious oat + fruit + nut mix of bircher muesli turned sweet crumbly streusel! On top of my favorite banana bread = perfect snacking. Vegan and gluten-free!
---
Banana Bread
1 cup (~250-300g) overripe banana
1/2 cup (70g) coconut sugar
1/4 cup (50g) coconut oil
1/2 cup (120g) almond milk
1 tsp vanilla extract
1 tbsp apple cider vinegar
1 1/2 cups (180g) oat flour
1 cup (120g) almond flour
2 tsps cinnamon
1/2 tsp cardamom
2 tsps baking powder
1/2 tsp baking soda
1/4 tsp salt
Muesli Streusel
1 cup (120g) Seven Sunday's Classic Bircher Muesli (use code FEASTINGONFRUIT for 30% off!)
1/4 cup (30g) almond flour
1/4 cup (35g) coconut sugar
1/4 cup (50g) coconut oil
1 tsp cinnamon
Pinch of salt
---
Instructions
Preheat the oven to 350°F, and grease or line an 8×4" loaf pan with parchment paper.
Blend bananas, coconut sugar, coconut oil, almond milk, vanilla, and apple cider vinegar.
In a mixing bowl, whisk together flours, cinnamon, cardamom, baking powder, baking soda, and salt.
Add wet to dry and mix to combine.
Pour into the prepared loaf pan and smooth the top.
In a separate bowl, combine all the streusel ingredients and toss with a fork until evenly moist and crumbly.
Sprinkle on top of the batter and press in gently.
Bake 50-55 minutes at 350°F. To test for doneness, the center should bounce back when lightly pressed.
Cool 10-15 minutes in the pan, then move to a cooling rack to cool completely.
---
Keywords: gluten free, easy, snack, dessert, healthy streusel, oat, dairy free
CLICK BELOW TO PIN