Sweet, spiced, and so easy, these No-Bake Gingerbread Bars are a perfect healthy vegan on-the-go snack. Dreamy coconut butter glaze optional, but makes them extra delicious!
I just realized I am unconsciously falling into a gingerbread mondays pattern. Or I suppose since this is the internet I should say #gingerbreadmonday although that really is the opposite of catchy.
Last week there was nice cream. This week these delicious date bars. Next week I have something baked and deliciously ginger-spiced planned. I didn't mean for it to happen, I just love gingerbread and can't think of a better way to start off any winter-y week. And yes I do know that it's technically still fall, but in my mind once I have to trade shorts for pants it's basically winter.
These bars are inspired by Larabar's seasonal gingerbread flavor, but much easier to find. They tend to frequent food processors, so look there first. Dark brown, sticky, cinnamon-fragrant, just sitting and waiting to be turned from dough ball to bar. My version is made with oats instead of almonds and cashews, so they are lower in fat and nut-free. Also, I added molasses because in my opinion that is gingerbread essential.
Now can we just take a moment to imagine how amazing one of these bars broken up into chewy ginger-spiced pieces and stirred into this would taste…(you better be doing it too, don't make me do all the imagining by myself)…mmmm I will be testing that out that very soon!
But now let's address the creamy, white, drizzled-on elephant in the room post–the glaze! No it's not low-fat. Yes it did take me 4 tries to get right. No it is not at all necessary to glaze a snack bar (but zero regrets). Yes it is as dreamy as can be…
The glaze is made with 3 ingredients: coconut butter, maple syrup, and non-dairy milk. I have tried making low-fat glazes before but they always just soak in or melt off much to fast and end up everywhere except on top of the food. To avoid using coconut oil, I turned to it's thicker, less-processed cousin: coconut butter. And what I've learned is that it is one tricky beast!
Too cold–it's clumpy. Too hot–it's clumpy. Stir it counter-clockwise instead of clockwise–it's clumpy. Okay maybe not that last one, but it is very temperamental. Like the Goldilocks of food. But with some guidance from Arman (who I'm pretty sure is also the coconut butter whisperer) I finally managed to get a perfect pours-off-the-spoon-but-not-the-food glaze. And then, of course, tested it 2 more times just to make sure I had it figured out before sharing.
Once you get it right it has a marvelous texture for drizzling, I find myself wanting to put it on everything. And if you follow this glaze recipe then refrigerate it overnight, it turns into a wonderfully spreadable frosting.
If you want a lower-fat alternative for drizzling on top of these bars (and everything else), might I suggest this -> Silky Sweet Date Caramel Sauce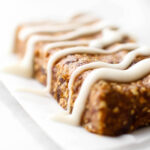 No-Bake Gingerbread Bars
Prep Time: 10 minutes
Cook Time: 60 minutes
Total Time: 70 minutes
Yield: 4 bars 1x
---
Description
Sweet, spiced, and so easy, these No-Bake Gingerbread Bars are a perfect healthy on-the-go snack. Dreamy coconut butter glaze optional, but extra delicious!
---
1 cup pitted Medjool dates
1 cup rolled oats
1 tsp cinnamon
1 tsp ginger
2 tbsp molasses
Glaze
1/4 cup coconut butter
1–2 tbsp maple syrup
2–4 tbsp nondairy milk
---
Instructions
Combine all the ingredients for the bars in a food processor. Process until it forms a sticky ball of dough.
Press into a rectangle.
Refrigerate for at least 1 hour.
To make the glaze, microwave/warm the coconut butter slightly until it is soft and melty. Add the maple syrup and 1 tablespoon of nondairy milk. Stir vigorously. Keep adding nondairy milk 1 tablespoon at a time until you reach a drizzle-able consistency.
Cut the rectangle into 4 bars. Top with glaze. Enjoy.
The bars will keep in the fridge for up to 5 days, but it is best to glaze them just before eating.
---
Click Below To Pin