I was in Trader Joe's the other day surrounded by oodles of tantalizing pumpkin breakfast items: pumpkin waffles, pumpkin chai latte mix, pumpkin muffins, pumpkin scone mix, pumpkin granola…
Suddenly I found myself craving a healthy, vegan, pumpkin-filled breakfast.
I could make my own pumpkin waffles…but I don't have a waffle iron.
I could make my own pumpkin scones…but I don't know how to make scones (I should probably tackle that at some point).
I could make a pumpkin pie and just eat that for breakfast…but I did that last year (and will probably do it again this year).
Rather than making my own cereal and putting the pumpkin in the cereal, I'm putting the cereal in the pumpkin…milk that is.
But it's from a box? Boxed cereal is not all bad, you just have to know which brands to buy. Nature's Path makes lots of fantastic organic, vegan cereals with short ingredient lists. Most of their varieties are vegan (a few contain honey), and those that are vegan indicate it underneath the ingredient list. This happens to be their Multigrain Oatbran Cereal.
Dousing your favorite flakes or o's in pumpkin milk is a really easy way to make your breakfast sweet and seasonal. Of course, extra fall-flavored toppings are always welcomed.
Print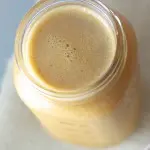 Pumpkin Spice Milk over Cereal
Prep Time: 5 minutes
Total Time: 5 minutes
---
2 cups non-dairy milk
1/2 cup + 2 tbsps of pumpkin puree
1/2 tsp pumpkin pie spice
2 tbsps coconut sugar (or 1–2 dates)
1 bowl of your favorite cereal
Toppings like raisins (dried or fresh apples, dried mulberries, a sprinkle of cinnamon, etc.)
---
Instructions
Blend everything together.
Taste, and adjust the sweetness if needed. You don't want it too sweet, it's not a milkshake after all.
Pour onto cereal.
The extra will last in the fridge, but be sure to shake it before using. Or just drink the rest like I did.
---
This is one bowl you'll want to slurp every last drop from.
Here's a little insight into how I take pour shots by myself with no tripod. You gotta be resourceful, right? (Hi Dad, thanks for the camera, I'm taking good care of it!)