Homemade Pumpkin Spice Truffle Bars with a fluffy date-sweetened filling and decadent chocolate shell. No trick just a super yummy healthier halloween treat!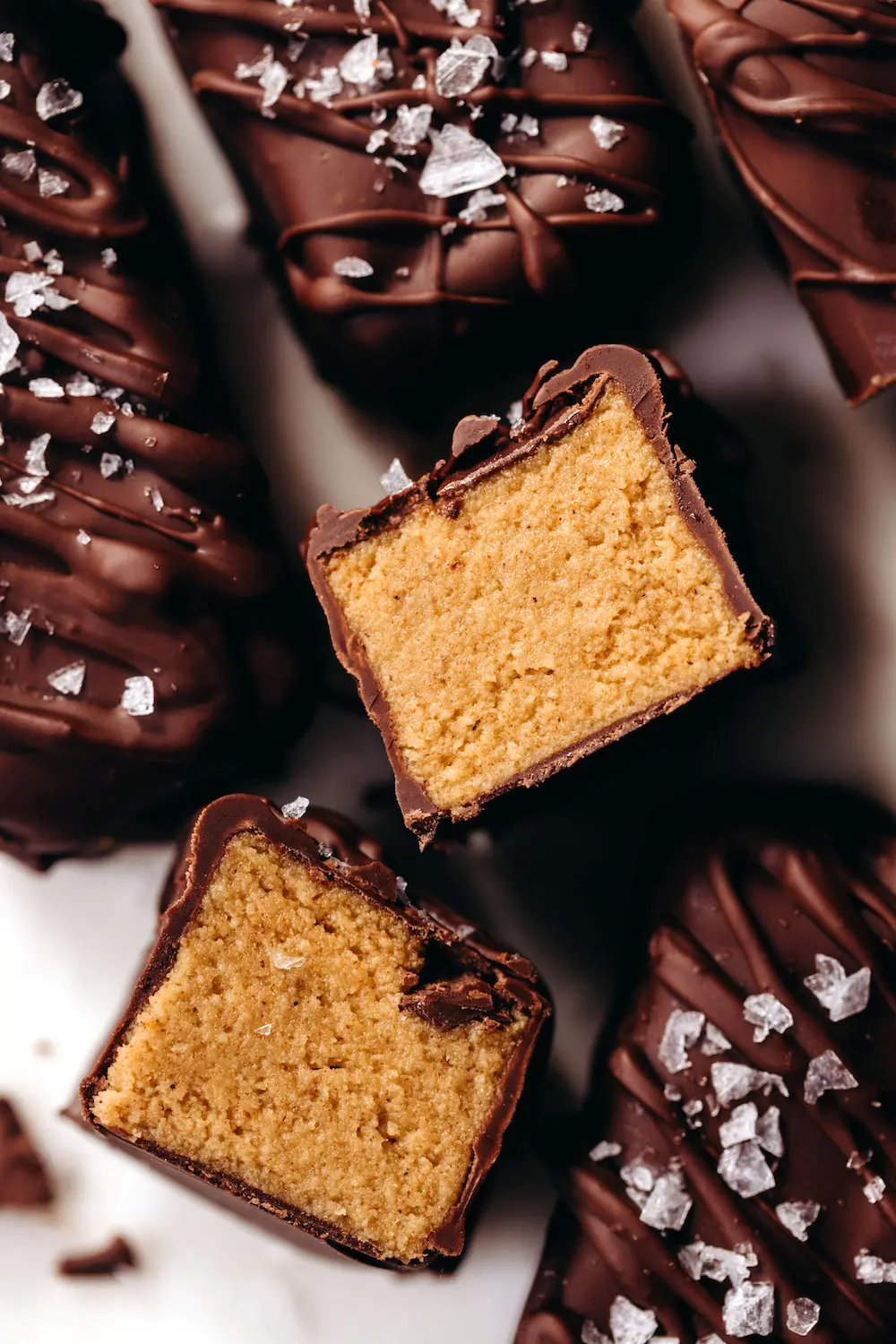 ORIGINALLY POSTED ON OCT 26 2017
---
There are a few things I've been wondering lately…
Were you a plastic pumpkin or pillowcase kid?
Does the trick part of trick-or-treat seem like an empty threat to you too?
Did anything as tantalizing as a Pumpkin Spice Truffle Bar ever find it's way into your sweet stash?
While I eagerly await your nostalgic halloween story time answers to numbers 1 and 2, I can answer number 3 for all of us: NEVER. Because a bar quite like this doesn't exist in the world of packaged and too-perfect candy. There is no pumpkin pie meets 3 Musketeers meets vegan/paleo bar on the market. I checked.
Even if your best witch or mummy or blue green dappled dragon (just me?) years are behind you, do yourself a favor: Make a big batch of these. Pile them into a plastic pumpkin. TREAT yourself! Kay fine, you can skip the plastic pumpkin part. But it may or may not affect the flavor – we do eat with our eyes first.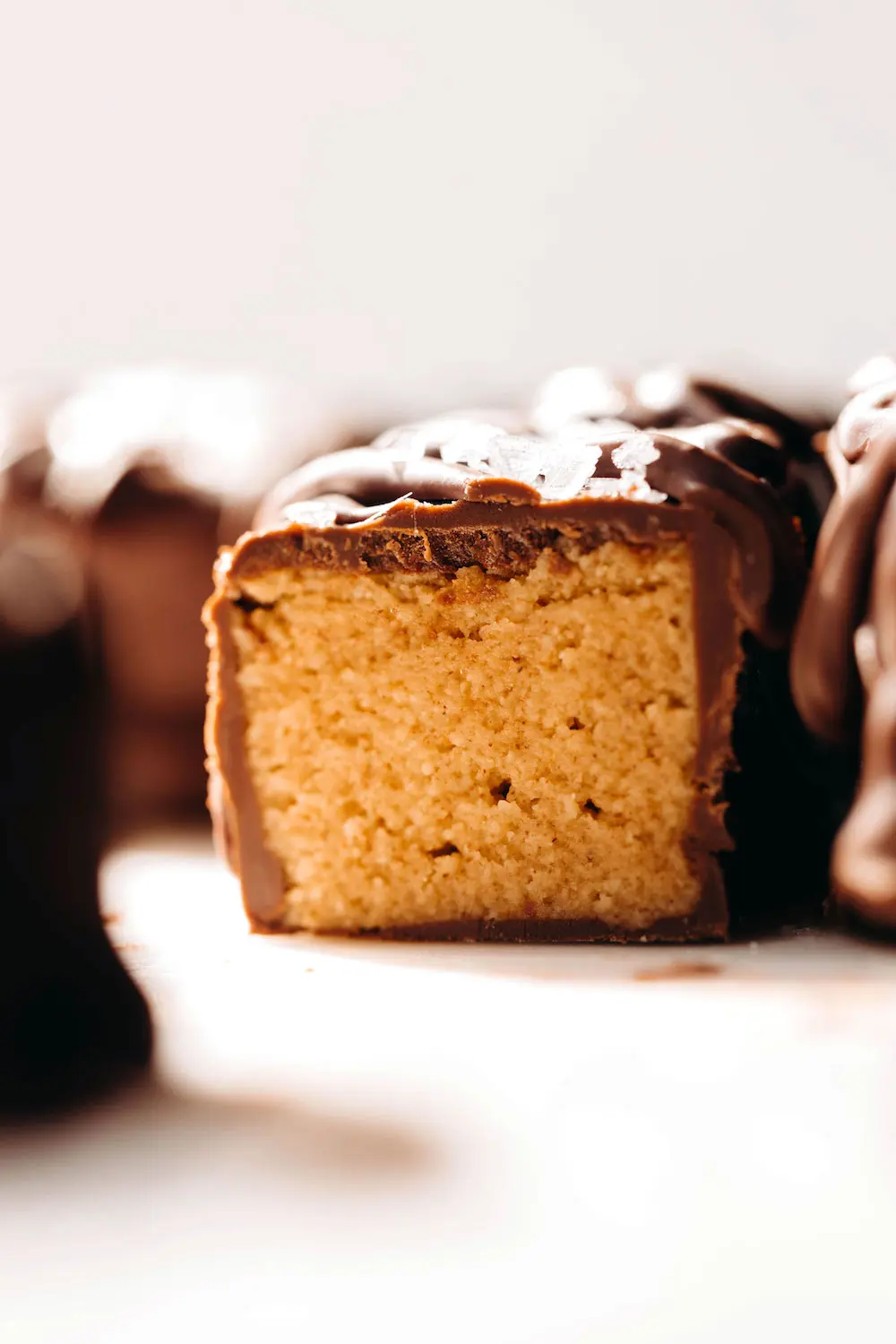 I adore every chocolate-blanketed bit of these bars, but if I had to pick a favorite part it would be the fluffiness of the filling. The magical, mind-blowing, how-does-this-taste-like-mousse filling. A texture that can only be achieved through the combination of date paste + coconut flour.
Since it's Pumpkintober October the date paste happens to be pumpkin spiked. And generously spiced. And made with my most favorite medjool dates ever from Natural Delights. Homemade and healthier halloween dreams coming true right now thanks to them. Like if we were at a costume party and you were a unicorn and I was Cookie Monster they would be Superman swooping in with gooey delicious dates for sweetening all the spooky snacks. That's a very adult thought to have, right?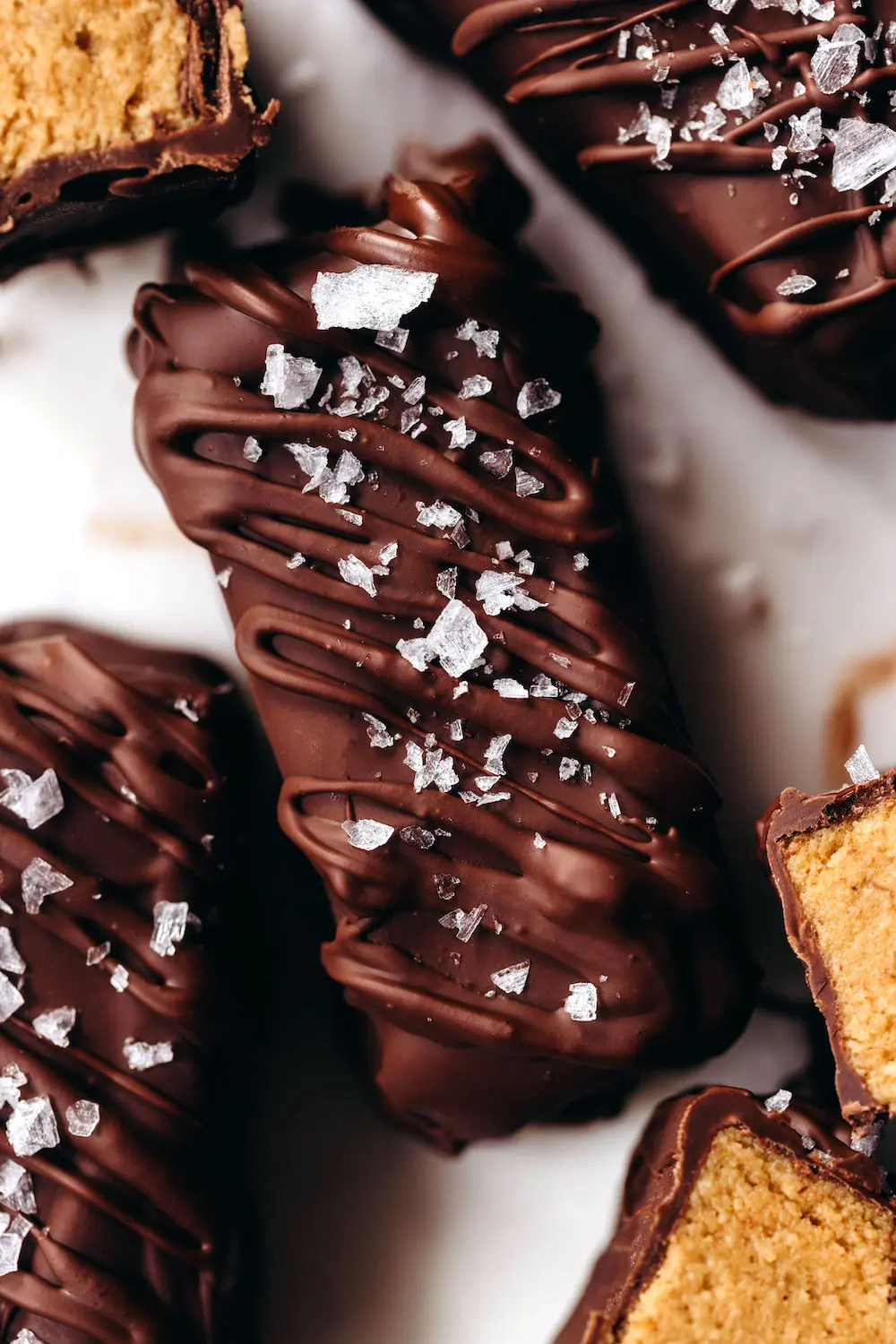 But seriously. So many homemade versions of candy classics are possible with medjool dates: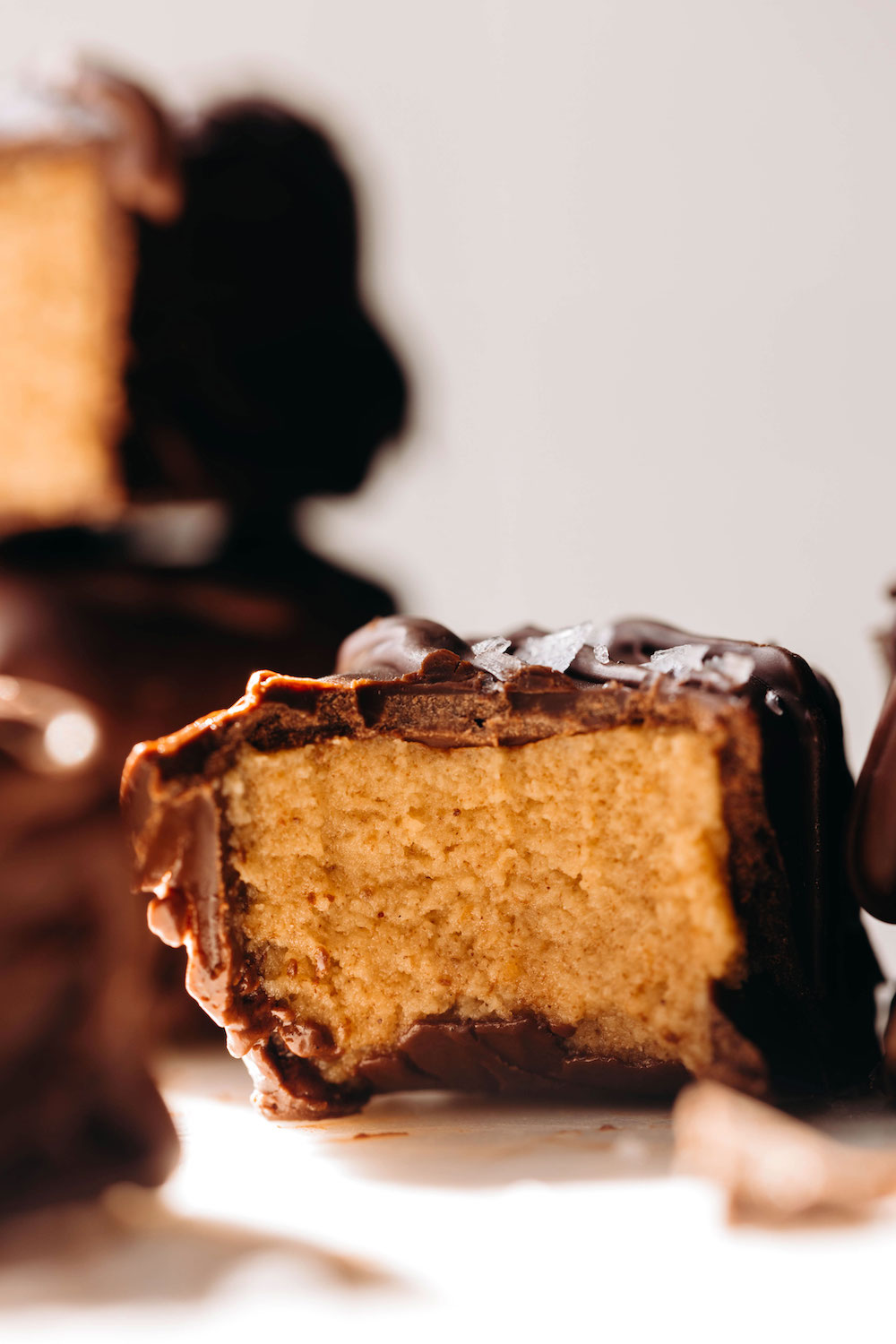 But back to these bars.
The thing about date paste is it contains a lot of water and nothing heavy or high in fat. So then when you add coconut flour and it does it's weird spongey absorptive thing, you are left with a light almost airy texture perfect for freezing, cutting into rectangles, coating in chocolate, chilling, and biting into with utter amazement.
For that reason I do not recommend subbing any other flours. For that reason I DO recommend making these Pumpkin Spice Truffle Bars really really (now!) soon.
Print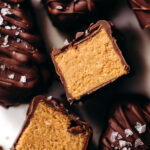 Pumpkin Spice Truffle Bars
---
Description
Homemade Pumpkin Spice Truffle Bars with a fluffy date-sweetened filling and decadent chocolate shell. No trick just a healthier halloween treat!
---
1 cup

(

250g

) pumpkin puree

1/2

–

2/3

cup water

8

–

10

pitted (

160g

) medjool dates

1 tbsp

pumpkin pie spice
Pinch of salt

3/4 cup

(

85g

) coconut flour

1 cup

(

170g

) chocolate chips
---
Instructions
In a high speed blender combine the pumpkin, dates, water, spice, and salt.
Blend on high until smooth, adding more water slowly as necessary to blend until you have a thick paste.
Transfer to a mixing bowl and add the coconut flour. Mix to form a ball of dough
Shape the dough into a rectangle approximately 3/4 inch thick.
Freeze for at least 2 hours until firm.
Melt the chocolate chips. (Optionally add 1-2 tablespoons of coconut oil for a thinner smoother coating.)
Remove the dough from the freezer and slice into 12 rectangles.
Dip each into the melted chocolate coating on all sides. Transfer to a pan or plate lined with wax paper.
Refrigerate until the chocolate is firm and then enjoy! Keep in the fridge for up to a week.
---
CLICK BELOW TO PIN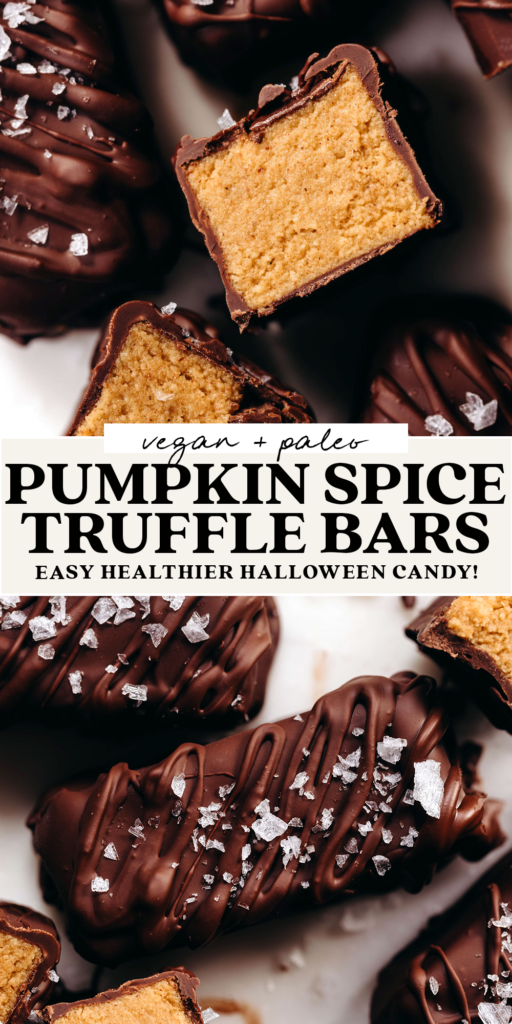 Thank you Natural Delights for sponsoring this post!