Your favorite fall pie meets gooey cookie goodness in these Pumpkin Pie Magic Cookie Bars with pecan crust, date-sweetened filling, and lots of chocolate chips!

Not to say pumpkin pie isn't already magical enough, because I firmly believe it is. But I never say no to extra magic. And if magic = coconut whipped cream on top I am a-okay with extra of that too.
You guys thought I was crazy about ice cream. HA. That obsession is nothing compared to my obsession with pumpkin pie. The first official month of fall came, the canned good shelf of my pantry became the canned pumpkin shelf, and my imagination began plotting new twists on pumpkin pie almost immediately. This is still my go-to classic crust + filling style recipe, but there is so much space left (in the world and my pumpkin-loving stomach) for un-classsic orange-spiced experimentation.
And these Pumpkin Pie Magic Cookie Bars are pie un-classic in a step-aside-circles-where-have-these-squares-been-all-my-life! kinda way.
I posted a couple of vegan magic cookie bar recipes over the summer – the original and the blueberry version. Neither use or require making your own sweetened condensed milk. Both have been BIG hits. But these.
Dare I say better than original version? I dare.
Dare I say better than pumpkin pie? You tell me – does pumpkin pie have chocolate chips baked in? I think we both know the answer then.
This magic bar version is a little different though, in ways other than the obvious orange-ness. And you can thank the beautiful people over at Natural Delights for that. For gracing us all with their most delectable Medjool dates, which are pretty much magic materialized into fruit form, and inspiring me to make this magic cookie bar version even easier/healthier/fruitier than any that came before it. This version is 100% fruit-sweetened from gooey delicious top to chewy cookie bottom.
(P.S. Have you spotted the Pumpkin Pie Spiced Date Rolls yet this year? Cannot wait for those to return!)
The cookie crust. Do you know what pairs just swimmingly with pumpkin and it's posse of warming spices? Pecans. It's a new-ish fact in my life that I'm still processing and testing as often as possible, but I think I believe the hype. This nugget of nutty knowledge is what led me to jump out of my almond flour rut and revisit the good old date + nut crust, which I haven't made in longer than memory can recall.
It is a two-ingredient technique often reserved for raw treats, but it bakes into a delicious cookie base too. You will need a blender or food processor to break down and blend up these two whole food ingredients, but it only takes about 10 seconds to make and maybe a minute longer to press into the pan. Give or take 30 seconds depending on how much of a perfectionist you are with these sorts of tasks.
Any type of nut will work if pecans aren't our thing, or even seeds of some sort to skip the nutty-ness entirely.
Pumpin pie layer. Now comes the really good stuff. The stuff before was good too, but not make-you-want-to-lick-every-inch-of-your-blender good.
These may be magic cookie bars, but in FOF fashion we are skipping the sweetened condensed milk in favor of fruitier things. I did not use bananas this time because I didn't want them to compete with the pumpkin pie flavor, so instead I used a combination of pumpkin puree (I always go with organic because it just tastes better) and Medjool dates. You will also need non-dairy milk to help it blend, arrowroot starch to thicken and set as the bars bake and cool, and spices because it's fall.
Chocolate chips + coconut + more pecans. Sprinkled on, squished in, and off to the oven we go!
After baking the bars do need to chill overnight. But your patience will be rewarded. Pinky pumpkin pie promise.
Print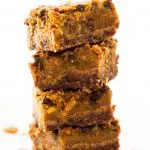 Pumpkin Pie Magic Cookie Bars
Prep Time:

15 minutes

Cook Time:

40 minutes

Total Time:

55 minutes

Yield:

6

squares

1

x
---
Description
Your favorite fall pie meets gooey cookie goodness in these Pumpkin Pie Magic Cookie Bars with pecan crust, spiced filling, and lots of chocolate chips!
---
Pecan Crust
1 1/2 cup

pecans ((or any nut will work))

6

–

8

pitted Medjool dates
Pumpkin Pie Layer
1 cup

pumpkin puree

8

–

10

pitted Medjool dates

1/2 cup

non-dairy milk

2 tbsp

arrowroot starch

2

tsps pumpkin pie spice

2/3 cup

chopped pecans

2/3 cup

unsweetened shredded coconut

2/3 cup

chocolate chips
---
Instructions
For the crust, combine the pecans and Medjool dates in a food processor or blender. Process until it forms a sticky crumbly mixture.
Press into the bottom of a baking dish (I used this 8×5″ glass dish) lined with parchment paper. Set aside.
In a high speed blender, combine the pumpkin, Medjool dates, non-dairy milk, arrowroot, and pumpkin pie spice. Blend on high until smooth and creamy. Add an extra 1 tbsp milk if necessary to get it to blend.
Pour on top of the crust.
Sprinkle a generous layer each of coconut, chopped pecans, and chocolate chips. Gently smush into the pumpkin layer.
Bake for 40-45 minutes at 350F or until the top is starting to brown and the center does not jiggle.
Cool, then chill overnight.
The following day, slice into squares and enjoy! Keep in the fridge for up to a week.
---
More pumpkin things in case you are obsessed too…
– Forget the crust, and just skip straight to the pumpkin part
– Abundant in pumpkin, spices, and cuteness
– You know what's great sandwiched in-between chocolate? Pumpkin.
– Making up for the lack of bananas in those magic bars
– Sugar-coated. Literally.
Pin It
This post is sponsored by Natural Delights, but all thoughts and opinions expressed are my own. Thanks for supporting the brands that make Feasting on Fruit possible!