SunButter Muddy Buddies! A healthier take on this favorite cereal snack with sunflower seed butter, plus options for my vegan, gluten-free, and paleo friends!
THIS POST IS SPONSORED BY SUNBUTTER.
---
On the list of Most Difficult To Stop Eating Snacks, this stuff is at the tippity top. It also ranks quite high on Most Likely To Hide From Housemates and the How Is This So Good? snack lists. So this is a recipe with a reputation.
If you've never tried muddy buddies (or puppy chow as some call it), oh friend are you in for a treat life changing experience. And if you've never tried making muddy buddies with SunButter, get ready for your muddy buddy love to go next level.
Because you know how peanut butter can sometimes be too PEANUT BUTTER-y, overpowering all the other flavors involved? But almond butter can be too NOT peanut butter-y at all? Well the flavor of sunflower seed butter is that perfect happy medium – nutty (even though it's nut-free!) but not in your face. You know it's in there, you know you like it, but it doesn't have to shout at you.
And that is why SunButter is our BBFF (best buttery friend forever).
Like I'm pretty sure this soft serve is at least 97% to blame, but my love for SunButter has been aggressive lately. The almond butter has been pushed to the back of my nut/seed butter shelf, while SunButter keeps finding it's way to the very front for blending and topping and all spoon-in-jar-eating purposes.
So I'm pretty jazzed to be teaming up with them again to bring you another recipe featuring this scrumptious seed butter stuff!
To healthy up this back-of-the-cereal-box classic just a little and give you lots of vegan/gluten-free/paleo options, you've got some choices to make…
The cereal. Traditionally muddy buddies are made with Rice Chex cereal, which is gluten-free and debatably vegan. But I get it, not ideal on ingredients. So instead try:
Barbara's Bakery Oat Crunch. Right shape. Better ingredients. But not gluten-free.
Barbara's Bakery Puffins Cereal. Right shape. Vegan. Gluten-free. A little more fragile, so you may end up with more muddy half buddies.
One Degree Organics Oat Os. Vegan. Gluten-free. Great ingredients. Wrong shape, but who cares.
Coconut Flakes Cereal. Vegan. Gluten-free. Paleo. Great organic ingredients (coconut meat, coconut water, palm starch). Wrong shape, but again not important.
Nuts/seeds/coconut flakes. Vegan. Gluten-free. Paleo. Obviously the texture will be quite different than most muddy buddies, but it works for a whole/real foods option.
Really any kind of unflavored cereal will work, those are just my top suggestions.
The chocolate. I used my favorite Enjoy Life dark chocolate chips, which are vegan and paleo. But any brand and percentage of chocolate chips you like is fine.
SunButter! You haven't muddy buddy-ed until you've muddy buddy-ed with SunButter. I used their organic variety here, which is unsweetened.
The powder coating. Okay this is where things get a smidge tricky, but I've gotcha covered:
Powdered sugar. I know I know, not a "health" food. But sometimes it's worth it.
Arrowroot starch. It won't add the same sweet flavor as powdered sugar, but since the chocolate is already sweet it give them that powder-coated appearance and won't taste bad. It does dissolve faster than powdered sugar, so apply just before serving.
Coconut flour. Sounds strange, but I've used this for a dusted on mock powdered sugar before and it works here too. Again not sweet, but you hardly taste it and it doesn't dissolve like the arrowroot.
Protein powder. Not my personal favorite because I think most of them taste well…awful, but vanilla protein powder would work.
Powdered erythritol. If you want a sugar-free option.
Sorry to go all link crazy on you there, but you needed to know all the options. So now nothing stands between you and actualizing your SunButter Muddy Buddy dreams.
This recipe is super simple – 5 ingredients, 10 minutes, no baking, DONE.
To start, melt the SunButter with the chocolate chips. Stir in vanilla extract. And dump on top of a BIG bowl of cereal.
Mix that all up. And probably make a mess doing it.
Toss with the powdered coating or your choosing.
It's easiest to do in a plastic bag, extra air NOT removed.
And then get snackin!
Print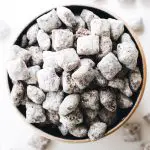 SunButter Muddy Buddies
Author:
Prep Time: 10 minutes
Total Time: 10 minutes
Yield: 12 servings 1x
Category: snacks
Method: no bake
Cuisine: american
---
Description
SunButter Muddy Buddies! A healthier take on this favorite cereal snack with sunflower seed butter, plus options for my vegan, gluten-free, and paleo friends!
---
6 cups cereal (see post above for recommendations)*
1 cup Organic SunButter
1 cup dark chocolate chips
1 tsp vanilla extract
1 cup powdered sugar (see post above for alternate options)**
---
Instructions
Melt the chocolate chips with the SunButter.
Stir in the vanilla extract.
In a large mixing bowl, gently stir the cereal with the melted chocolate mixture until evenly coated.
Transfer to a plastic bag and add the powdered sugar. Shake to coat.
Chill 2-3 hours, then enjoy!
Store in an airtight container in the fridge.
---
Notes
*Use a mixture of nuts, seeds, and coconut for paleo
**Use powdered coconut milk or arrowroot for paleo
---
Nutrition
Serving Size: 1/2 cup
Calories: 312
Sugar: 14g
Fat: 20g
Saturated Fat: 5g
Carbohydrates: 36g
Fiber: 4g
Protein: 6g
Keywords: snack, vegan, gluten-free, no bake, easy, paleo, chocolate, kid friendly
CLICK BELOW TO PIN
Thank you SunButter for sponsoring this post!