The fudgy texture of a brownie and the sweet vanilla flavor of cake combine into the perfect cinnamon-spiced nut-sprinkled Sweet Potato Blondie squares!

The sweet potato that tastes like cake turned into cake that tastes like sweet potato.
Okay fine, blondie that tastes like sweet potato…but close enough.
If you've ever eaten a Japanese sweet potato, you've probably noticed how much they kind of sort of exactly taste like cake in a "Whoa did this thing really grow underground?" kinda way. It's mind blowing. And will ruin you for all orange sweet potatoes going forward. But it's worth the taste experience if you can find them. We'll find some other yummy use for the orange ones.
Just so we're clear Japanese sweet potatoes are the purple skin + white flesh ones. That always seems to spark some confusion. The white skin + white flesh ones are good too – somewhere in-between classic orange and Japanese on the sweet potato spectrum. Those would be my next-best recommendation for this recipe if you can't find the Japanese variety, but I highly recommend you traverse all the grocery stores in the (10-15 mile radius of your house) land because these potatoes are worth a little extra effort.
But I'm getting ahead of myself. Let's start with the why-blondies-in-the-peak-of-ice-cream-season? part.
Besides the obvious blondie sundae = AMAZING answer, it all started with this pic I share on Instagram a week or so ago. Late night baking turned into next day bloob-topped sweet square sharing, and many of you seemed to want a piece too. I didn't know exactly how much of anything went into that blender, but I did know that it had to be recreated ASAP. Because it tasted like vanilla + cinnamon + joy in blondie form, and who doesn't want that in their life?
The key components of this blondie recipe are…
Japanese sweet potato. Other varieties will work as well, but you cannot beat the naturally cake-like flavor of these guys. One large sweet potato will yield enough for a single batch (1 1/2 cups). You can bake it in the oven or microwave, and then mash before measuring.
Cashew butter. Any nut or seed butter will work, but I personally love the flavor of cashew butter in baking. I tried testing a lower fat option as well, but the texture was awful without the nut butter. If you are really craving a low fat sweet potato blondie, I will nudge you in the direction of this brownie recipe – replace cacao with more flour and add cinnamon and vanilla.
Cinnamon + vanilla. Do I really need to explain?
After some trial and error, I found the other essentials to be…
Coconut flour. These blondies are grain-free and mostly made of sweet potato, but a little bit of coconut flour balances the moisture and makes the texture more cake-like.
Baking powder. Even thought blondies are meant to be dense and chewy, a little leavening is still a must.
Maple syrup. But it's optional. They are quite sweet with just the natural potato flavor, especially if you are using Japanese sweet potatoes. But if you do choose to skip it, you will need extra non-dairy milk to make up for the decreased liquid.
Pinch of salt. The magical little pinch that makes sweet stuff SO much better.
Non-dairy milk. Just enough to get the batter to blend, probably 3-4 tablespoons depending on the consistency of your nut butter and whether or not you use the maple syrup.
Chopped nuts. Very very optional. And switch-out-able. I've made a batch with cacao nibs + coconut on top, a batch with chocolate chips on top, a batch with nothing on top – there is no wrong way to go. But personally I prefer a crunchy contrast of some sort.
I've made and tweaked and tasted my way through 3 batches in the past week and I'm still not tired of them. However I am out of sweet potatoes. I do hope you try this seemingly-simple-but-actually-spectacular sweet potato recipe and become just as blondie obsessed as I am!
Print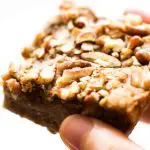 Grain-Free Sweet Potato Blondies
Prep Time:

10 minutes

Cook Time:

35 minutes

Total Time:

45 minutes

Yield:

6

squares

1

x
---
Description
The fudgy texture of a brownie and the sweet vanilla flavor of cake combine into the perfect cinnamon-spiced nut-sprinkled Sweet Potato Blondie squares!
---
1 1/2 cup

baked and mashed sweet potato ((Japanese sweet potato taste the best!))

1/2 cup

nut or seed butter ((I used cashew butter))

2 tbsp

maple syrup ((optional))

2 tbsp

coconut flour

1 tsp

baking powder

1 tsp

vanilla extract

1 tsp

cinnamon
Pinch of sea salt

3

–

4

tbsp non-dairy milk
---
Instructions
Preheat the oven to 350F.
Combine everything except the non-dairy milk in a blender or food processor (or mix by hand).
Blend, adding the milk 1 tablespoon at a time until combined into a very thick batter. It should be almost crumbly but not quite, don't add too much milk or they will turn out mushy.
Press into an 8×5″ baking pan (or a standard loaf pan works too) lined with parchment paper.
Sprinkle on chopped nuts and press them in lightly.
Bake for 35 minutes at 350F.
Remove from the oven and allow to cool for at least 15 minutes before slicing and eating. Keep leftovers in the fridge.
---
↓ Pin It ↓
SaveSave