Like the yummy chocolate pecan candy but COOKIE. Rich and fudgy vegan Turtle Thumbprint Cookies with a homemade vegan caramel center!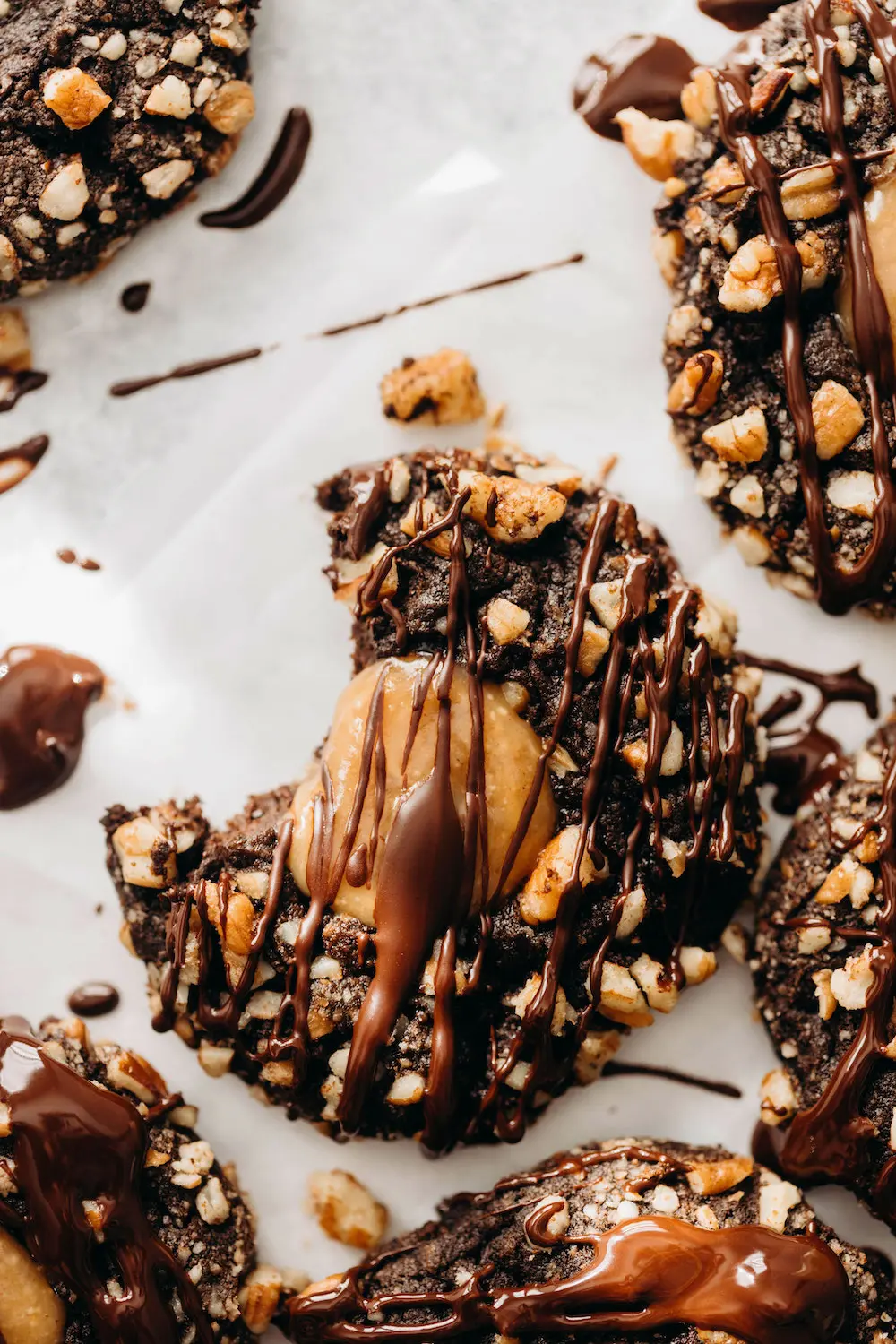 ---
There is no chocolate candy named after a semi-aquatic reptile that I love more than chocolate pecan turtles. They are a perfect balance of crunch and gooey and chocolate. But here's the thing. When you translate that delicious candy into a COOKIE, we get to add a fudgy chewy brownie-ish baked texture that just makes the whole bite next level yummy.
We're also making our own vegan caramel from scratch (it's easy, promise!) and there will be an opportunity to lick the very delicious cookie batter bowl (you wanna, promise! see scoop shot below), so there are many perks to cookie > candy turtles.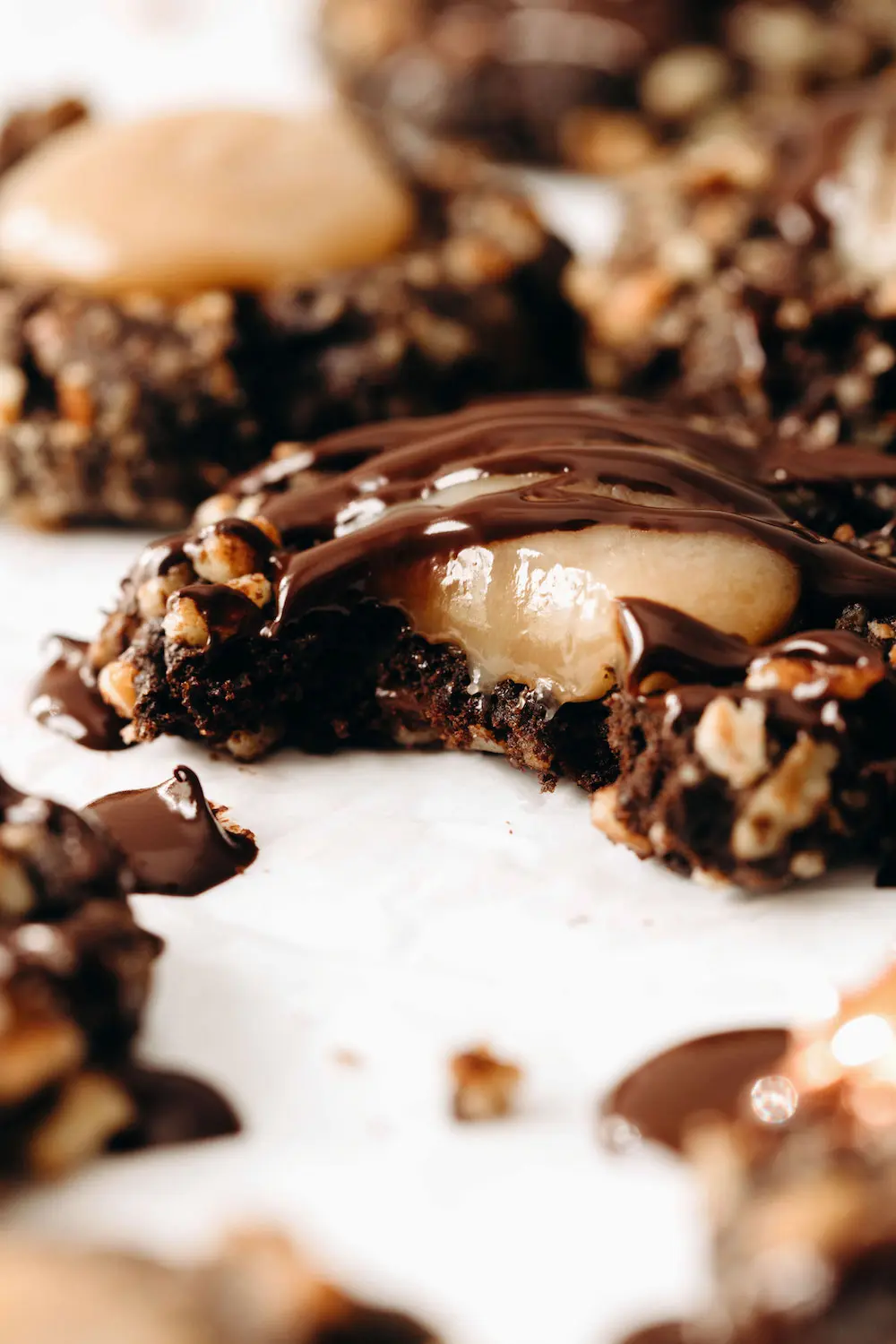 The Yummiest Turtle Cookies
Chocolate, pecans, caramel—those are the essential turtle elements. So in thumbprint cookie form that translates to: chocolate cookie rolled in chopped pecans before baking then filled with caramel and drizzled in melted chocolate. Yes we are 2x the chocolate element, you read that right.
How To Make Homemade Vegan Caramel
Caramel is simple, and relatively simple to make vegan. You will need…
Instead of butter: Miyoko's Cultured Vegan Butter
Instead of white sugar: cane sugar
Instead of heavy cream: vegan creamer or coconut milk
And instead of vanilla…well we're still using vanilla
Optional extra salt if you lean SALTED caramel
Miyoko's vegan butter has the creaminess of cashews and a yummy rich buttery flavor, which is why it works so well here. Many vegan butters are just made of oils and natural flavors, so when you melt them down you aren't going to get the fatty richness and flavor you need for a caramel like this. One more sweet dessert reason to love Miyoko's!
Melt the vegan butter, add sugar and creamer, simmer and stir until the color darkens and it begins to thicken, turn off heat and add vanilla. See, simple. I do recommend prepping this part the day before so it has plentyyyyy of time to cool, and then removing from the fridge when you start making the cookies so it can re-soften to the perfect plop-in-the-middle-of-a-cookie consistency.
Ultra Rich Chocolate Pecan Cookies
This cookie batter is pretty straightforward—one bowl, vegan and gluten-free, sweetened with coconut sugar, and spreads beautifully when baked. To make the rolling in pecans part easier, I do recommend chilling for 30 minutes (I have also done the freezer for 15 move…works) after mixing. You will need…
Vegan butter. Just like in the caramel, I am using Miyoko's Cultured Vegan Butter in the cookie batter. It creams together with coconut sugar to create the base for these cookies just as well as it melts into dreamy caramel. And it's made with such good and simple ingredients, which I appreciate. It also adds a lot more flavor than oil would, and helps the cookies to spread perfectly. I did use the salted variety, but unsalted is fine too.
Coconut sugar. Brown sugar would work too, both have more moisture than white and makes these cookies extra rich.
Flax eggs. To help bind the cookies.
Gluten-free flour. Or all purpose if you are not gluten-free. I did test with cassava flour as well and they came out a bit too crumbly for me.
Cocoa powder.
Almond milk. Or any non-dairy milk you like.
Salt, baking soda, and vanilla.
Pecans. Finely chopped (or throw them in the blender on low for 10 seconds) for rolling the cookies in.
Turtle Thumbprint Cookies Step-By-Step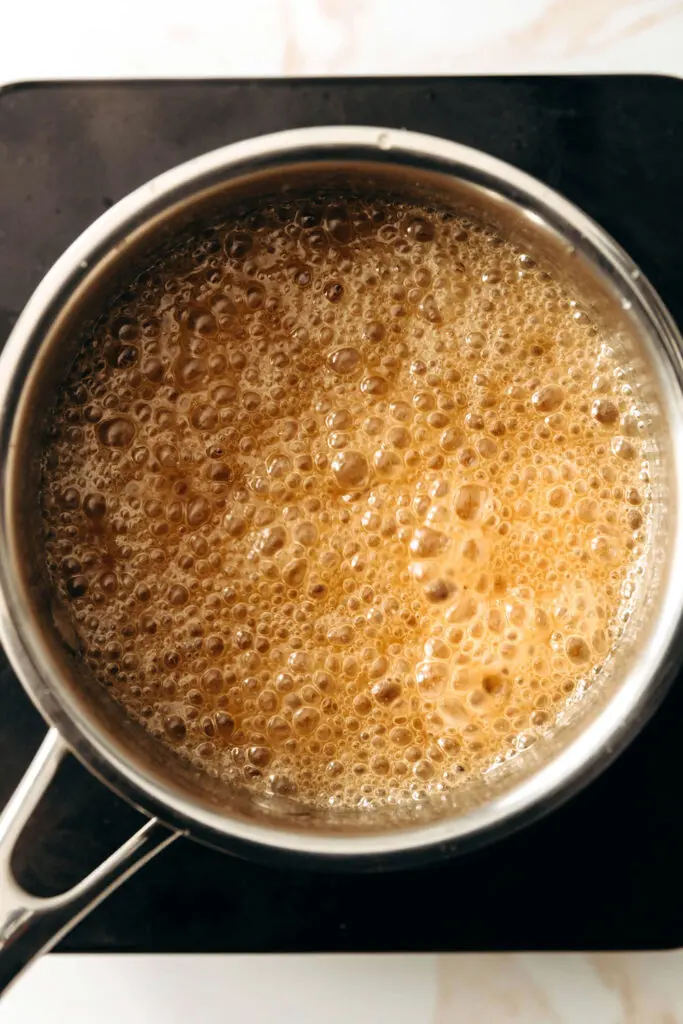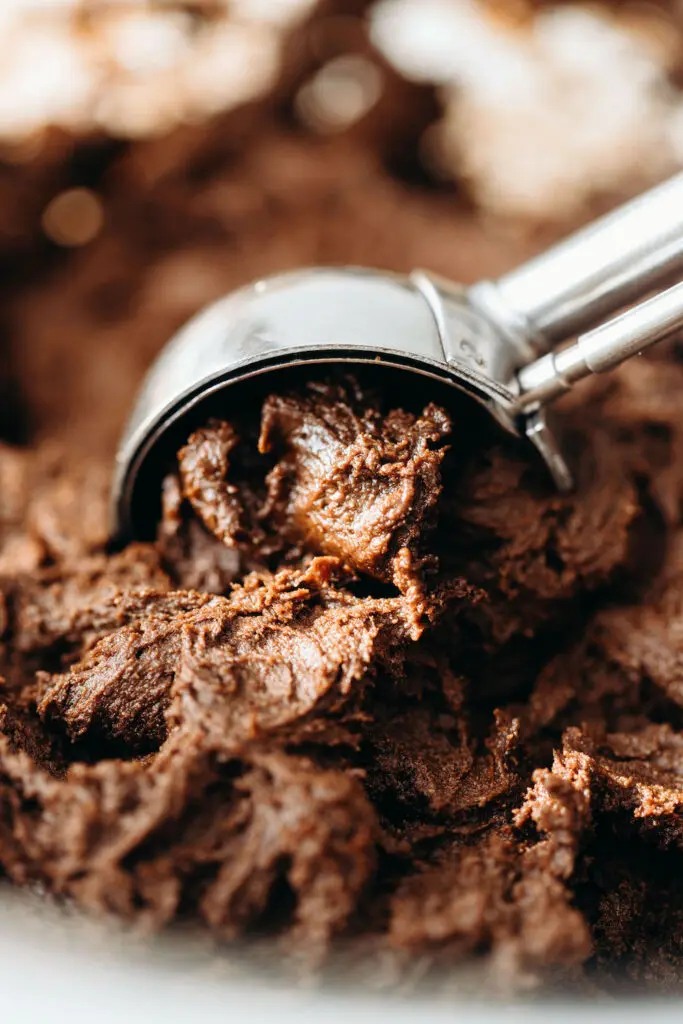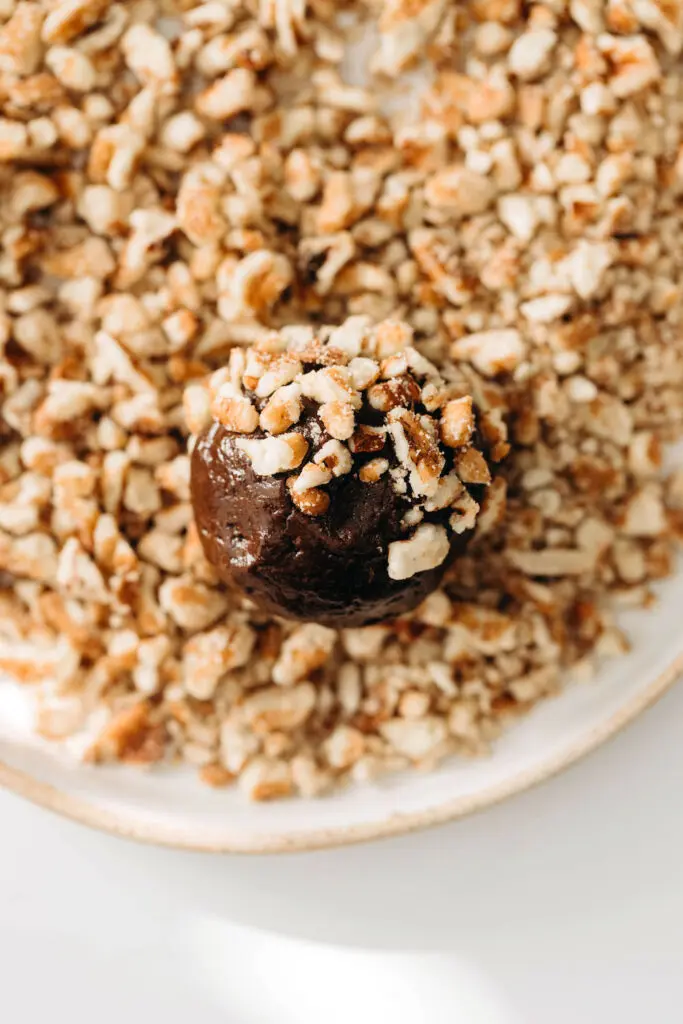 It's the holidays, we're baking cookies, of course these are very shareable and made to be given as well as eaten. But I gotta say, that kitchen bite while the cookie is still a tad warm because you aren't patient and the caramel is at peak gooey consistency and the chocolate drizzles are still melty enough to get your fingers messy…that's THE bite.
More Holiday Cookie Recipes You'll Love
Print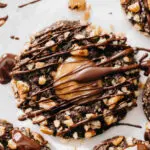 Turtle Thumbprint Cookies
Author:
Prep Time: 1 hour
Chilling Time: 8 hours
Cook Time: 10
Total Time: 9 hours 10 minutes
Yield: 12 cookies 1x
Category: cookies
Method: baking
Cuisine: american
---
Description
Like the yummy chocolate pecan candy but COOKIE. Rich and fudgy vegan Turtle Thumbprint Cookies with a homemade vegan caramel center!
---
Chocolate Pecan Cookies
1/2 cup (112g) Miyokos vegan butter, softened
1/2 cup (80g) coconut sugar
2 flax eggs (2 tbsp flax meal + 6 tbsp water)
1 tsp vanilla extract
1/2 cup (74g) gluten-free flour
1/3 cup (33g) cocoa powder
1/8 tsp salt
1/2 tsp baking soda
1/4 cup (60g) non-dairy milk
1 cup (140g) pecans, finely chopped
Vegan Caramel
1/2 cup cane sugar
1/4 cup Miyokos vegan butter
2 tbsp non-dairy milk (coconut milk is best)
1/2 tsp vanilla extract
Melted chocolate for drizzling on top
---
Instructions
Vegan Caramel
Melt the vegan butter in a small saucepan.
Add sugar and milk, and bring to a boil over medium heat.
Simmer for 6-8 minutes stirring occasionally until it begins to thicken.
Remove from heat, transfer to a jar, allow to cool 30 minutes then refrigerate overnight. Remove from the fridge before starting to prep the cookie batter to let it soften.
Chocolate Pecan Cookies
Cream the softened vegan butter with the coconut sugar using a hand mixer.
Add prepared flax eggs and vanilla. Beat again until combined.
Add the flour, cocoa powder, baking soda, and salt. Mix to form a thick batter.
Chill dough 30 minutes.
Preheat the oven to 350°F.
Remove dough from the freezer. Scoop/roll into balls (about 2 tbsp per cookie), then roll in chopped pecans to coat.
Arrange on a lined baking sheet and press lightly to flatten. Don't overcrowd as they will spread, I recommend 6 per pan max.
Use a teaspoon to make a depression in the middle of each cookie.
Bake 10-12 minutes. Remove from the oven and immediately re-press the teaspoon in the middle of each before they cool to create a little "vessel" for the caramel.
Cool cookies for 15 minutes, then transfer to a cooling rack to cool completely.
Fill each with a spoonful of vegan caramel, drizzle with melted chocolate, and enjoy!
---
Keywords: gluten free, christmas, holiday, chocolate, pecan, caramel, easy, healthy, dairy free
CLICK BELOW TO PIN