A moist, fluffy, fruit-filled cake—this glazed orange cranberry bundt is vegan and gluten-free with a sweet citrus glaze. Perfect for the holidays!
---
A fruit-flavored, fruit-sweetened batter with more fruit folded in and a subtly fruity glaze on top—we are truly FEASTING on fruit with this cake and it just makes my holiday heart so happy. Peppermint and gingerbread, MAKE WAY. Healthy-ish holiday-perfect Vegan Orange Cranberry Bundt Cake coming through.
Every time I bake a bundt cake I re-question why I ever bake cake cakes (non bundt that is). With a bundt you don't have to divide batter between multiple pans, it bakes up better and fluffier and much more evenly than a loaf, you get to experience that moment of anxiety/awe when you finally flip it out and get to see your cake creation, and the glaze pools so majestically in all those sweet cake crevasses. Bundts are just better.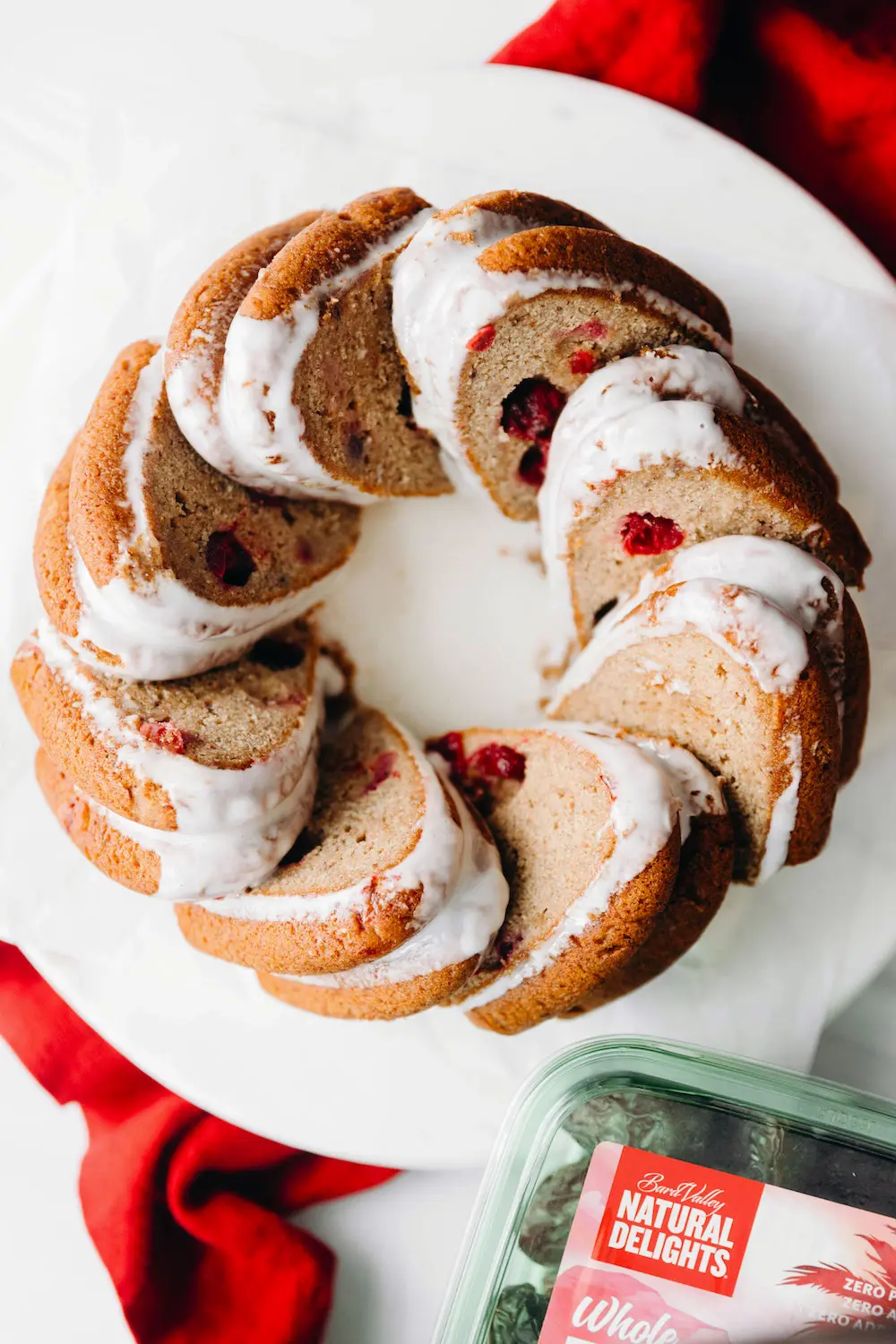 Deliciously Soft Citrusy Cranberry Cake
I read through quite a few orange-cran cake recipes before testing this one, and there are a few things I noticed: 1) some contain cinnamon, most do not, personally I like a little spice in there but it's optional 2) most only have 1/4 to 1/2 cup orange juice for the while cake, which is just not enough citrus flavor for me and 3) you don't want to over-cran the cake, this is not a blueberry muffin situation.
So with that in mind, here is what you will need for this deliciously soft, extra citrusy cake…
Vegan Gluten-Free Orange Cranberry Bundt Ingredients
Orange juice. And like I mentioned, we are not being shy with it. Fresh squeezed would be amazing! But it's the holidays and LIFE, so bottled is fine too.
Medjool dates. If you know me at all you know I am turning to my trusted friends at Natural Delights for the sweetest freshest Medjool dates, of course. Whole or pitted is fine, just make sure you pit them before blending if they aren't already. No other sweeteners required for this cake batter!
Almond milk. Or whatever non-dairy milk you prefer.
Tahini. Personally I love the tahini flavor with citrus, a really runny variety is best. If you are not a fan of tahini, I recommend one part nut butter to one part coconut oil instead.
Gluten-free flour. Or all purpose flour if you are not gluten-free.
Coconut flour. A little bit compliments the gluten-free flour to create a beautifully fluffy, non-squishy crumb.
Cinnamon. If you want. Or a dash of ginger or cardamom would be lovely too.
Cranberries. I used fresh, but frozen would be fine too.
Baking powder, baking soda, vanilla, and salt.
Tips For The Happiest Holiday Cake
Measure by weight. I always always recommend using the gram measurements for the most precision. But especially during the holidays when the last thing you need is one more measuring cup to clean, break out the kitchen scale!
Grease your bundt pan REALLY well because flipping your cake out and only getting 3/4 of your cake out is just a very un-cheery un-joyful moment.
Cool the cake completely before glazing. Even overnight is fine, just wrap it up really well to prevent drying out.
Pass a piece to all the humans you love in your life because everyone deserves a happy, sweet, citrusy berry slice.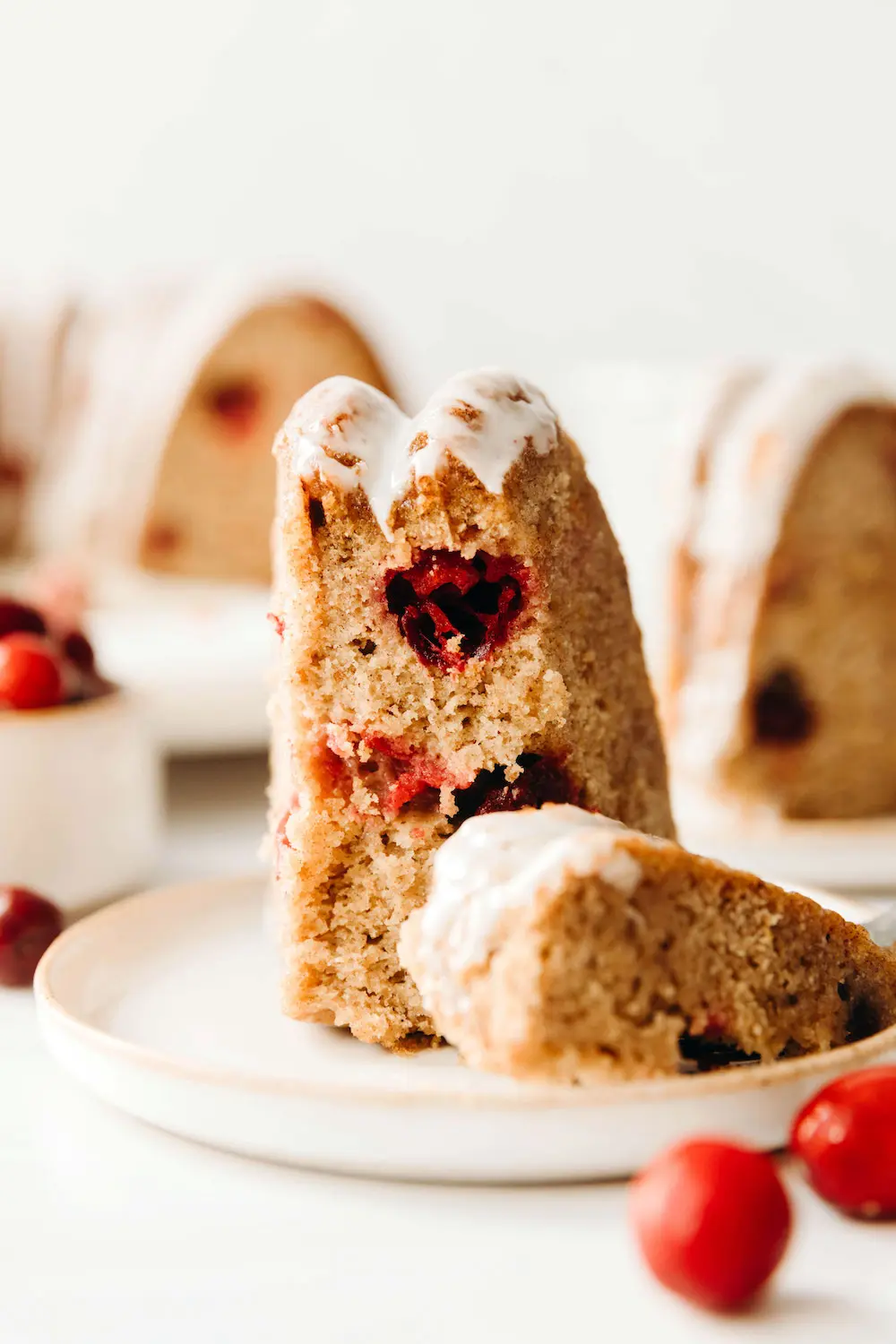 More Date-Sweetened Holiday Recipes You'll Love
Print
Vegan Orange Cranberry Bundt Cake
Author:
Prep Time: 30 minutes
Cook Time: 45 minutes
Total Time: 1 hour 15 minutes
Yield: 10 slices 1x
Category: cake
Method: baking
Cuisine: american
---
Description
A moist, fluffy, fruit-filled cake—this glazed orange cranberry bundt is vegan and gluten-free with a sweet citrus glaze. Perfect for the holidays!
---
1 cup packed (~200g) Natural Delights Medool Dates, pitted
1 1/2 cup (360g) orange juice
1/2 cup (130g) runny tahini*
1 1/4 cup (300g) almond milk
1 tsp vanilla extract
2 tbsp orange zest
2 1/2 cups (300g) gluten-free flour
1/4 cup (30g) coconut flour
2 tsp baking powder
1 tsp baking soda
1/2 tsp salt
Optional: 1 tsp cinnamon
1 1/2 cups (140g) fresh cranberries
Orange Glaze (optional)
2 cups powdered sugar
2–3 tbsp orange juice
---
Instructions
Preheat the oven to 350°F.
Blend pitted Natural Delights Medool Dates with orange juice until smooth.
Add tahini, almond milk, and vanilla. Blend again until combined.
In a bowl, whisk together flours, orange zest, baking powder, baking soda, and salt.
Add the wet ingredients and stir until combined with no lumps.
Transfer to a well greased bundt pan (10 cup capacity). Smooth the top with a spatula.
Bake 45-50 minutes until edges are browned and a toothpick comes out clean.
Cool 15 minutes before flipping on a cooling rack to cool completely.
For the glaze, whisk orange juice into the powdered sugar adding more orange juice if needed to get a thick but drizzle-able consistency.
Drizzle glaze on cooled cake, slice, and serve.
---
Notes
*If you want to use another nut butter, use 1/4 cup nut/seed butter of choice and 1/4 cup coconut oil
Keywords: gluten free, holiday, christmas, healthy, dairy free, sugar free, healthy, cake
CLICK BELOW TO PIN