These easy vegan thumbprint cookies made with just 5 healthy ingredients the perfect sweet chewy vessel for your favorite fruit jam or even a fudge filling!

A pound each of rhubarb and strawberries makes for a lot more jam-swirled bowls of ice cream than even I can eat, but leftover jam is never a problem. More an opportunity to dream up other recipes that call for a fruity filling or pink swirl. Or just an opportunity to eat a lot of PB&Js – up to you!
Crumble bars, jelly donuts, streusel tarts, overnight oat parfaits – all these ideas danced through my mind, a few sticking around longer than the others. But I just couldn't shake the PB&J thought, so it had to be something sandwich-inspired. The delicious contrast of rich + nutty next to fruity + sweet is too good!
But I didn't want to bother with bread and crusts and straight vs. diagonal slicing, so instead I made much cuter cashew butter jam thumbprint cookies. You could go traditional with PB too, but cashew butter is just my jam right now. Or shall I say my nutty favorite, strawberry rhubarb is the jam here.
The cookie. These little cookie vessels are made with just a few and just the yummiest ingredients. Rolled oats for a chunky chewy base. Cashew butter for an indulgent and classier-than-kindergarten-lunchtime taste. And maple syrup for sweetness and that glorious golden-brown magic it brings to baked goods.
They are just as simply scrumptious as they sound, and I love how easy this dough is to work with too. Not too sticky. Not too crumbly. You could even roll it out and cut cookie shapes from it. Cashew butter cookie flowers/hearts/stars/succulents anyone? (Can't even make this stuff up!)
The filling. As previously mentioned, I used this strawberry rhubarb jam to fill my concave cookies, because jam over-abundance was the whole point of making cookies in the first place. But that doesn't mean you have to do the same.
You could fill them with fudge frosting. Or non-chocolate frosting. You could spoon a dollop of date caramel in there. You could use other flavors of homemade jam. Or just unscrew the usually impossibly tight lid off a store-bought jar in your favorite flavor. You could bake them without filling and then add chocolate ganache after they cool like those Keebler fudge button cookies I swear were a part of my childhood but yet I cannot find any trace of on google. With this simple buttery cookie base, the filling possibilities are almost endless.
Print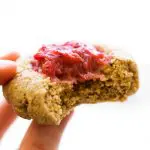 Vegan Thumbprint Cookies
Prep Time: 15 minutes
Cook Time: 12 minutes
Total Time: 27 minutes
Yield: 9 cookies 1x
---
Description
These easy vegan thumbprint cookies made with just 5 healthy ingredients the perfect sweet chewy vessel for your favorite fruit jam or even a fudge filling!
---
1 1/4 cup oat flour
1/4 cup cashew butter
1/3 cup maple syrup
1 tsp baking powder
Optional: pinch of sea salt
Jam of choice ((*see notes))
---
Instructions
Preheat the oven to 350F.
Combine everything except the jam in a mixing bowl. Mix to form a ball of dough.
Roll into small balls, flatten slightly, then use your thumb or finger to create a small well in the center of each cookie.
Fill each cookie with a teaspoon of jam.
Bake for approximately 12 minutes at 350F or until the edges are just starting to brown.
Remove from the oven. Cool briefly. Enjoy!
---
Pin It
SaveSave