Sweet creamy Vanilla Oatmeal Ice Cream made from just 5 healthy ingredients that proves oats aren't just for breakfast and ice cream isn't just for dessert!

The lack of an "n" in that title is not by mistake. This is not nice cream. Not banana based. Not made instantly in a blender from just fruit.
This is the real churned deal. Well sorta the real deal. As real a deal as it can be considering it's made out of a breakfast food, sweetened with a fruit, and contains no cream of any kind.
But it is not made from bananas, which is the main thing that set's it apart from most ice cream recipes on FOF.
It might seem like I have been neglecting bananas a lot lately, replacing them with oatmeal in ice cream and cauliflower in milkshakes, but I don't have anything against the. It's just that frozen bananas are almost too versatile and nice cream such the norm that they have zapped the challenge right out of healthy frozen treats.
I also find it hard to ever truly have vanilla nice cream. Even with a spoonful of vanilla added in, the predominant flavor is still banana. It feels like a lie to call it vanilla. And I just can't take anything called banilla seriously. But I was really craving that classic vanilla ice cream flavor.
Which I can't really say that this Vanilla Oat Ice Cream completely satisfied, but it certainly does not taste like bananas! The vanilla flavor is evident, but the medjool date and oatmeal flavors are front and center too. Regardless, making ice cream out of oatmeal was a fun frozen adventure with surprisingly creamy results. Nut-free, lower in fat than coconut cream, and with a unique yummy taste you really just have to try for yourself!
The base. Just because it's not as easy as frozen bananas -> blender -> done doesn't mean this ice cream isn't still simple. Only five elements to this ice cream base: oats, dates, non-dairy milk, vanilla, and a highly recommended pinch of salt. This whole oats-in-the-ice-cream idea was inspired by this hella creamy fruit-free smoothie actually, which proved to me that oats can pull off smooth just as well as chunky. (Sidenote: If you blend that smoothie long enough it warms up and tastes like made-from-scratch chocolate pudding. Just sayin.)
There is no cooking and then cooling and before freezing required here, because who has time for all those temperatures!? Just blend and pour straight into the ice cream maker that I know you remembered to freeze the night before *fingers and toes crossed*! Literally like 5 minutes of prep time, the rest is just waiting.
Churning. I'm just gonna say it: you need an ice cream maker for this recipe. This is not one of those no-churn situations where I'm going to tell you that you can freeze and stir every so often and the texture will be equally as good. No–the texture will be bunk.
Ice cube tray method? You can try it, but I haven't tested it so I make no promises.
Because this recipe is made with such an unusual base and is much lower in fat than your typical ice cream, the texture is finicky. A real ice cream maker is the way to go, if you don't have one I'm just going to point you in the nice cream direction.
Freezing. Straight out of the ice cream maker after spinning around for 30 to 40 minutes, you will have an oaty soft-serve consistency on your hands. I recommend transferring the ice cream to a container and freezing for 1-2 hours before serving for the best texture. At that point it will be scoop-able but not too frozen–the perfect verge-of-melty ice cream mouthfeel.
You can keep it in the freezer for a few days, just take it out and let it soften for 15 minutes or so before eating. Running your ice cream scoop under warm water so it glides and creates the silkiest of scoops is a great trick too!
Substitutions. For this recipe I used and recommend using light canned coconut milk. It is creamier and freezes better than other non-dairy milks while still being relatively low in fat. But I did test this recipe with almond milk and it works. The texture is different though, not quite as rich, of course. Right after churning it is almost…fluffy? In a fun way, and still very yummy!
See the almond milk version in action -> HERE
I do not recommend subbing in a liquid or granulated sweetener for the dates as the dates actually contribute to the creaminess of the texture as well as sweetening the ice cream. As always, medjool dates are my top choice.
The oats can be quick cooking or rolled, it really doesn't matter since you are going to blend them into creamy obliteration anyways.
Many recipes can be dessert or breakfast. Or even dessert for breakfast. But this one truly tastes like dessert and breakfast all in one creamy bite!
Print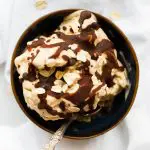 Vanilla Oatmeal Ice Cream
---
Description
Sweet creamy Vanilla Oatmeal Ice Cream made from just 5 healthy ingredients that proves oats aren't just for breakfast and ice cream isn't just for dessert!
---
3 cups

light canned coconut milk (*see notes for substitution)

1 1/2 cups

rolled oats (or quick oats work too)

10

pitted medjool dates

1 tsp

vanilla extract
Pinch of salt
---
Instructions
Blend all the ingredients thoroughly on high until creamy and smooth (a full 45-60 seconds).
Pour into an ice cream maker and churn according to the manufacturer's instructions until it is a soft serve consistency. Mine took about 40 minutes.
Transfer to a shallow container and freeze for 1-2 hours.
Scoop into a bowl, add toppings if desired, and enjoy.
It will last a few days in the freezer, just remove from the freezer and allow to soften for approximately 15 minutes before serving.
---
Notes
*You can use almond milk or other non-dairy milks, but the texture will not be as rich. 
Pin It