Summertime in a scoop! Easy Watermelon Mint Ice Cream made with frozen watermelon, coconut cream, and fresh mint. Perfect as soft-serve or scooped!

THIS POST IS SPONSORED BY FRESH FROM FLORIDA AS PART OF AN INFLUENCER ACTIVATION FOR INFLUENCE CENTRAL. ALL OPINIONS EXPRESSED ARE MY OWN.
---
Watermelon mint ice cream. Here to infuse some summer into your April.
I knew this melty melon stuff was gonna be good – frosty watermelon, coconut creaminess, fresh mint – but it turned out better than good. Sweeter than expected. Creamier than I saw coming. Easier than ice cream should be allowed to be.
If you've never tried watermelon with mint before, please times one zillion do it. I'm not one to spring for the fresh herbs often, but this is one of those times where it's completely worth it. Watermelon ice cream without mint would be yum, but as the first ice cream recipe of 2018 it needed to be YUM. All caps.
This was going to be sorbet. The frosty texture of frozen watermelon feels very sorbet appropriate. But then google informed me that sorbet means NO creamy ingredients. Zero. Frozen + blended without any kind of milk? I just couldn't. So then it was going to be sherbet – that hybrid no one knows how to pronounce. But once I got to blending and scooping and eating…it was inarguably ice cream.
If you want something more towards the sorbet/sherbet end of the spectrum, use less coconut cream. Or (getting into experimental territory here) try using nondairy yogurt or frozen bananas instead of the coconut cream. Options, HOORAY. Reason #327 we love simple recipes.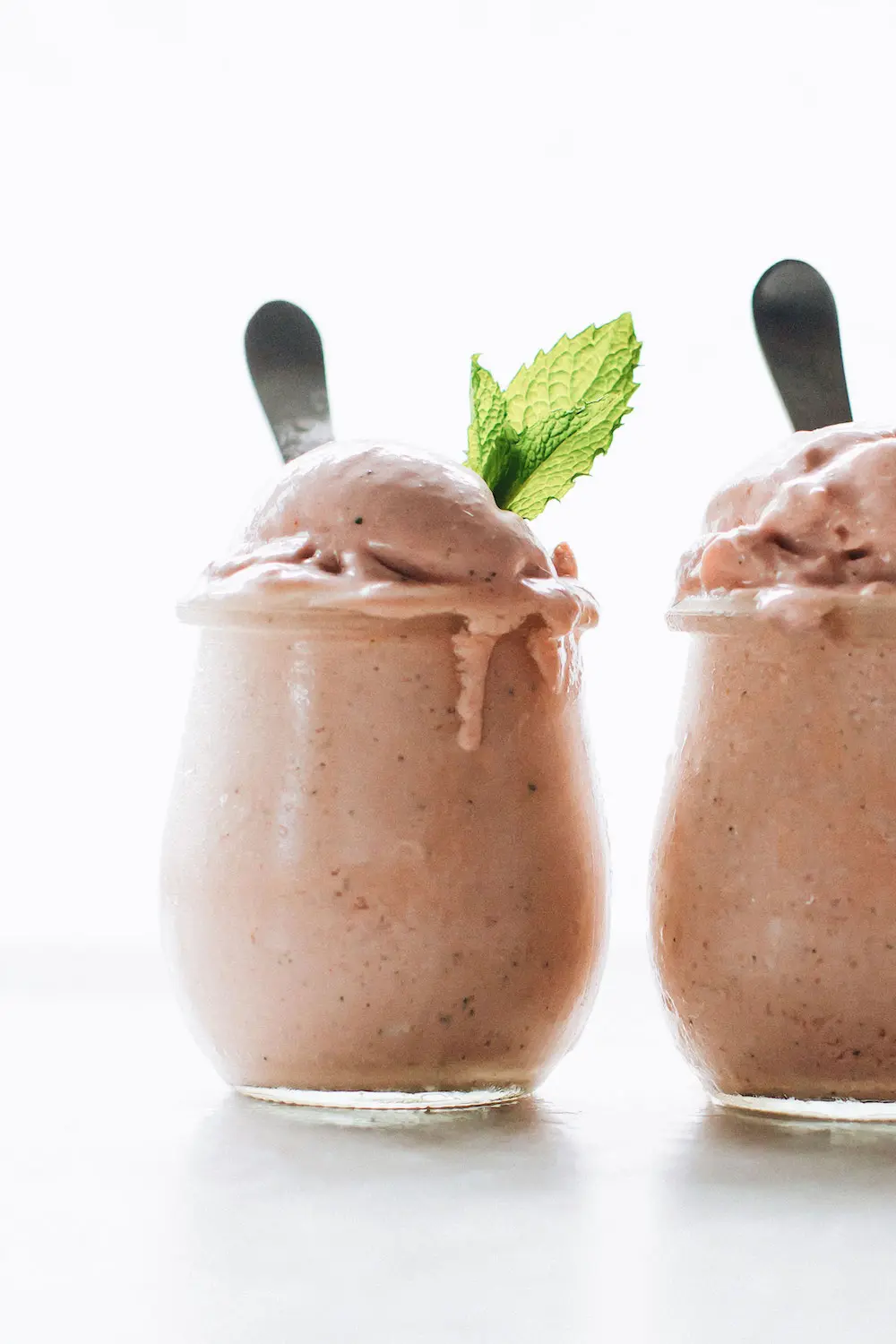 In case you don't want to waste even 60 seconds watching the video, we're going to break this down step-by-step:
Pick a watermelon, local if possible, and hope, hope, hope it's juicy red and sweet when you slice in. Luckily watermelon is already in season down here, and this one was deelish!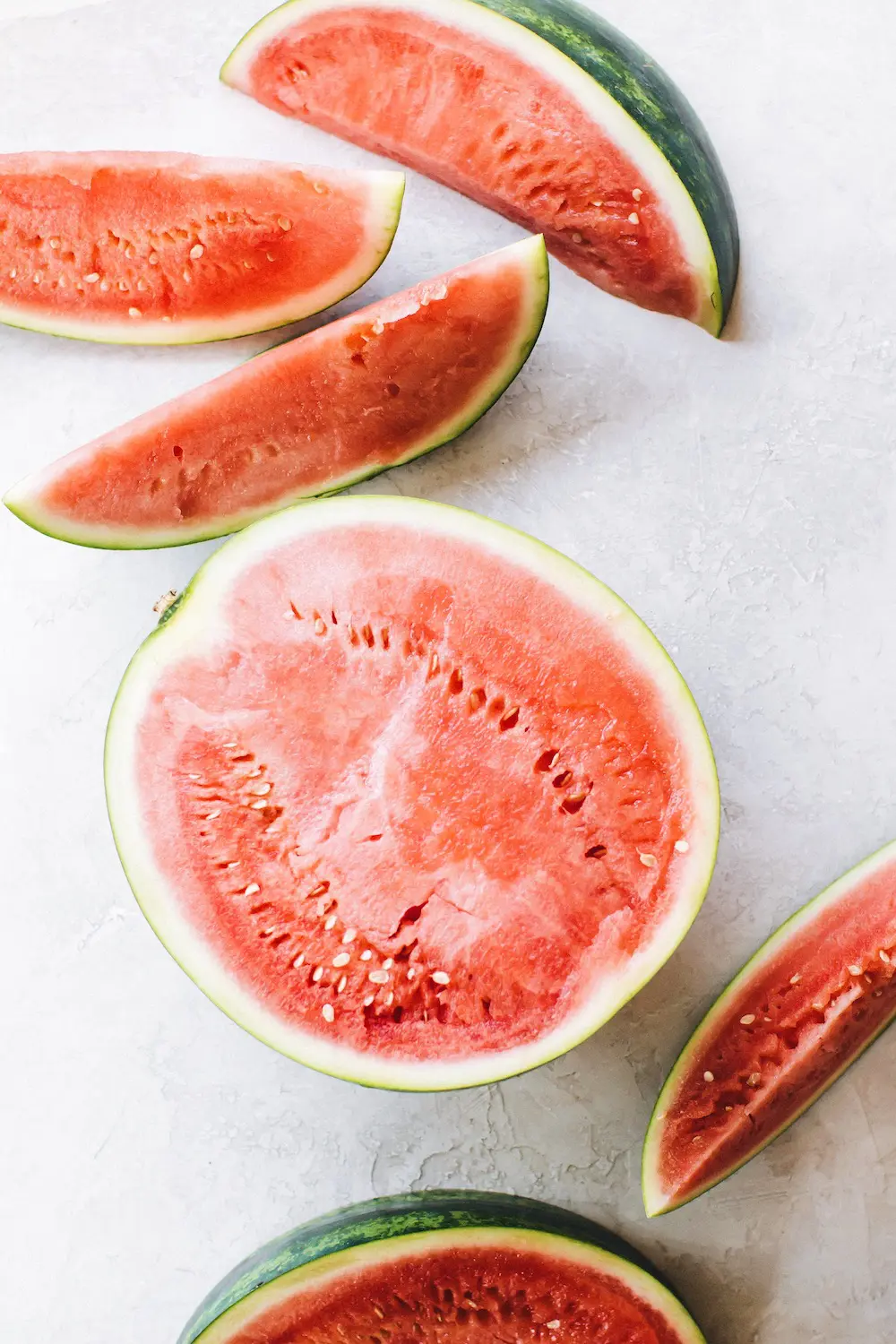 Chunk it.
Freeze it.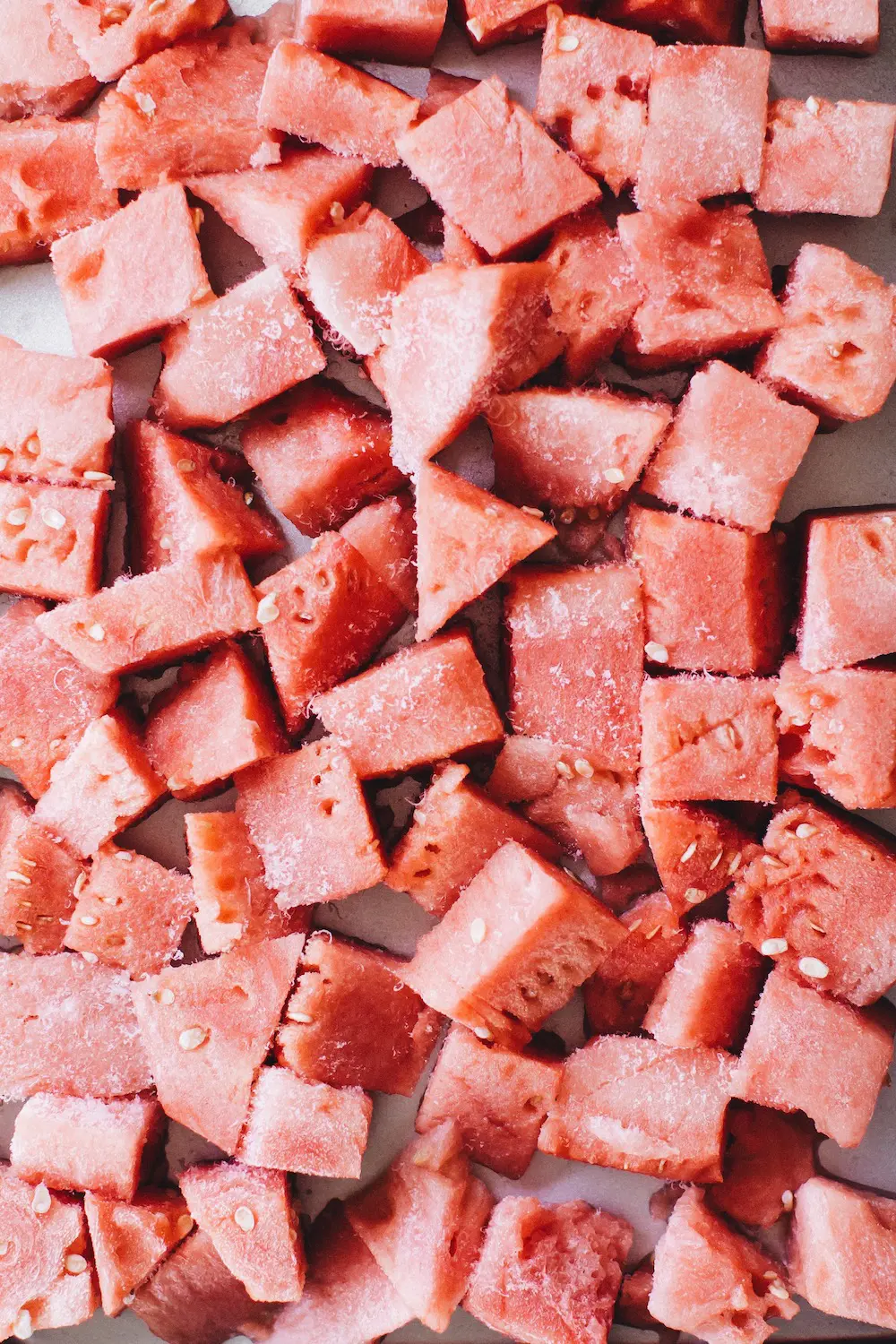 Into the blender: frozen watermelon, coconut cream, fresh mint, a little sweeter (optional, depending on how sweet your melon is), and a pinch of salt (trust me).
Get your spoon right into that soft serve goodness, OR freeze for 3-4 hours until just scoop-able. Obligatory sprig of mint for fanciness.
And then, the best step of them all, EAT!
This recipe could yield 3-4 servings. Double scoop, obviously. Although sometimes when you go straight spoon > blender things happen…
No judgement here.
Idea! Adding frozen strawberries into the mix certainly wouldn't be a bad idea. Mint, watermelon, strawberries – these flavors all get along gloriously.
Creating your own summer one sweet scoop at a time now = possible.
Print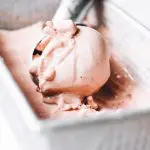 Watermelon Mint Ice Cream
Prep Time: 10
Cook Time: 4 hours (chilling time)
Total Time: 4 hours 10 minutes
Yield: 4 servings 1x
Category: dessert
Method: freezer
Cuisine: american
---
Description
Summertime in a scoop! Easy Watermelon Mint Ice Cream made with frozen watermelon, coconut cream, and fresh mint. Perfect as soft-serve or scooped!
---
1 cup (225g) coconut cream*
5 cups (500g) frozen watermelon
A handful of fresh mint
2 tbsp (40g) maple syrup (optional)
Pinch of salt
---
Instructions
Combine all the ingredients in a high speed blender or food processor. Blend, using the tamper or stopping to scrape down the sides as needed, until creamy and smooth.
Eat immediately as soft serve OR freeze for 3-4 hours until scoop-able.
Enjoy!
---
Notes
*The solid part scooped out of a can of full fat coconut milk that has been chilled overnight.
---
Nutrition
Serving Size: 2 scoops
Calories: 297
Sugar: 9
Fat: 11
Carbohydrates: 13
Protein: 2
Keywords: frozen, ice cream, blender, no churn, vegan, dairy-free
CLICK BELOW TO PIN
Follow Fresh From Florida for more ideas and recipes featuring in-season fruits and veggies!
SaveSave
SaveSaveSaveSaveSaveSaveSaveSave
SaveSave
SaveSave
SaveSave
SaveSaveSaveSave