Homemade vegan French Silk Ice Cream made in the blender with healthy ingredients to enjoy as soft-serve or creamy mocha chocolate chunk scoop style!
A.k.a. mocha dark chocolate chunk with a creamy vanilla swirl ice cream.
But French Silk flows much better.
I don't think French Silk Ice Cream is an official universally recognized flavor, but the name certainly does have an ice cream alluring ring to it that this tasty combo of flavors and mix-ins definitely deserves.
I remember quite clearly the first time I tasted French Silk ice cream in a waffle cone at my aunt's house…and the countless tubs of it I polished off the rest of that yummy summer. Up until then in my life chocolate ice cream was always just chocolate, but add coffee to the mix and now we have something mocha magical on our ice-cream-adoring hands!
The thing that confuses me is why ice cream isn't a breakfast food. But I'm learning to accept that.
The other thing that confuses me is why French Silk PIE is just chocolate cream filling + whipped cream + graham cracker crust. No mention of mocha at all. I'm not mad about it. I don't hold the lack of coffee flavor against aforementioned amazing-sounding pie situation. But then the espresso addition when you change the word pie to ICE CREAM just feels totally out of left field, ya know?
So there's a mystery for you if you are up for a good googling challenge. I'll probs just accept it and get back to eating ice cream. Or pie. Or both. Together? Nah space it out.
Soooooooo don't be mad that I didn't tell you this up front, but um this is actually nice cream.
So right now you're thinking one of two things:
YAY!
Or…
That sneaky fruit-obsessed deceiver leading us on with the no-churn thing and then betraying us with this banana news-bomb!
But I know that once you experience the rich mocha flavor and smooth scoop-able texture you won't be thinking about the fact that it's made of 90% fruit. I'll even spike your bowl with extra chocolate chunks if you will forgive me and try it despite your potential negative feelings towards bananas or ice cream that is sneakily healthy.
Mocha ice cream. Or banana ice cream for the full disclosure version. Because despite all the banana-free recipes I've posted this summer, frozen bananas are still the easiest way to instantly ice cream.
Frozen bananas + cacao powder + espresso powder. See what I mean, it's hard to rival that kinda no-churn ice cream easy.
The recipe calls for 6-8 frozen bananas, which translates to 3 to 4 servings per batch. Because this is banana ice cream it is really best eaten the same day it is made, so if you want to scale the amounts back to make just 1 or 2 servings feel free to do so.
You can simply stir in the vanilla swirl and chocolate chunks and dig in immediately for French Silk soft serve. Or, for the perfect cone-worthy scoop, layer it all in a pan or shallow dish and freeze for 1-2 hours. That sweet spot of scoop-able but not too solid can be a narrow window when working with bananas, so don't forget about it in the freezer or it will be a French Silk ice cube.
Vanilla swirl. This little detail turned out to be the trickiest part, but there was no way I was going to skip it. First I tried coconut cream, but that froze to be too solid. And coconut butter was even more of a chunky mess. So coconut products were out.
Something light-colored and creamy that stays soft when frozen…?
The answer was cashew butter, and wow did it make this whole recipe immeasurably more delicious. Because unlike most swirls in ice creams that are barely distinguishable in terms of taste (unless it's a marshmallow swirl–that's a whole different story!), cashew butter adds all kinds of rich buttery flavor in addition to the vanilla on chocolate color contrast.
I used the Artisana brand of cashew butter since it is much lighter in color than most, but any kind will taste great regardless of color. Vanilla extract, optional maple syrup, and non-dairy milk stirred in make for the perfect creamy swirl to mix throughout the cold mocha creaminess.
Dark chocolate chunks. Not chips. Not nibs. Not those little chocolate shavings that are simultaneously everywhere and nowhere. Chocolate CHUNKS. The kind that make it feel like a mini spoon-search success when you find one. The kind that you strategically scoop from the carton in a peculiar shape to maximize in your cone.
Blend up a batch before summer is gone, because this is the swirly-sweet scooped stuff mocha dreams are made of!
Print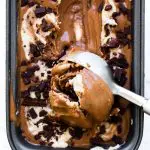 Vegan French Silk Ice Cream
---
Description
Homemade dairy-free French Silk Ice Cream made in the blender with healthy ingredients to enjoy as soft-serve or creamy mocha chocolate chunk scoop style!
---
Vanilla Swirl
1/4 cup

cashew butter
Optional: 2 tbsp maple syrup

1 tsp

vanilla extract

1

–

2

tbsp non-dairy milk
Mocha Ice Cream
8

frozen bananas

3

–

4

tbsp cacao powder ((or cocoa powder))

2

tsps espresso powder

1/3 cup

chocolate chunks
---
Instructions
For the vanilla swirl, whisk together the cashew butter, maple syrup (if using), and vanilla extract. Add the non-dairy milk slowly until it is a thick but pourable consistency. Set aside.
In a high speed blender or food processor, combine the frozen bananas, cacao powder, and espresso powder.
Blend on high until creamy and smooth. You may need to stop and scrape down the sides or use a tamper.
Add the vanilla swirl and chocolate chunks, and serve immediately as soft-serve.
Or layer into a shallow pan, and freeze for 1-2 hours until scoop-able. Running the ice cream scoop under warm water first can be helpful too!
---
More frozen fruity feasting for you…
–Ice cream on a stick and with a salty sprinkle.
-Swirled and sweet and good for you green stuff!
-Just like Reese's except minus the chocolate and not cup-shaped and ice cream.
-Those layers though!
–Cookie-inspired and seasonally forward-thinking.
Pin It