Oh figgy figgy fig bars how I love you. Even the fact that you are a bit tedious to make can't change that. And now with this homemade Vegan Fig Newton recipe in my arsenal I love them even more!
Why I love Vegan Fig Newtons
You dance on the border between cookie and bar. But we'll call you a cookie.
You bring some much needed fruit to the cookie aisle.
You are a cookie that is 100% acceptable to eat at all times of day. Because fruit.
The seeds in your filling aren't annoying like raspberry seeds in jam, rather they are part of your charm.
The figs in your filling have tons of fiber, more than prunes, but somehow retain a much sexier reputation.
And you have a little known citrus secret: orange in your cookie…who knew!?
If I had to pick a favorite cookie it'd be Fig Newtons all the way. If I had to pick a favorite FF recipe it'd be Gingerbread Fig Newtons without a doubt. Request for a non-gingerbread gluten-free vegan fig newton recipe? Oh let me clear my entire schedule and make that happen asap! All for you of course. Not at all because I just wanted an reason to eat gobs of fig cookies.
Very Fruity Fig Newtons
Do you know what is really exciting about this recipe? Five forms of fruit in one cookie. Five! Dates, applesauce, orange juice, lemon juice, and figs. That's gotta be a record or something.
I really don't think it's possible to put into words how wonderful these Vegan Gluten-Free Fig Newtons are. A little citrusy. A little spiced. A little chubby because when you make them yourself you have to pack them extra figgy full.
Best of luck to you to not eat them all in one day. Seriously, it's a tough task.
Print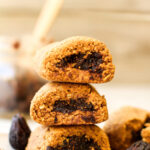 Fig Newtons
Prep Time:

75 minutes

Cook Time:

12 minutes

Total Time:

87 minutes

Yield:

8

1

x
---
Cookie dough

14

pitted medjool dates

1/4 cup

orange juice

1/2 tsp

orange zest

1/4 cup

unsweetened applesauce

1 tsp

vanilla extract

1 3/4 cups

oat flour

1 tsp

baking powder

1/2 tsp

baking soda

1/2 tsp

cinnamon
Filling

2 cups

dried figs (I used black mission)

2

tbsps coconut sugar

1 tsp

lemon juice

3/4 cup

water
---
Instructions
Cookie Blend the dates, orange juice, applesauce, vanilla extract, and orange zest until smooth.
In a mixing bowl, stir together the oat flour, baking powder, baking soda, and cinnamon.
Add the date mixture.
Mix to form a slightly sticky ball of dough. If it is overly sticky, add 1/4 cup more oat flour.
Wrap in plastic and refrigerate for at least 1 hour.
Filling: Remove any stems from your figs.
Combine the dried figs, water, lemon juice, and coconut sugar in a medium sauce pan.
Bring to a boil. Reduce to simmer. Cover and simmer for about 15-20 minutes or until the figs are soft.
Blend briefly to form a paste without any large chunks.
To assemble: Roll out the chilled cookie dough to about 1/4 inch thickness. Cut off any ragged edges to make a rectangle. Cut the rectangle in half width wise.
Working on one of the halves, spread a line of filling about 1 inch wide down the length closer to one edge. Fold the other side of the dough over the filling and pinch the edges together to close. Cut into 4 cookies. Or just [url undefined]see diagram[/url].
Repeat with the other half of the dough.
Transfer to a baking pan lined with parchment paper.
Bake for 12 minutes at 350F.
Let them cool briefly then enjoy! Keep leftovers in the fridge in an airtight container.
---
#Vegan GF Fig Newtons! All the fig-filled cookie flavor but without the sugar, oil, or gluten...
Click To Tweet
SaveSaveSaveSave