These easy Vegan Magic Cookie Bars are twice as enchanted, made without sweetened condensed but still all the same delicious sweet layers!

There are many recipes I consider magical…
Cake with just TWO ingredients and no baking? Magic.
Breakfast food turned dreamy ice cream base? Magic.
Crave-worthy cupcakes without flour/sugar/oil/nuts/gluten? Magic.
Color changing pancakes? Magic.
And there was undeniably magic involved here.
But this time I'm not just making it up, the word magic is actually part of the official title of these bars. Although my version might as well be called Magical Magic Cookie Bars because they have a fruity secret ingredient that makes them easier and healthier and sweetened condensed milk free.
If you are not familiar with Magic Cookie Bars, allow me to play google for a moment and get you up to speed.
It starts with a buttery crust (usually graham cracker). The crust is topped with chocolate chips + chopped nuts + shredded coconut. Then all of that goodness is drowned with sweetened condensed milk and baked so everything mixes and melts and then sets in an almost cream-cheese-brownie-like top layer. Oh and let's not forget about the browning/caramelization that happens on top thanks to the sweetened part of condensed milk.
They are meant to be really rich and gooey–the magic part perhaps referring to how easy but decadent they are? I'm not actually sure. They go by other names too, like 7 Layer Bars (beats me, I only count 5) or Hello Dolly Bars.
So taking that delicious concept I put a healthier vegan spin on it with a few minor ingredient swaps and one big fruity twist!
Graham cracker crust → oil-free oat OR almond crust.
Tracking down a box of gluten-free and vegan graham crackers is quite the treasure hunt, so I skipped them completely and came up with two homemade crust options 1) oat based and 2) grain-free made with almond flour. Both are really easy and oil-free, using maple syrup as the binder.
The almond flour version is my personal favorite because it browns and tastes so buttery-rich like a shortbread crust. Plus it's grain-free. But the oat version has wonderful texture and flavor too, and makes for a good low-fat nut-free option.
Chocolate chips + shredded coconut + nuts.
Nothing much to change here, I just swapped in my favorite brands/varieties. For the chocolate chips I used Enjoy Life minis (or full-size works too). For the coconut I used Let's Do Organic unsweetened coconut shreds, although looking back the toasted kind might have been even yummier. And for the nuts I opted for pecans, but feel free to use any kind you like.
Sweetened condensed milk → BANANA!
The biggest swap surprise of the entire recipe, and it worked even better than I expected even. Same texture, same color, and the sugars even caramelize as the bars bake making that top layer extra sweet as it should be.
There are many vegan recipes out there for Magic Cookie Bars that call for boiling coconut milk and coconut sugar for 15+ minutes to create homemade dairy-free sweetened condensed milk. But that sounds like a lot of work for what is supposed to be an easy dessert. Blending up 3 ripe bananas is much faster and naturally sweetened too.
The pan may seem like a banana soup mess of mix-ins when you slide it into the oven, but after 40 minutes of baking and chilling overnight, the banana sets perfectly making for a sturdy slice-able bar.
Important tip! Be sure to pour your banana puree on top of the crust and then add the chips and nuts and coconut, not the other way around. Been there, done that, big mess. Because getting the mix-ins to sink into the banana is a messy mission, while getting the banana puree to rise to the top of the mix-ins by gently pressing is much easier.
Happy Magic Magic Cookie Bar making!
Print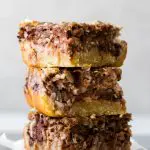 Vegan Magic Cookie Bars
Prep Time:

30 minutes

Cook Time:

40 minutes

Total Time:

70 minutes

Yield:

8

bars

1

x
---
Description
These easy Vegan Magic Cookie Bars are twice as enchanted, made without sweetened condensed but still all the same delicious sweet layers!
---
Oat Crust Option
1 1/2 cups

rolled oats

1/3 cup

maple syrup
Almond Crust Option (grain-free)
1 1/2 cups

almond flour

2

–

3

tbsp maple syrup
Top Layer
3

ripe bananas

3/4 cup

chocolate chips

3/4 cup

unsweetened shredded coconut

3/4 cup

chopped nuts ((I used pecans, but any will work))
---
Instructions
Preheat the oven to 350F.
For the oat crust, blend the oats on low speed to break into small pieces. Slowly pour in the maple syrup with the blender on until it clumps to form a sticky chunky texture.
For the almond crust, combine the almond flour and maple syrup in a bowl. Mix to create a sticky and clumpy dough that holds together when pressed. Add 1 tbsp water if it seems too dry.
Press the crust into a baking dish lined with parchment paper (mine was 8×4″). Bake for 15 minutes at 350F. Remove from the oven and cool for at least 15 minutes.
While the crust is cooling, blend the bananas until smooth.
Pour the banana puree on top of the crust.
Sprinkle on the chocolate chips, nuts, and coconut. Gently press down until the banana puree rises up covering everything.
Bake for 40 minutes at 350F.
Cool then chill overnight.
The next day, slice and enjoy! Keep leftovers in the fridge.
---
[nutrifox id="10995″]
Pin It