Homemade biscuits seem too hard? Bake these vegan strawberry shortcake MUFFINS instead! Still a sweet summer treat stuffed with juicy strawberries and coconut whipped cream. Gluten-free and naturally sweetened too!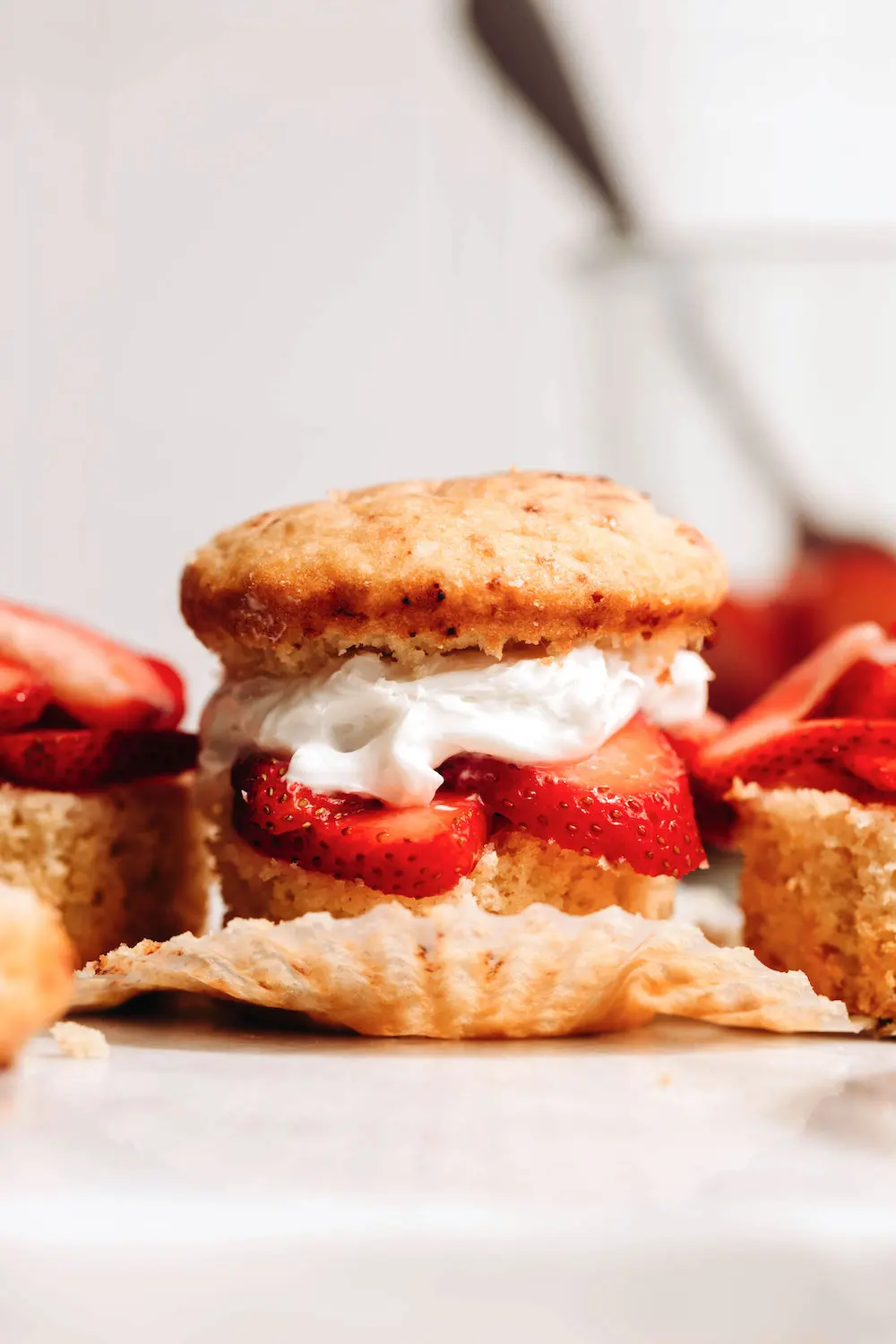 ---
A cheat. A hack. A biscuit-free usually biscuit-based dessert because perhaps the idea of making vegan gluten-free biscuits from scratch intimidates you but the idea of fluffy carbs sandwiched around saucy strawberries and whipped cream delights you in the most simple summery way. And a muffin is wayyyy closer to cake than a biscuit anyway, so perhaps this is actually just strawberry shortCAKE as it should be. Who's to say!
What You Will Need To Make Strawberry Shortcake Muffins
Not only is our ingredient list entirely vegan as the title already told you, this muffin recipe is also gluten-free and sweetened only with Medjool dates!
For The Medjool Date-Sweetened Muffins
Natural Delights Medjool Dates. The sweet star of this healthier muffin recipe is my favorite Medjool dates from Natural Delights. Not only do they sweeten up this recipe without any refined sugar, but they also add lots of moisture for a tender muffin texture that is perfect for shortcake-ing. Bonus points for already being pitted to save us an extra step too!
Water. To blend the Medjool dates into a smooth paste that will be the base of our batter.
Almond milk + apple cider vinegar. Often referred to as "vegan buttermilk", it adds more moisture and richness than just the milk alone.
Avocado oil. Or the neutral flavored oil of your choosing, melted coconut oil is fine too.
Vanilla extract. Because the flavor pairs so deliciously with fresh berries.
Gluten-free flour. The majority of our dry ingredients, and it can be swapped for all purpose if you are not gluten-free.
Almond flour. This helps balance the sometimes gummy-ness of gluten-free flour, and adds some extra natural moisture too.
Coconut flour. Biscuits are supposed to be a bit crumbly, and coconut flour is just the ingredient to add a little bit of that crumble texture.
Baking powder, baking soda, and salt.
Freeze dried strawberries. You can certainly skip them. But if you want to infuse some extra berry flavor into the muffins themselves, grind em' up and fold them into the batter or add on top before baking.
For The Saucy Strawberries
Simply slice your fresh berries and toss with a little sweetness, then rest in the fridge for half an hour or so. The sugar will pull out the natural sweetness and juice of the berries to create an almost saucy effect when spooned over the halved muffins. Or if you don't want the added sugar, just use fresh sliced berries without!
For The Coconut Whipped Cream
Coconut cream can be finicky – when it works it is magical fluffy stuff and when it doesn't it is a sad lumpy mess. But I have some tips to share!
Chill you coconut cream for as long as possible. One day at least. Two days is awesome. A week, spectacular. It's been in there for I don't know how long and I just found it when I cleaned out the fridge…could be great could be too old. Only one way to find out.
When you open the can you should see soft, smooth, solid cream only. No liquid, no hard/crackly almost coconut oil like shell. No lumps or bumps. If you see any of these things, it's not going to whip up right. Don't try to blend it and save it, it won't work (speaking from lots of desperate attempt experience here!)
Buy a trusted brand, my favorite is linked in the recipe box. And buying one labeled coconut CREAM vs full fat coconut MILK will yield more of the solid stuff per can.
Chill your bowl before whipping. And don't over whip or it will start to melt and turn liquidy.
Chill the whipped cream again before using.
More Strawberry Recipes You'll Love
Print
Vegan Strawberry Shortcake Muffins
Author:

Prep Time:

30 minutes

Cook Time:

22 minutes

Total Time:

52 minutes

Yield:

12

muffins

1

x

Category:

muffins

Method:

baking

Cuisine:

american
---
Description
Homemade biscuits seem too hard? Bake these vegan strawberry shortcake MUFFINS instead! Still a sweet summer treat stuffed with juicy strawberries and coconut whipped cream. Gluten-free and naturally sweetened too!
---
Strawberry Shortcake Muffins*
Sliced Strawberries
1

pound fresh strawberries, sliced

2

–

4

tbsp sweetener of choice (agave, maple syrup, cane sugar all work!)
Coconut Whipped Cream**
1

can heavy coconut cream

1 tbsp

sweetener of choice

1/2 tsp

vanilla extract
---
Instructions
For the muffins:
Preheat the oven to 350°F. Line a muffin pan with 12 paper liners.
Whisk the vinegar into the almond milk and set aside 10 minutes. Add vanilla extract.
Blend the pitted Medjool Dates and water until combined (a little chunky is okay).
Add the almond milk mixture and oil. Blend again until cream and smooth.
In a separate bowl, whisk together the dry ingredients.
Add the Medjool date mixture to the dry ingredients and mix to form a thick batter.
Scoop into the muffin pan, filling each muffin almost to the top.
Blend the freeze dried strawberries on low speed to a dust/sand consistency.
Sprinkle the tops of each muffin with freeze dried strawberry "dust" and mix it in slightly (if you don't stir it in at all it will burn).
Bake 20-22 minutes at 350°F.
Cool in the pan 15 minutes, then transfer to a cooling rack to cool completely.
For the strawberries:
Toss sliced strawberries with sweetener until evenly coated.
Place in the fridge for at least 30 minutes, they will become soft and juicy.
Coconut whipped cream:
Chill your mixing bowl 30 minutes prior to whipping the coconut cream.
Scoop out just the solid part from the can of coconut cream.
Using a hand mixer or a stand mixer fitted with the whisk attachment, whip the coconut cream for 1 minute until light and fluffy.
Add the sweetener and vanilla, mix again until just combined.
Chill at least 1 hour before serving.
---
Notes
*For an alternate oat flour muffin recipe, try THIS one.
**Brand makes a big difference here! Some brands will turn out chunky or runny, THIS is my personal favorite. Chilling time also make a big difference – 24 hours minimum, but the longer the better. If you open your can and the cream is watery or chunky it will not whip up correctly. You could also opt for a store-bought coconut whipped cream like THIS which is what I used in the video.
Keywords: gluten free, summer, berry, easy, baking, healthy, gluten free, date sweetened
CLICK BELOW TO PIN