This vegan strawberry crumb cake features a deliciously soft gluten-free vanilla cake, sweet berry jam, and buttery crumb. Easy brunch baking!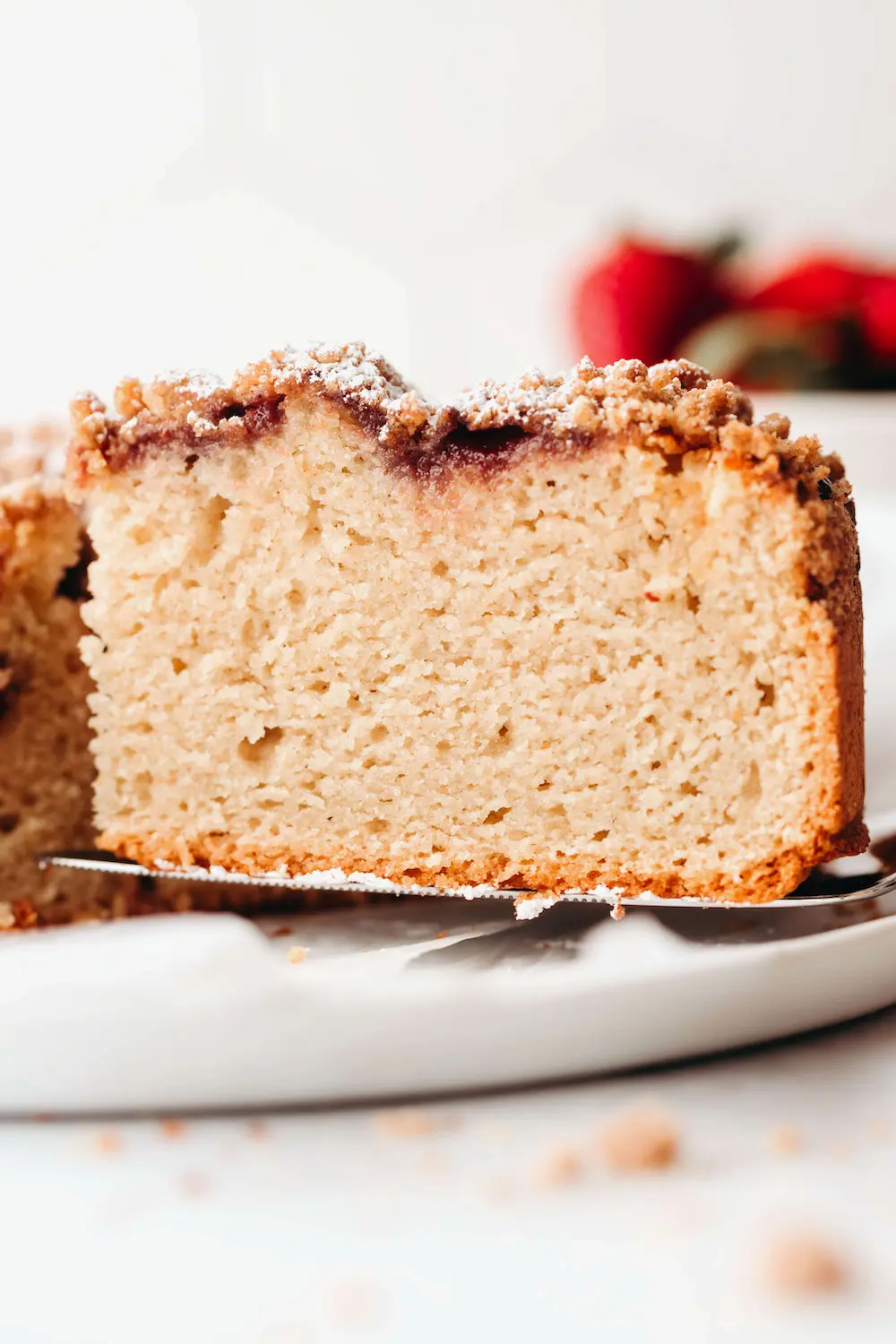 Oooooh baby, do I have the PERFECT springy brunch cake for you! And this recipe probably also holds the title of Most Excessively Tested Cake To Ever Be On The Blog (Ten test batches? Twelve? I don't even remember…), so if you follow the recipe just as written I can guarantee you it will come out just as gloriously fluffy, jammy, and streusel-y as pictured.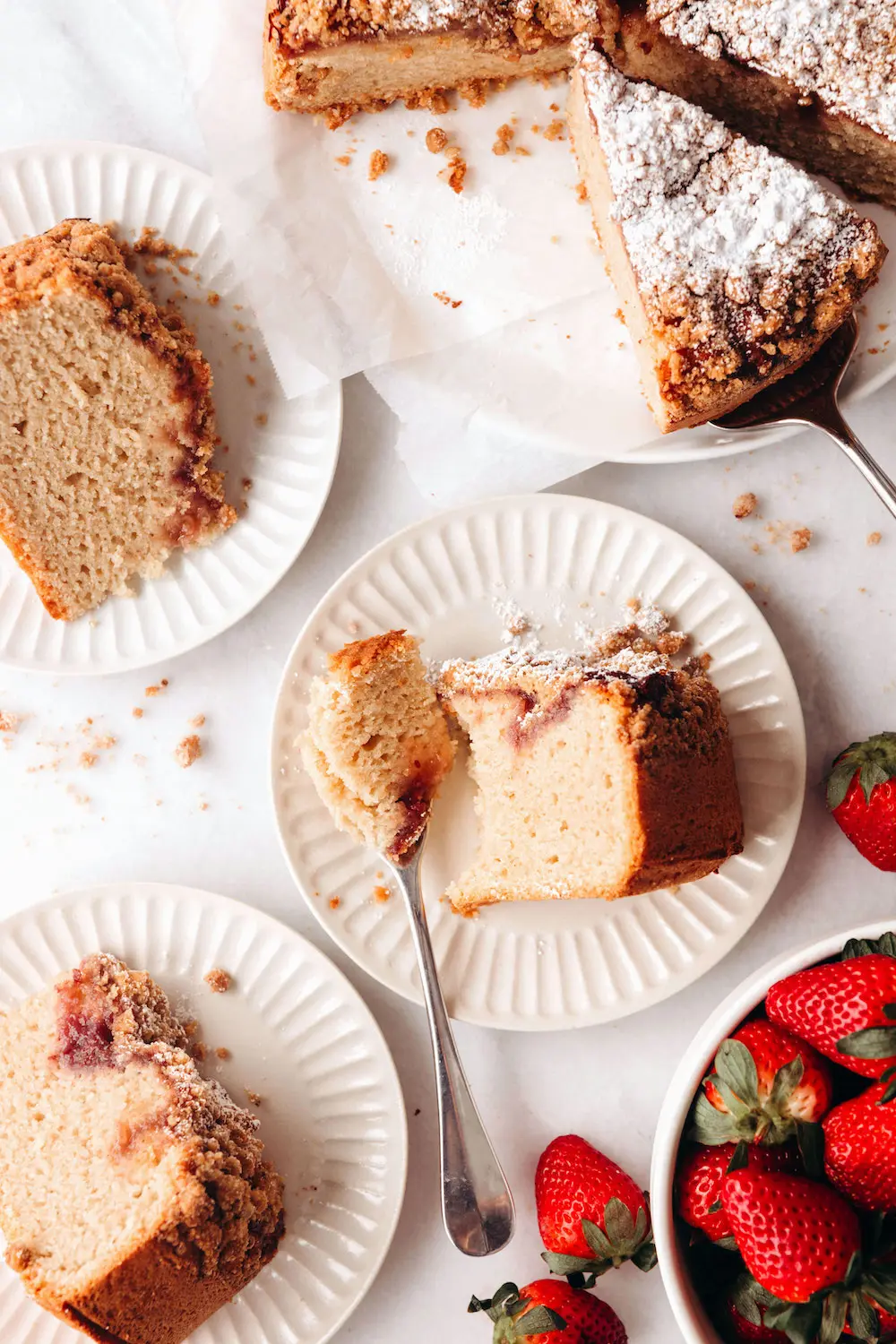 How To Make The Most Delicious Vegan Strawberry Crumb Cake
This is one of those recipes I'm going to break down layer by layer: cake > jam > streusel.
The Softest Vegan Gluten-Free Vanilla Cake
This is definitely the step the required the most testing. I was not settling for even a little bit of denseness or gumminess, only the perfect fluffy crumb would work. And all the moisture from that jam on top complicated that mission even more, but after enough flour tweaking we got there. That being said, these amounts are triple tested and will come out beautifully fluffy, but if you substitute anything or mis-measure (ideally use a scale and weight measurements!) I cannot guarantee the same result.
The flours. With egg and gluten-free baking, one flour alone is rarely enough. In this case we are using a combination of three different flours: gluten-free all purpose, almond flour, and coconut flour. Why all three?

Gluten-free all-purpose flour. This makes up most of our dry ingredient blend and provides plenty of binding to avoid the necessity or any flax eggs or starches. But alone the result was too dense and gummy
Almond flour. This adds a lot of richness and moisture, but alone wouldn't have nearly enough binding ability.
Coconut flour. The other two flours alone would be too moist and gummy, but the dryness of coconut flour balances that our with its super absorbent abilities and makes for the perfect defined crumb.

Baking powder, baking soda, and salt. Is two different leavening agents absolutely necessary? No. But they do work better together, and without eggs we want all the rise we can get.
Cane sugar. I wanted to preserve the soft light vanilla look and flavor, so I opted for cane sugar instead of coconut sugar. Regular white sugar will work, and I did include the option for subbing in coconut as well.
Dairy-free butter. I tried many times to use coconut oil or a nut butter, but it just messed up the lightness if the cake. Melted dairy-free butter works best, but a non-coconut oil (I tested with avocado oil) will be fine too.
Almond milk + apple cider vinegar. A.k.a. vegan "buttermilk" acts as our main wet ingredient, and the acidic addition of vinegar helps with the rise as well.
Vanilla extract.
The Jammy Berry Layer
Now this is where you can have some fruity customizing fun! I personally used my favorite store-bought, fruit-sweetened fruit spread from St Dalfour – the strawberry and red raspberry varieties because I couldn't pick just one. You could swap in any of their other flavors or a combination, there are lots to choose from. Or you could make your own homemade fruit spread or fruit jam. And you could even layer in some fresh berries on top of the jam too.
The Sweet Streusel Crumb Layer
My favorite part! And so easy to make with just a few ingredients and a fork or your fingers to mix it all up. We are using…
Gluten-free flour. Of the three flours we used for the cake batter, this one works best from crumble topping making.
Coconut sugar. I know I know, I'm swapping flours on you. But coconut or brown sugar makes a MUCH richer streusel than cane sugar, it's worth the switch.
Spices. I used a combo of ginger and cinnamon because I think both pair really well with berries, but you can add any you love.
Dairy-free butter. Or again you can use oil here, but the butter will add more flavor. I find it easiest to mix with melted butter vs cold.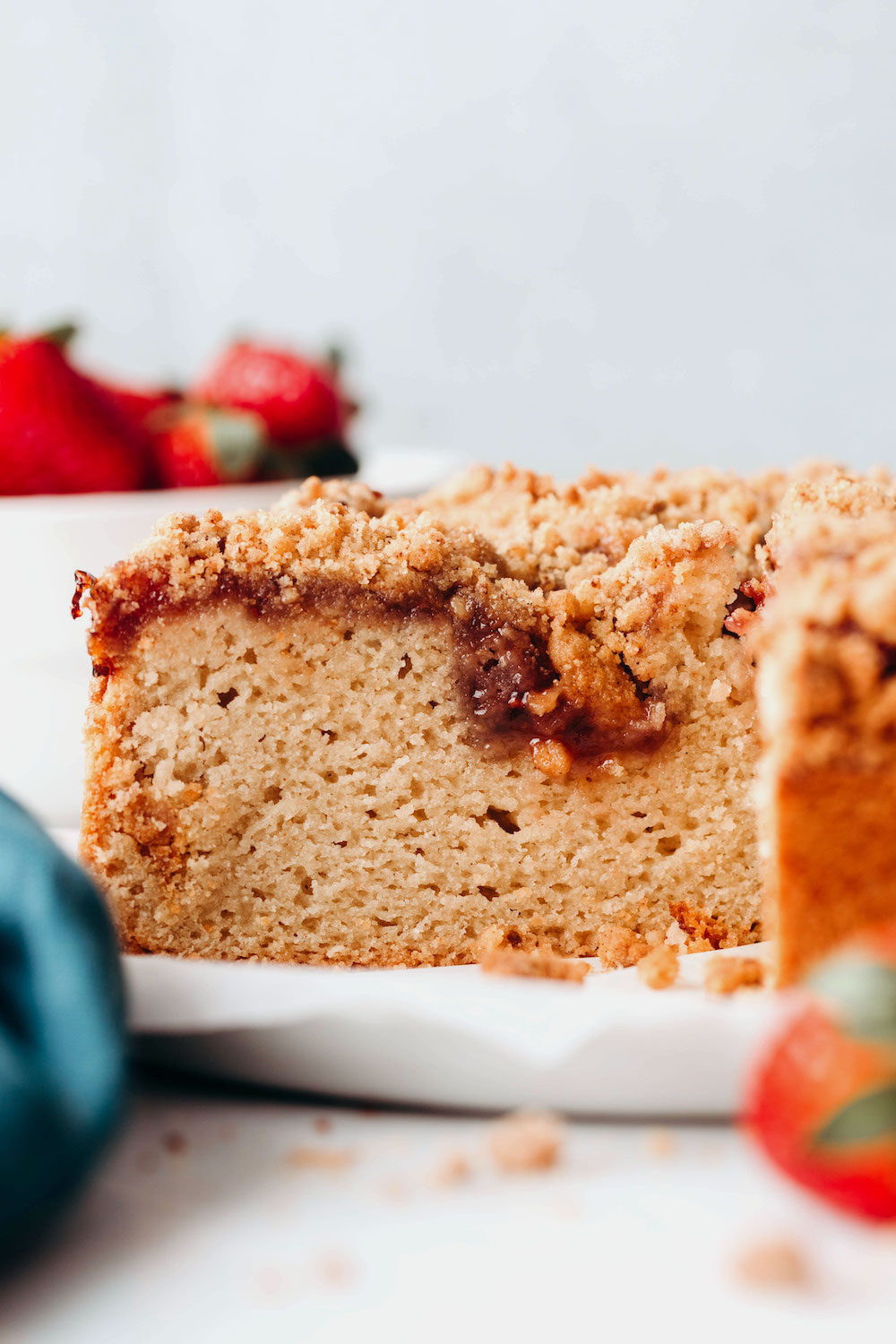 More Brunch Baking Recipes You'll Love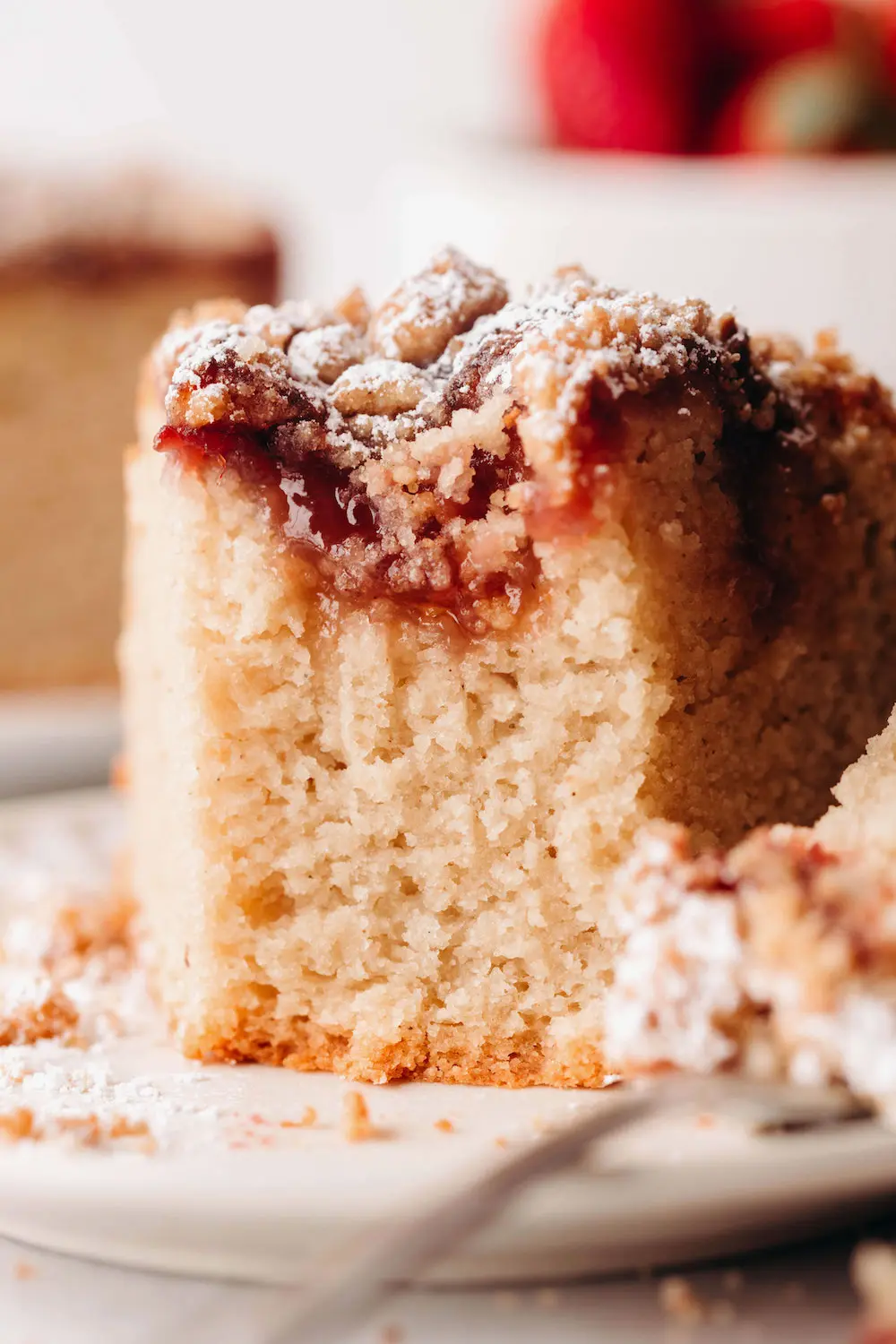 Print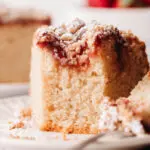 Vegan Strawberry Crumb Cake
Author:
Prep Time: 30 minutes
Cook Time: 65 minutes
Total Time: 1 hour 35 minutes
Yield: 16 slices 1x
Category: cake
Method: baking
Cuisine: american
---
Description
This vegan strawberry crumb cake features a deliciously soft gluten-free vanilla cake, sweet berry jam, and buttery crumb. Easy brunch baking!
---
2 cups (248g) gluten-free flour
1 cups (112g) almond flour
1/2 (60g) coconut flour
2 tsps baking powder
1/4 tsp baking soda
1/4 tsp salt
1 cup (220g) cane sugar or coconut sugar (150g)
1/2 cup (113g) dairy-free butter, melted (or avocado oil 100g)
1 1/4 cup (300g) almond milk
1 tbsp apple cider vinegar
1 tsp vanilla extract
1/2 cup fruit spread of choice (I used a combination of St Dalfour Strawberry and Red Raspberry)
Crumble Topping
1/3 cup (50g) coconut sugar
1/2 cup (62g) gluten-free flour
2 tbsp (28g) vegan butter, melted (or avocado oil 25g)
1/2 tsp cinnamon
1/2 tsp ginger
---
Instructions
Preheat the oven to 350°F. Grease or line an 8-9" springform pan.
Add apple cider vinegar to the almond milk, stir, and set aside.
In a stand mixer (or you can mix by hand), mix together the flours, baking powder, baking soda, salt, and sugar.
With the mixer running, stream in the melted butter. Mix 10-15 seconds.
Then stream in the almond milk mixture and vanilla. Mix until combined, the batter will be quite thick.
Spread into the bottom of the prepared springform pan.
Dot the top of the batter with St Dalfour Strawberry and Red Raspberry Fruit Spreads. Use an offset spatula to spread evenly over the top of the cake, leaving approximately ½ inch around the edges.
In a separate bowl, combine the crumble ingredients. Mix with a fork until sticky and crumbly. Sprinkle on top of the fruit spread layer.
Bake 60-65 minutes at 350°F.
Cool 30-60 minutes, then release from the springform pan.
Dust with powdered sugar, slice, and enjoy.
---
Keywords: gluten free, brunch, spring, berry, raspberry, fluffy, vanilla, streusel, healthy, almond flour
CLICK BELOW TO PIN