This Vegan Pistachio Ice Cream recipe is a homemade take on an underrated but delicious flavor with a favorite green fruit as the creamy coconut-free base!

No it's not just you, I too find it excessive that I am posting another ice cream recipe today.
I am well aware that the ice cream recipe frequency around here has gotten a little out of hand. But is it really possible to be bitter about an overabundance of cold creamy sweet concoctions? I didn't think so. And pistachio in particular is a highly underrated flavor in my opinion, so I just couldn't call it quits right before this one.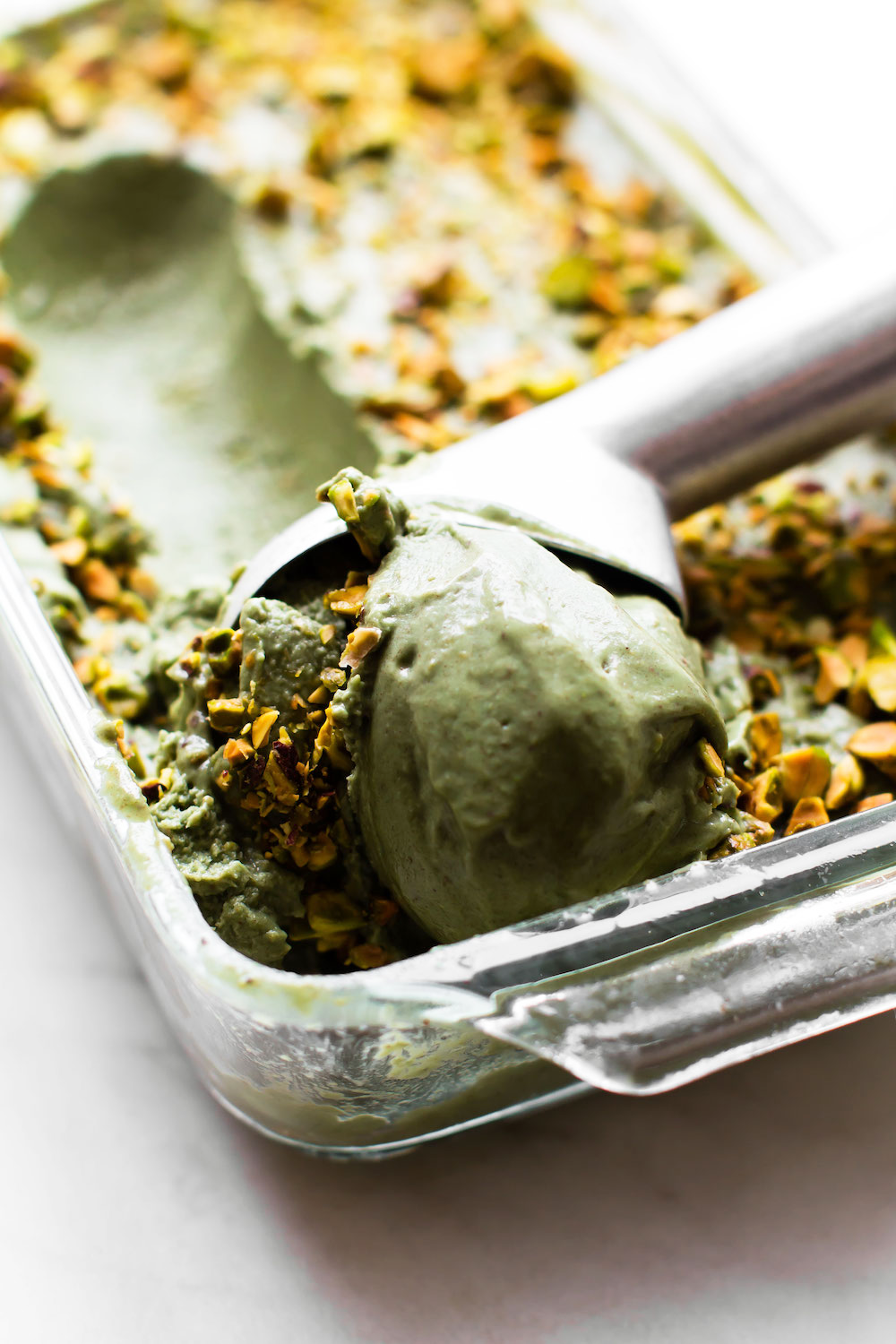 Also, I've been having fun lately experimenting with ice cream recipes that don't use banana or coconut milk, and this batch is the product of another one of those ideas. Besides the instant soft-serve style blender nice cream, any well-textured ice cream base needs some form of fat to keep from freezing rock solid. Nut butter works wonderfully as evidenced by this bowl of peanut butter goodness, but there is a fruitier alternative I still wanted to test.
AVOCADO.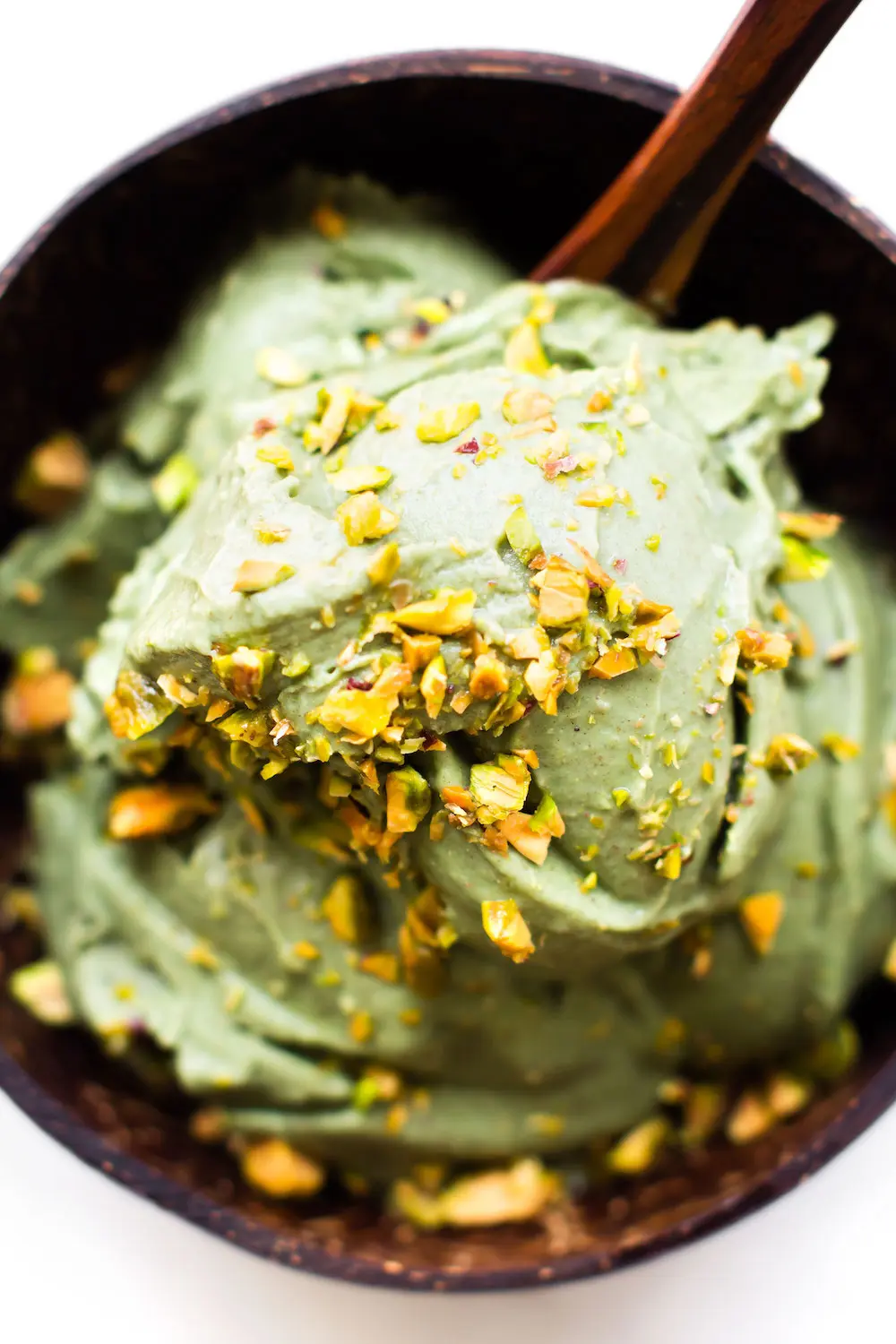 Avocado ice cream isn't new, it's been around for a few years now stealing some of the summertime avo stardom from guacamole. This was the first mention I remember seeing of the concept, but last week was the first time it's made it into my ice cream bowl. And I must say I am quiet a fan. It's creamy, it's healthy, it's nearly undetectable underneath all the other sweet stuff in here, and it's the perfect color for pistachio ice cream. Meant to be.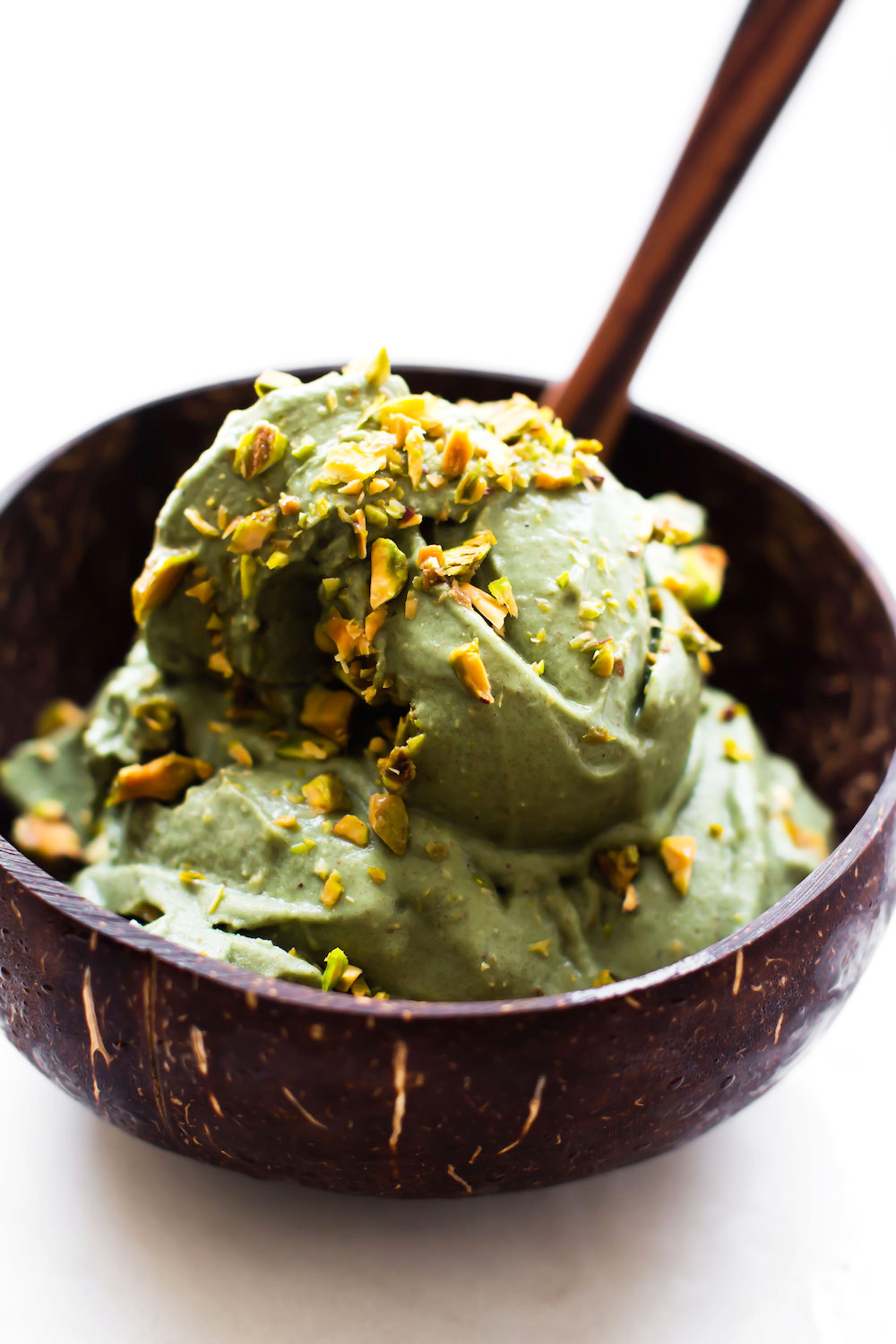 Base. I used one whole avocado, but it was quite a hefty avocado. So one or maybe one and a half if it's a small avocado(s) blended up with non-dairy milk is the base of this green and good stuff. Any kind of non-dairy milk from a carton will work, I personally used cashew but almond/soy/hemp/flax/etc. is fine too. You could of course use coconut milk for extra richness, but it is not necessary.
Pistachios. And next comes the nuttiness. Unsalted (and hopefully pre-shelled for the sake of your fingers!) pistachios blend right in with the avocado for color, extra creaminess, and most importantly flavor.
The true taste of a pistachio nut is not the same as the taste of "pistachio" ice cream we've come to expect. That unique flavor is the combined product of pistachios and almond extract usually, which barely even tastes like almonds if you ask me. To recreate the from-a-pint-pistachio taste, I did add half a teaspoon of almond extract to the recipe but it's optional. If you prefer to just embrace the taste of pure pistachio, then skip it.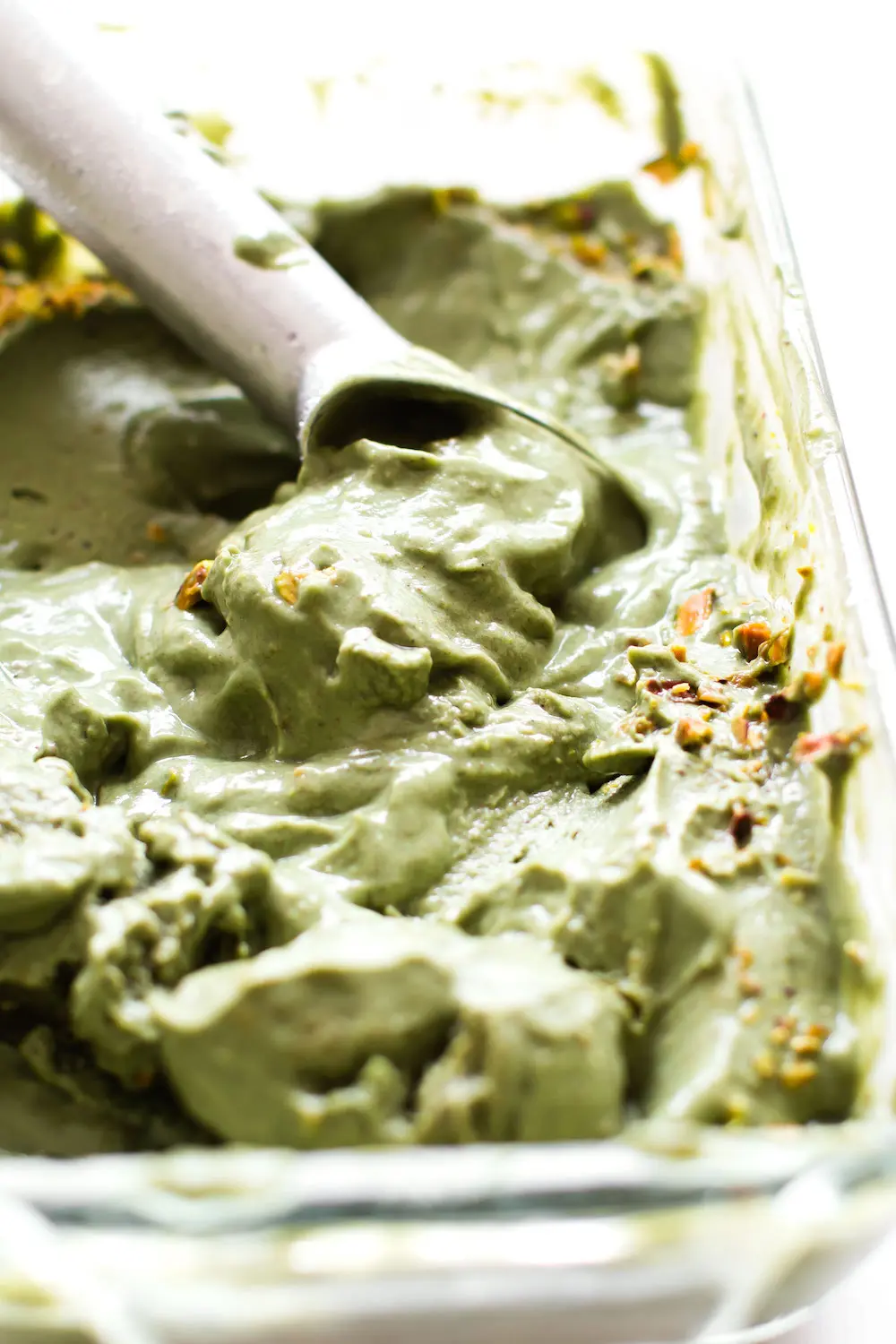 Sweetener. You have two options here, each with pros and cons…
Option 1: maple syrup. Easy, sweet, won't mess up the pretty green color. But won't aid at all in the no-churn texture/scoop-ability department.
Option 2: medjool dates. Fruity, sweet, make the whole mixture a little thicker and creamier. But green + brown does not make for the most attractive color.
So it's up to you – texture vs. color. Personally I prefer the medjool date version, and you can actually even add an extra half cup of milk to that version since the dates thicken it up quite a bit. So basically that means more ice cream for your blending efforts.
However, if you are serving to others who might be turned off by moss-colored ice cream than maybe go the maple route. If it turns out not creamy enough, you can always break it up into chunks after it's frozen and re-blend to make it ultra creamy. Or use the off-putting color to your advantage…more delicious-despite-it's-color ice cream for you!
Extra green. Another optional addition is spirulina to amp up the green color of whichever version you choose. As long as you only add a little bit, the ocean-y flavor will be masked by sweet nuttiness. I added about half a teaspoon, but you can taste and adjust for yourself or skip it completely.
Pistachio ice cream – the other favorite green flavor.
Oh pipe down mint chip, you have enough adoring fans as is.
Print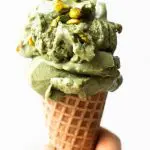 Vegan No-Churn Pistachio Ice Cream
Yield: 4 servings 1x
Category: dessert
Method: frozen
Cuisine: american
---
Description
This Vegan Pistachio Ice Cream recipe is a homemade take on an underrated but delicious flavor with a favorite green fruit as the creamy coconut-free base!
---
2 1/2 cups non-dairy milk (I used cashew)
1–2 avocados
1 cup unsalted pistachios, shells removed
1 cup pitted medjool dates (*see notes)
Optional: 1/2 tsp almond extract
Optional: 1/8 tsp spirulina (for color)
---
Instructions
Combine the milk, avocado, pistachios, medjool dates, and almond extract in a blender. Blend on high until smooth.
Add the spirulina slowly to achieve a pretty green color, tasting as you go and being careful not add too much or it will taste salty and ocean-y.
Pour the mixture into a loaf pan, top with chopped pistachios, and freeze overnight.
Remove from the freezer and let thaw for 10-15 minutes or until soft enough to scoop. Or if you want it SUPER creamy, break into chunks and re-blend until smooth.
Notes
*Medjool dates make for the best creamy texture, but not the best color when mixed with green. For a prettier color, use 1/3 cup maple syrup instead and decrease the amount of non-dairy milk to 2 cups.
Keywords: frozen, dessert, soft serve, no churn, vegan, dairy-free
Pin It
SaveSave
SaveSave