This blueberry ninja creami recipe is made with juicy wild blueberries, SunButter, vegan protein powder, and dairy-free yogurt for a summery sweet healthy ice cream treat ready in minutes!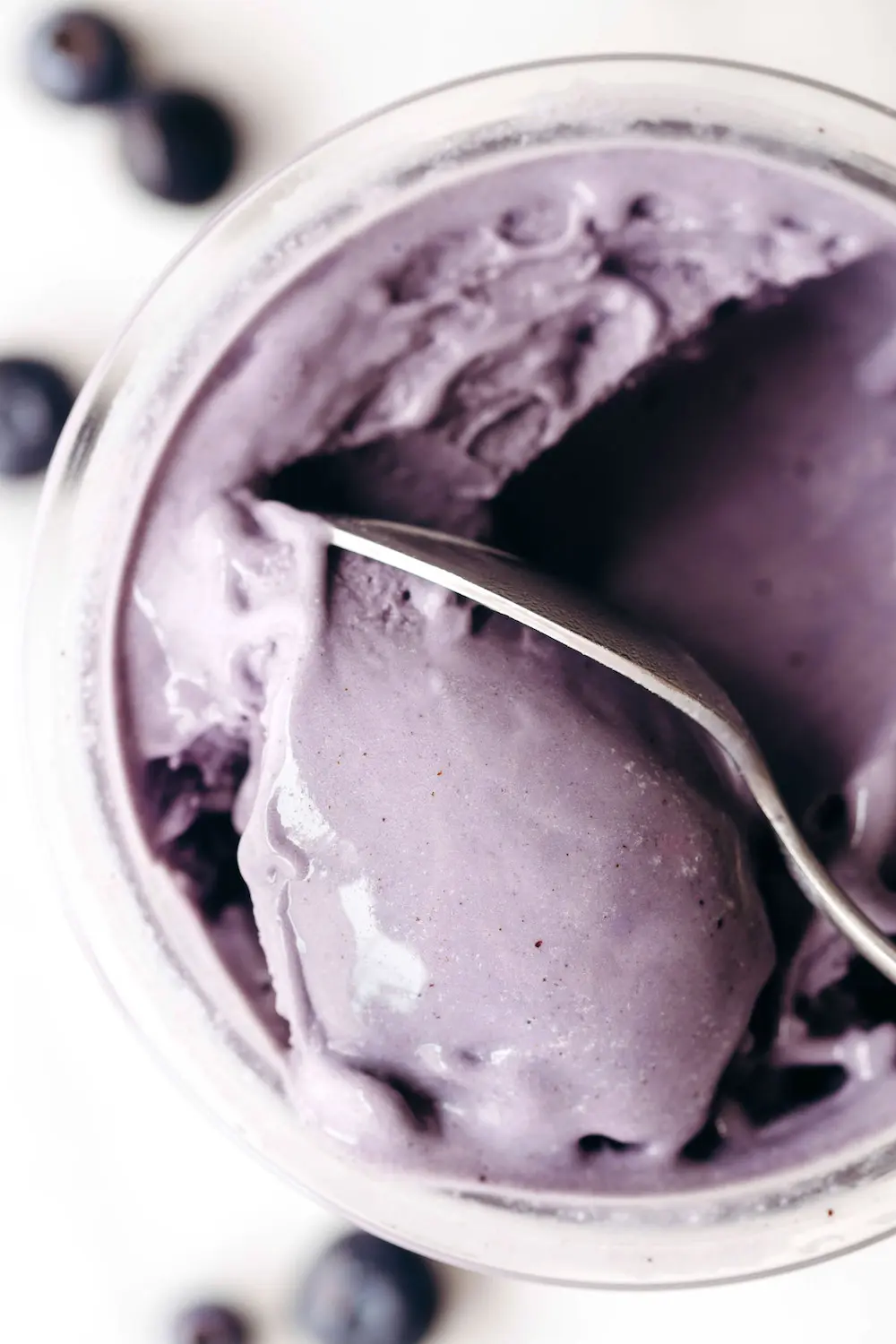 ---
My love (read: obsession) for the ninja creami continues to deepen, so I thought it was time for a fruity flavor made with a whole bunch of my favorite ingredients involved. The most obvious fave is the source of that beautiful purple hue and my favorite berry: blueberries (but you could make this recipe with any other berry too!) Then plop in a big scoop of dairy-free yogurt, another current obsession of mine, for a cheesecake-ish tang and low-key froyo vibe. Next comes the creamy key ingredient and my favorite seed butter spoonful: SunButter. And finally an (optional!) boost of protein from your favorite unflavored or vanilla protein powder, which takes this recipe from just a dessert to perfect post-workout snack territory too. It's one heck of a power-packed purple pint.
How To Make Blueberry Protein Ice Cream
This recipe is SIMPLE, don't get me wrong the effort requirement is very very minimal here. But…there is a little teensy bit of cooking involved…don't be mad at me! Because blueberries are a fruit, and fruits contain water, and if you just blend fresh blueberries into the ice cream base there will be a lot of excess water in there too that could lead to ice crystals. And we don't want that. We don't even want to risk that, so cooking down the berries first for ten-ish minutes is a necessary step for the creamiest creami. I promise the time will fly right by though!
Dairy-Free Ninja Creami Ingredients
Blueberries. Fresh or frozen, since we will be cooking them you don't even have to defrost. I used frozen wild blueberries, which are small and super vibrant which I loved in here.
Liquid sweetener. Or I suppose a granulated sweetener would even be fine, whatever you love. I personally used agave. This will be cooked down with the berries to create almost a compote kind of concoction.
Milk. Okay the cooking part is over! Now on to the blending ingredients, and milk is first up. I personally opt for cashew milk for all my creamy creations as it's a bit creamier than almost milk but not as creamy as coconut. I am not the biggest oat milk gal, but oat milk would be good here too. Just keep in mind thicker milk = richer ice cream. So a higher fat or even barista blend milk will be better than a watery almond milk.
Coconut yogurt. If you can't do coconut, another kind of non-dairy yogurt will be fine. But the richness of coconut yogurt is awesome here. Plain or unsweetened preferably.
Natural SunButter. The extra creaminess that SunButter adds to this blend is why we don't have to use canned coconut milk or a super high fat milk like that. But it also adds SO MUCH flavor in almost a blueberry pie or blueberry cookie kind of way. Delish addition! Natural SunButter is my favorite and go-to but any of the creamy varieties will be fine.
Protein powder. Unsweetened or vanilla, whatever variety or brand you love. I like to go as simple as possible when it comes to protein, so this one ingredient option has been my favorite lately. If you aren't vegan, your protein powder certainly doesn't have to be either.
Vanilla and salt. Optional, but never hurts.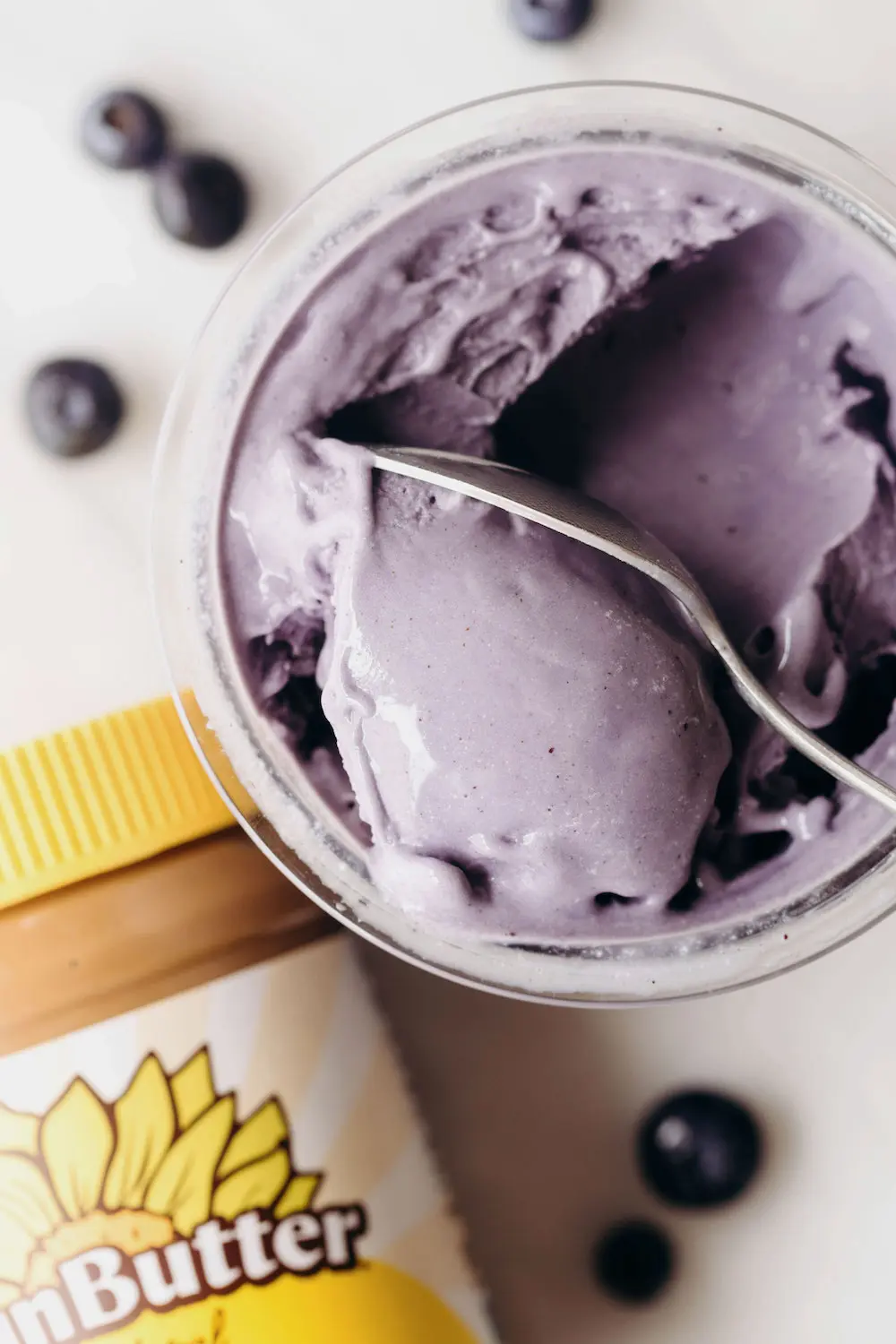 Blueberry Protein Ice Cream Step-By-Step
Combine the berries and sweetener in a small saucepan and simmer for about 10 minutes. It will be a thick jammy consistency at this point. Let it cool while you measure out the rest.
Add everything else to a blender, then the berries (plus all their sweet juice!) and blend it all up. It should be very smooth and relatively thick and beautifully purple.
Pour into a ninja creami container and freeze overnight (or at least 8 hours, sometimes I make it early in the a.m. and eat after dinner).
Blend in the creami, this is how I do it: one time on "light ice cream" → add a splash of milk → one time on "re-spin" → if it's still powder add a splash more milk and "re-spin" again (usually not necessary but just in case) → add your mix-ins and process on the "mix-in" setting.
Grab a spoon and EAT!
There are lots of yummy ways you could go with the mix-ins here, a few ideas: more fresh blueberries, blueberry jam, freeze dried blueberries, white chocolate chips, dark chocolate chips, crush graham crackers or cookies, cereal, granola, etc…
More Blueberry Recipes You'll Love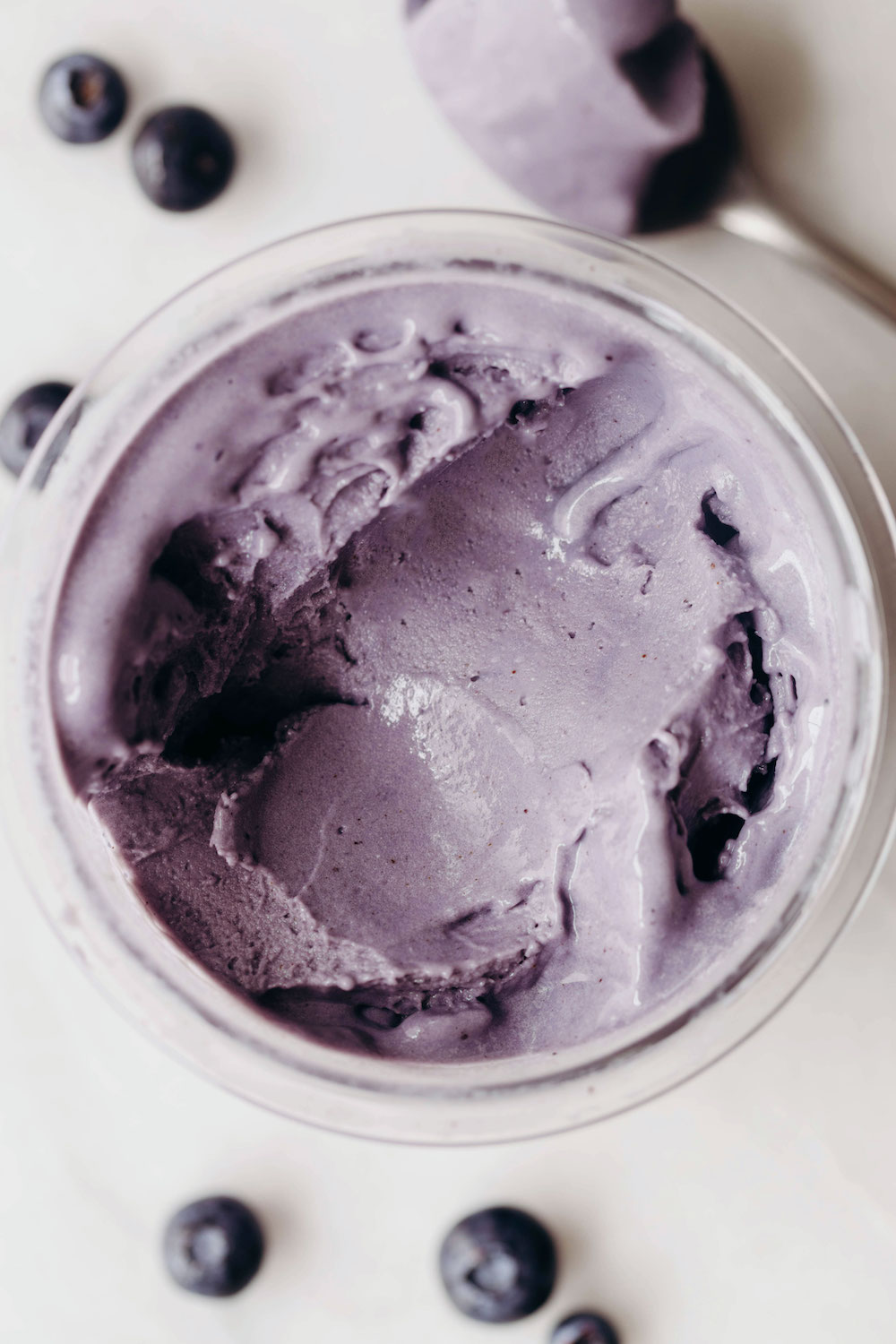 Print
CLICK BELOW TO PIN