Easy berry brownie for one! Made with good stuff like oat flour, SunButter, chocolate chips, and topped with a dreamy berry glaze. Vegan and gluten-free!
THIS POST IS SPONSORED BY SUNBUTTER
---
Once upon a time many years ago I made a flourless chocolate cake with blueberries and cacao and coconut and topped it with a lot (possibly too much in retrospect) ice cream and it was super fudgy and super simple and is still a reader favorite to this day. Now I'm not going to share the link here because that was five years ago and the photos make we want to cry (okay FINE….but you can't laugh).
Five years later and I am still obsessed with the combination of blueberries and ultra fudgy but also really fast to make chocolate things, so that is why this Single-Serve Blueberry Brownie came to be.
If you flip it out of it's mug-like vessel before glazing and consuming is it still consider a "mug cake"? Just wondering, please do let me know.
Well "mug cake" or single-serve purple-glazed fudginess or brownie for you and your face alone, this is what you're gonna need to make it:
Blueberries. Or other berries are acceptable, but I'm partial to bluebs. Strawberries would be second best I think, plus no bazillion pesky seeds to worry about
Cocoa or cacao powder (cacao is slightly less bitter)
SunButter! That's right this baby is oil and nut-free
Oat flour
Coconut sugar. You can cut back on this a smidge if you use a sweetened SunButter or just like intensely dark chocolate things
Almond milk. Or any of the milks
Baking soda and salt
Chocolate chips
And fun fact: SunButter now comes in convenient squishy little squeeze packs that happen to be exactly two tablespoons each. So perfect for on the go snacking or single-serve brownie baking.
I opted for oven baking as opposed to microwave because I find it keeps mug things much more moist. You can experiment with a couple minutes in the microwave too. If you are looking for more single-serve sweetness, this cookie jar situation might be up your alley too.
I included a simple blueberry glaze in the recipe too, but there is definitely enough berry sweetness inside not to need it. And if you do choose to skip, might I suggest a scoop of ice cream in its place.
Print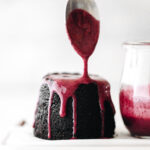 Single-Serve Blueberry Brownie
Author:
Prep Time: 10 minutes
Cook Time: 15 minutes
Total Time: 25 minutes
Yield: 1 brownie 1x
Category: chocolate
Method: baking
Cuisine: american
---
Description
Easy berry brownie for one! Made with good stuff like oat flour, SunButter, chocolate chips, and topped with a dreamy berry glaze. Vegan and gluten-free!
---
Glaze (optional)
1/2 cup (60g) powdered sugar
1–2 tbsp blueberry purée
---
Instructions
Preheat the oven to 350ºF.
Puree the blueberries.
In a mixing bowl, whisk together the cocoa powder, oat flour, coconut sugar, baking soda, and salt until lump free.
Add the SunButter, almond milk, vanilla, and 2 tbsp blueberry puree. Mix to combine.
Fold in the chocolate chips.
Transfer to a greased ramekin, and bake for 13-15 minutes at 350ºF.
Cool for at least 10 minutes.
To make the glaze, whisk the blueberry puree into powdered sugar until smooth and drizzle-able.
Carefully flip the brownie out of the ramekin, drizzle with glaze, and enjoy!
---
Notes
*You can use another kind of berry too, although if using one with seeds (blackberries/raspberries) puree VERY well. Or to make it without berries, swap the puree for applesauce.
---
Nutrition
Serving Size: 1 brownie
Calories: 477
Sugar: 36g
Sodium: 326mg
Fat: 27g
Saturated Fat: 6g
Carbohydrates: 62g
Fiber: 10g
Protein: 11g
Keywords: gluten free, vegan, dairy free, small batch, easy, quick, summer, berries, mug cake, nut free
CLICK BELOW TO PIN