A swirling sweet glass of creamy ice cream and fizzy fruity kombucha–this Kombucha Ice Cream Float is an easy summertime treat with endless variations!
[wprm-recipe-jump]

If you asked me what sweet treat is more summertime-perfect than (n)ice cream, my first instinct response would be nothing. Nada. Whatcha thinkin' silly?
Well besides mythical creature-inspired nice cream of course, but that doesn't count because it's in a separate magical dessert category along with those hollow spheres made of chocolate and any cake taller than 3 layers. Have you ever tried stacking cakes? Because I have, and trust me anyone who can pull off 4+ layers has powers.
But back to ice cream…
After creating this recipe, I was reminded of why ice cream floats are actually even better than non-floating ice cream (ice cream sinks?). All the cold creaminess of ice cream but submerged in the fizzy fun of soda. Or in this case kombucha.
Growing up, cream soda was always my first choice for floats because I love anything vanilla. Also root beer tastes like bubble gum toothpaste, and not in a good way. Just think about that one for a minute and you'll realize that I am right. If I just ruined root beer for you, I am (kinda) sorry. But we don't need it anyways because we have kombucha!
I'm pretty sure root beer flavored kombucha is actually a thing, but I have never seen cream soda kombucha. And while I have heard rumor that vanilla kombucha does exist somewhere in the world, it does not exist in a 20 mile radius of me. So while we patiently wait for better kombucha distribution over here, we'll rely on vanilla in the ice cream instead.
But you could make endless flavor variations of this beverage/dessert (bevssert?) because kombucha and ice cream both come in about a zillion and twelve varieties.
In this float, I used my Vanilla Oatmeal Ice Cream plus blueberry kombucha, because those two flavors pair like two peas in a purple pod. And they swirl together rather exquisitely too I think.
Now if you don't want to make your own real-deal ice cream (or don't conveniently have a batch sitting in the freezer from testing the recipe with almond milk), then nice cream float away my friend! You and your frozen nanas and your blender will be ready for pouring on the fizzy kombucha in no time. Or you could just buy coconut milk ice cream, and you will be sipping your float in even less then no time. It's not a race though.
If you are curious about this oatmeal ice cream business, yes the batch here is the almond milk version. The original recipe uses coconut, but as you can see in this video the almond milk pulls off a pretty creamy scoop too.
I know there is already blueberry in the booch, but I wanted to make it a lil extra fruity. So I may have layered some frozen bluebs in between the ice cream scoops. And maybe some blueberry jam snuggled in there too. You were already going to need a straw AND a spoon anyways. Also it just makes it extra prettyyyyy.
Virtual fruity kombucha float glass clink to you!
Print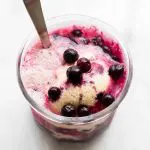 Kombucha Ice Cream Float
Prep Time: 5 minutes
Total Time: 5 minutes
Yield: 1 person 1x
---
Description
A swirling sweet glass of creamy ice cream and fizzy fruity kombucha–this Kombucha Ice Cream Float is an easy summertime treat with endless variations!
---
2 scoops vanilla ice cream ((or ice cream/nice cream of choice))
1 cup blueberry kombucha ((or kombucha of choice))
2 tbsp blueberry jam (*)
1/4 cup frozen blueberries
---
Instructions
Layer the ice cream, jam, and frozen blueberries into a glass.
Pour the kombucha over top.
Enjoy!
---
Notes
*Store-bought is fine too, this is my favorite brand as it is sweetened with only fruit juice.
More summertime sips…
–Choco-mint isn't only for ice cream, its superdelish through a straw too
-The customary citrus sip but without the customary cup of sugar
-As close to a salad as a milkshake can get
-Yes, yes I did blend an entire cupcake into this glass of berry goodness
SaveSave