The soundless split of an almost overripe banana peel–brown with yellow spots. The fruit is squishy-sweet from a week's neglect on the counter and a couple of bruises. Despite the blemishes I toss it into the blender with a handful of medjools and a scoop of bittersweet brown dust.
Wait a second…I thought this was a fudge recipe?
When you have a few too many really ripe bananas on your hands you either get snacking or you get creative. Creativity led to chocolate led to fudge.
With bananas as the base of this fudge and not a lot of flour, it tastes as if banana bread and chocolate fudge collided into one scrumptious creation. Chocolate + banana is a favorite combo in my mouth, and if you're reading this recipe then I have a feeling you feel the same way.
And those little nutty-looking sprinkles are actually nut imposters a.k.a dried white mulberries. I processed them to bits, then the oven toasted them to a nice golden color. They look like nuts, they crunch like nuts, but they're fruit, making these Crazy Fruity Fudge Bars even crazier and even fruitier!
Print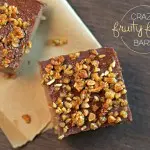 Crazy Fruity Fudge Bars
Prep Time: 10 minutes
Cook Time: 60 minutes
Total Time: 70 minutes
Yield: 9 1x
---
3 bananas
3/4 cup pitted medjool dates (about 8)
1/4 cup cacao powder (or cocoa powder)
1/2 cup water
1/2 cup oat flour (*see note)
1/4 cup dried white mulberries
---
Instructions
Preheat oven to 325F.
Blend the bananas, dates, and water on high until very smooth.
Add the cacao powder and oat flour. Blend again to combine.
Pour into a lined loaf pan.
Grind the mulberries into little pieces in a blender or food processor. Sprinkle on top of the fudge.
Bake for about 1 hour at 325F.
Let it cool a little bit before cutting into squares.
It's best eaten while it's still warm.
---
Notes
Store-bought oat flour works best in this recipe since it is a bit finer then grinding your own.