Like mint chip ice cream in mini pie form! Grasshopper Cookie Cups with a creamy mint filling inside a rich dark chocolate cookie crust. Vegan, paleo, easy!
THIS POST IS SPONSORED BY SUNBUTTER
---
A dark, crispy chocolate cookie vessel contrasted by a fluffy dollop of sweet mint cream in the middle…that's gonna be a good bite. No question.
But story time. I popped these cuties in the freezer for 30 minutes before their photoshoot to make sure the filling wouldn't melt halfway through (yup, Florida is already that hot), and whoa! Something happened. The freezer changed them. But for the better. The MUCH better.
The filling didn't turn to ice cream per say, but it turned chilly enough to trigger my brain's hypersensitive ice cream response. And the cookies are just crumbly enough to create a crushed cookie topping vibe. And the flavor is more than minty enough to turn this whole experience into a DID I JUST CREATE HANDHELD MINT CHIP ICE CREAM? moment.
And that was the moment I knew we had created something great.
I say we because this recipe was the joint dessert brainstorming baby of me and my girl Sonya. And the video was a team effort too, shot by Daniel who knows how to use all the fancy camera gear that makes us look like we're making cookie cups in a movie. And the whole recipe was inspired by our favorite nut-free baking partner SunButter!
Production value over the top? Nah. These cookie cups are delicious enough to deserve every bit of the attention.
So what makes these Grasshopper Cookie Cups so minty and magical…
The cups. A buttery, brownie-decadent, sweet but not too sweet cookie cup made with just 6 ingredients – good stuff like cacao, almond flour, and organic SunButter. The texture is halfway between your most tender crispy-edged cookie and an oreo pie crust, and all the credit goes to SunButter for that gift.
The filling. The creamiest, coconut-based, chilly mint filling that could not contrast those cookie cups any more perfectly. I tested it with coconut cream and full fat coconut yogurt, and I think I prefer the yogurt. But both work!
Chill time. I like most chocolate desserts better cold (exceptions: hot chocolate and lava cake), but these NEED to be refrigerated for optimal enjoyment. Or even freeze for an hour or so before eating, you will not regret it.
And don't think these cookie cups can't be the perfect edible vessel for other things too. Yes I am absolutely already thinking of ice cream…
More fun news! SunButter is offering YOU $1 off any jar of SunButter, so if you haven't tried it yet now is your chance. Well now and again every month twice a month because SunButter is that awesome and you're gonna love it that much. Just trust me – pretty soon peanut butter and almond butter will be crowded out of your pantry too.
Print the coupon HERE!

WATCH HOW TO
Print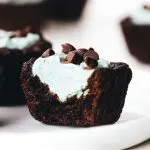 SunButter Grasshopper Cookie Cups
Author:
Prep Time: 00:15
Cook Time: 00:25
Total Time: 40 minutes
Yield: 8 cups (or 18 minis) 1x
Category: cookie
Method: baking
Cuisine: american
---
Description
Like mint chip ice cream in mini pie form! Grasshopper Cookie Cups with a creamy mint filling inside a rich dark chocolate cookie crust. Vegan, paleo, easy!
---
Chocolate Cookie Cups
Mint Filling
---
Instructions
Preheat the oven to 350ºF.
Whisk together the SunButter and maple syrup.
Add the cocoa powder, almond flour, baking soda, and salt.
Mix to form a thick dough.
Line a muffin tin with paper liners or spray with nonstick spray.
Press a thin layer of dough onto the bottom and sides of each muffin tin to make a cup. You should get 6-8 cups (or 18-20 if making minis).
Bake for 25-28 minutes (or 12-15 minutes for minis) at 350ºF.
Cool for 10-15 minutes, then remove from the pan and cool completely (or even chill overnight) before filling.
Stir together the filling ingredients until thick and creamy.
Fill each cookie cup with a spoonful of mint cream. Top with mini chips. Enjoy!
Keep covered in the fridge for up to a week.
---
---
Nutrition
Serving Size: 1 cup
Calories: 259
Sugar: 14g
Fat: 18g
Saturated Fat: 7g
Carbohydrates: 23g
Fiber: 4g
Protein: 6g
Keywords: mint, st patricks, chocolate, cookie, muffin, green, vegan, gluten free, paleo
CLICK BELOW TO PIN