A bright sparkling citrus cocktail with beautiful green tea ombré effect, this Matcha Gin Fizz is simple to shake up and sweetened with homemade Medjool date syrup!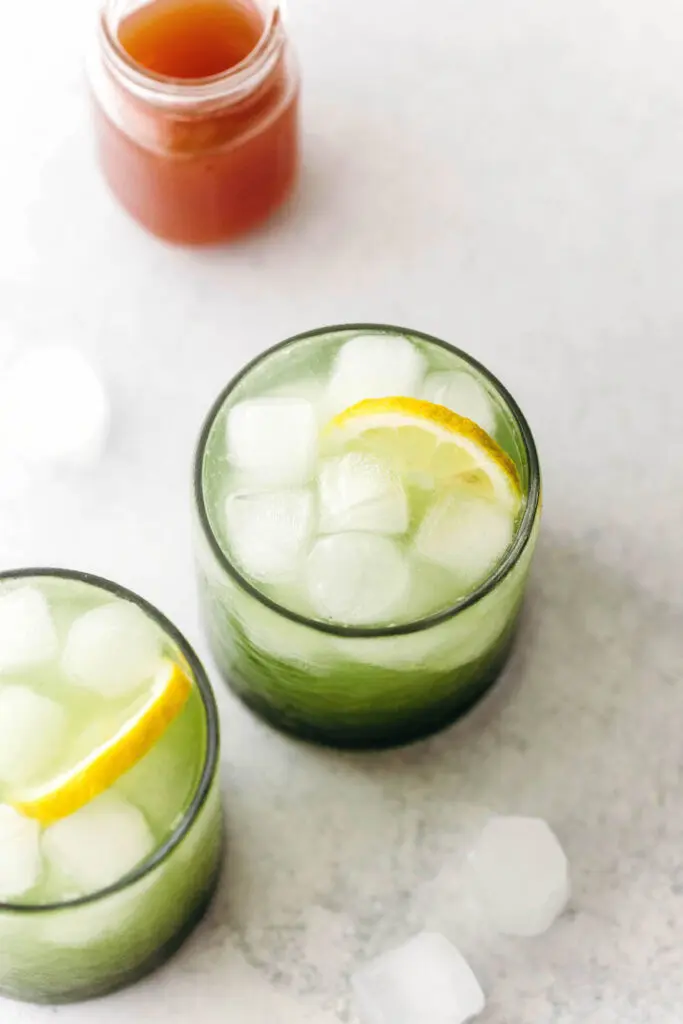 ---
A cocktail?! This is a first on the blog and definitely pushed me out of my recipe developing comfort zone, but was honestly really fun to make and photograph. So in honor of Halloween I created a monster-y green matcha cocktail, although the flavor is much more sweet and citrusy than spooky. When it comes to homemade cocktails, gin is my go-to and I always like them to be heavy on the citrus. This Matcha Gin Fizz definitely delivers on both, and is super simple to shake up too.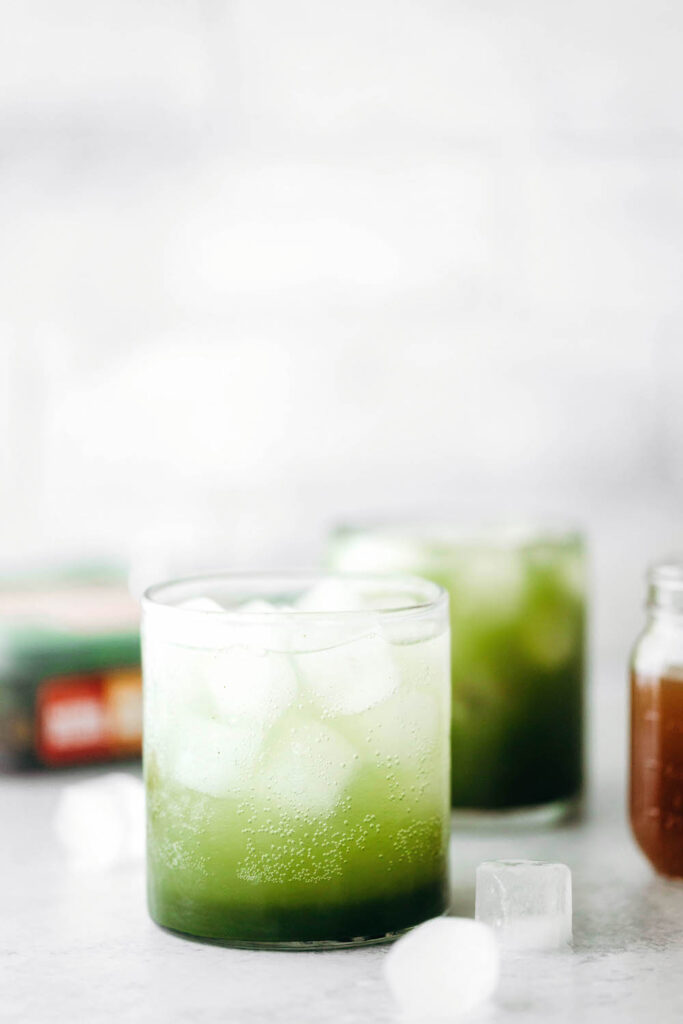 Homemade Medjool Date Syrup
This is the crafty, versatile, make-it-once-and-use-it-endless-ways part of the recipe. The process is quite simple and takes about 30 minutes, but most of that time is just passive. What you end up with is a delicious sweet syrup with a much more interesting flavor profile than simple syrup or agave––rich, deep, and caramelized. And healthier too since all the sweetness comes from naturally occurring fruit sugar.
I am very excited to be partnering up again with one of my long time favorite brands: Natural Delights! If you've been around here for a while you'll know I have TONS of date-sweetened recipes in the archives already. But get ready for more…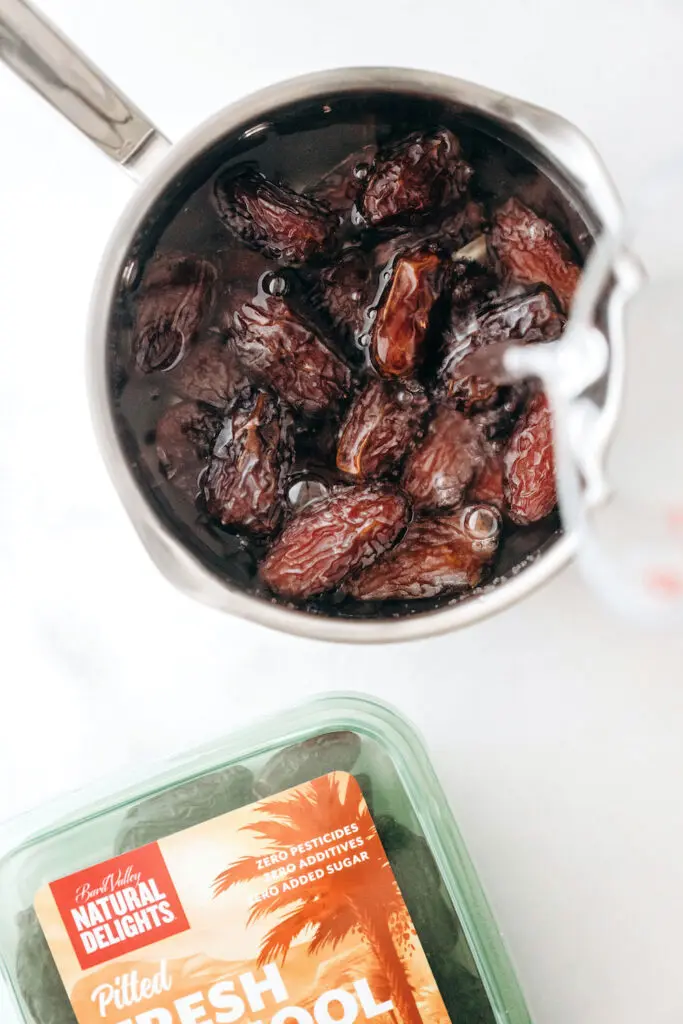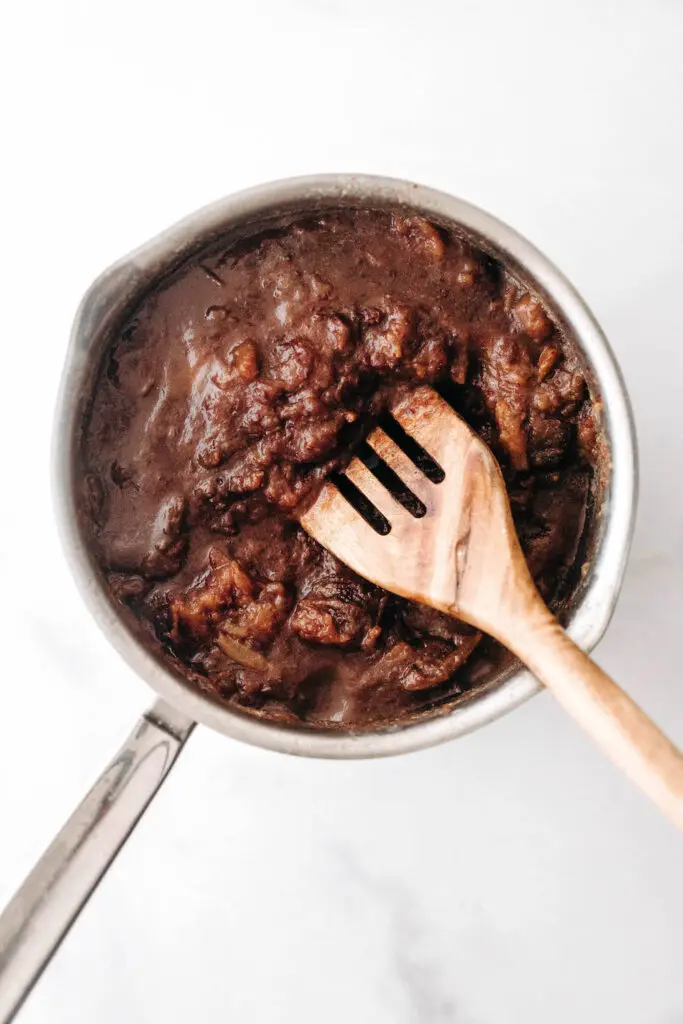 How To Make Medjool Date Syrup
Bring Medjool dates and water to a boil. Make sure you pit them first, or buy them already pitted (my favorite option). You really want high quality Medjool dates here, they will break down easier and lend more sweetness and flavor to your syrup. I always buy Natural Delights Medjool Dates, they are easy to find at my local grocery store and never let me down on freshness or flavor.
Simmer for about 30 minutes on low, stirring/smashing every 5-10 minutes. If the water is evaporating too fast, reduce the heat even further so the dates don't burn. There should be a little bit of liquid left when it's done, but thickened and syrupy in consistency.
Let it cool. I recommend at least 30 minutes otherwise you will burn your hands when you…
Strain it. A nut milk bag is most effective and will yield the most syrup, but a strainer will work too just requires more pressing to make sure you don't miss out on any potential syrup.
Store it in an airtight container in the fridge, it will last 1-2 weeks this way.
And yes, you will be left with quite a bit of date pulp. I recommend blending it (adding a small amount of water as necessary) into date paste and using it for baking. Maybe try this reader favorite: The BEST Healthy Chocolate Cupcakes.
Making the Matcha Gin Fizz
I am no expert at-home cocktail crafter, so I kept it simple: gin, lemon juice (or lime would be good), our homemade syrup to sweeten, matcha powder, and club soda for the fizz.
In case you are novice here too…
Don't own a cocktail shaker? Use a glass jar with a leak proof lid.
Don't own a cocktail jigger? 1 ounce equals 2 tablespoons.
Want to feel a little fancy? Step up your ice cube game with fun shaped ice trays.
And don't forget to strain it!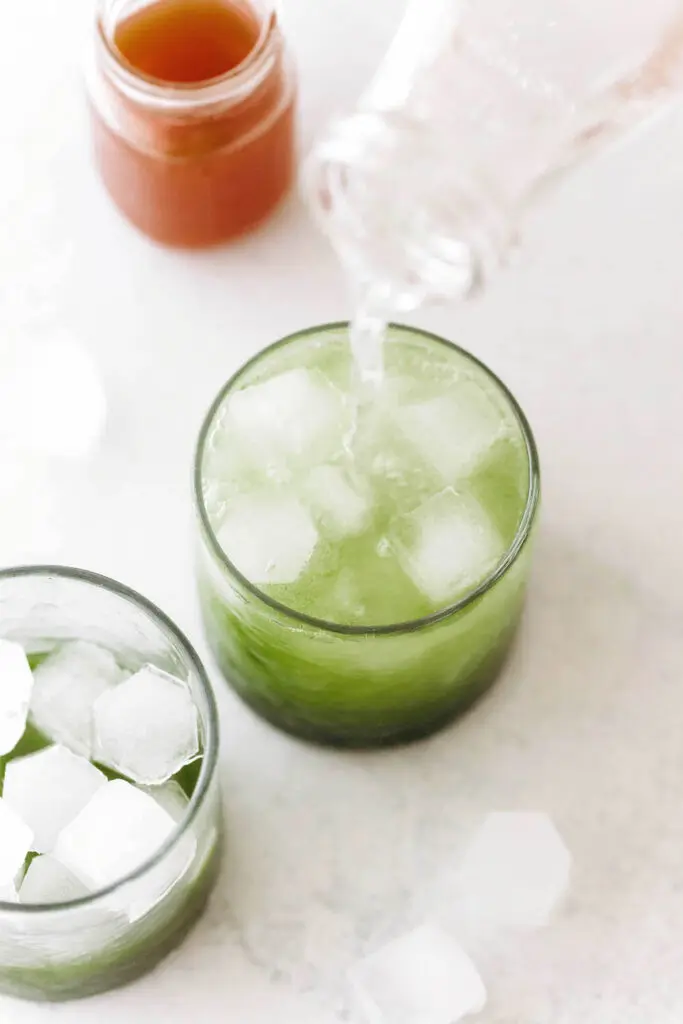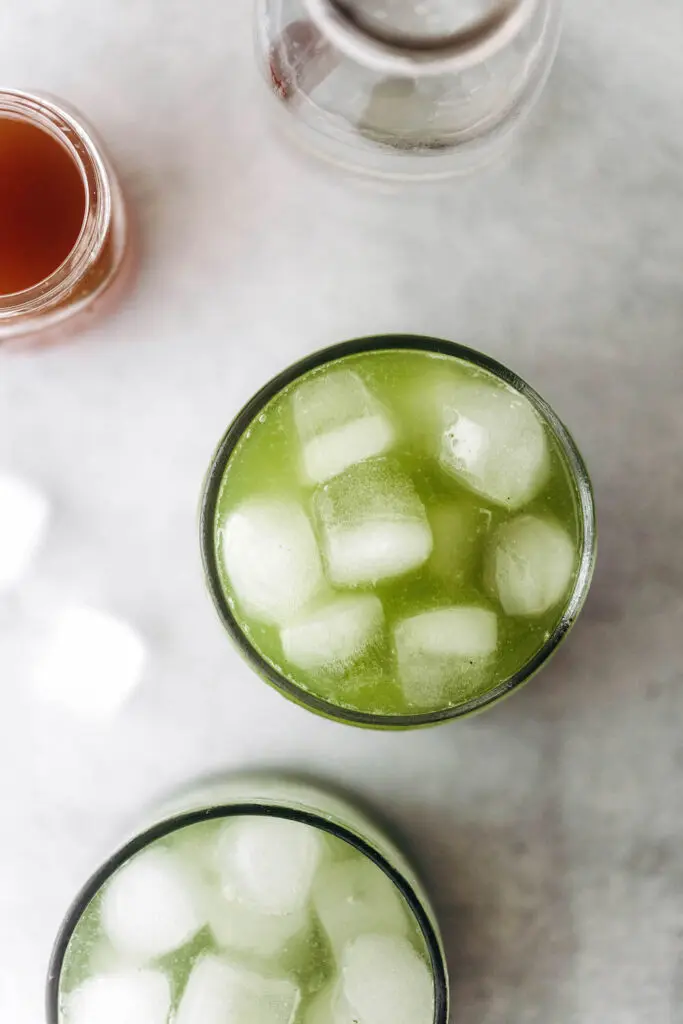 You can swap the gin for tequila or vodka if you prefer, or make it virgin with more club soda in place of the alcohol. I also love using lemon or lime flavor sparkling water for extra flavor. And if you don't like matcha (although I promise the flavor is not overpowering here), you can even skip it. Or try this homemade Medjool date syrup in your favorite go-to cocktail in place of the simple syrup.
Natural Delights is also running a Pick Your Potion giveaway this month with some fun festive prizes. Get all the details HERE.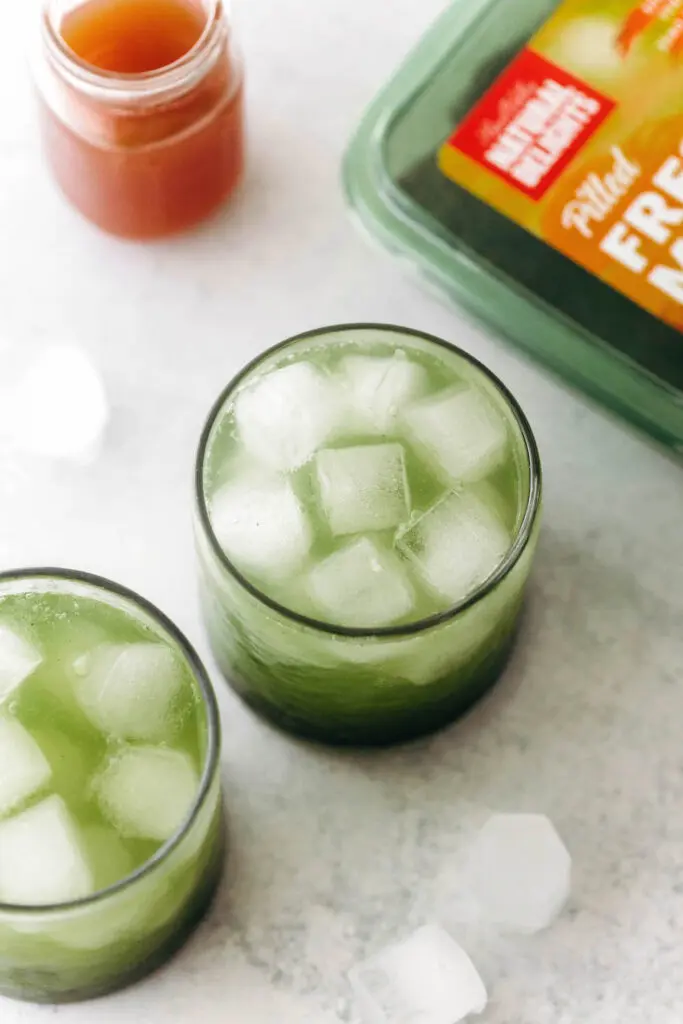 Happy halloween cocktail crafting to you!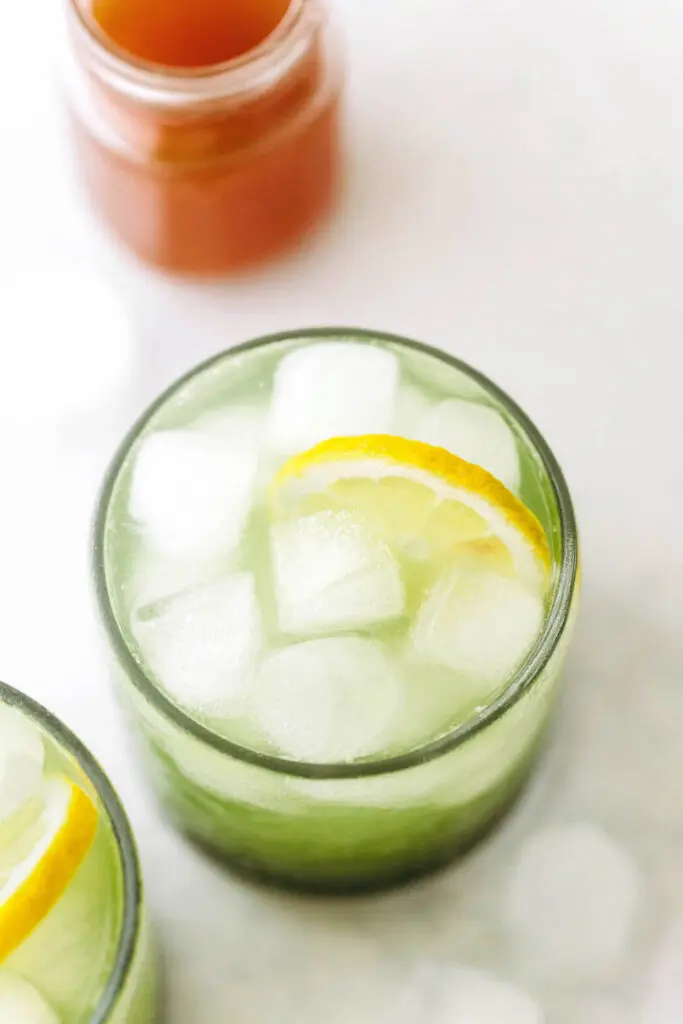 Print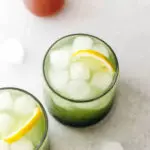 Matcha Gin Fizz
Author:
Prep Time: 1 hour
Cook Time: 30 minutes
Total Time: 1 hour 30 minutes
Yield: 1 drink 1x
Category: cocktail
Method: shake
Cuisine: american
---
Description
A bright sparkling citrus cocktail with beautiful green tea ombré effect, this Matcha Gin Fizz is simple to shake up and sweetened with homemade date syrup!
---
Medjool Date Syrup
Matcha Gin Fizz
2 ounces gin*
1/2 ounce lemon juice
1 ounce Medjool date syrup (above)
1/4 tsp matcha powder
3–4 ounces club soda
---
Instructions
Medjool Date Syrup
In a medium saucepan, bring Natural Delights Pitted Medjool Dates and water to a boil.
Reduce heat to low and simmer, stirring frequently and smashing with a spoon or potato masher to break the dates apart.
After about 30 minutes most of the liquid should be evaporated and the remaining liquid should be quite thick/syrupy.
Remove from the heat and cool. Then squeeze through a nut milk bag to extract just the syrup (you should get about 1 cup).
Transfer to a glass jar and keep in the fridge.
Matcha Gin Fizz
Shake together gin, lemon juice, syrup, and matcha powder in a cocktail shaker (or a jar works if you don't have one) with ice.
Strain into a glass, add ice, and top with club soda.
Garnish with a lemon slice.
---
Notes
*For an alcohol-free version, leave out the gin and add more club soda.
---
Nutrition
Serving Size: 1 drink
Calories: 275
Sugar: 26
Sodium: 45mg
Fat: 1g
Saturated Fat: 0g
Carbohydrates: 27
Fiber: 0g
Protein: 1g
Keywords: beverage, gin, cocktail, matcha, green tea, fizz, lemon juice, easy, simple, sugar free, date syrup
CLICK BELOW TO PIN