A sweet potato split and filled with creamy banana ice cream and all the toppings, this is one healthy, funky, uniquely delicious recipe you've gotta try!
So wait…the concept of a stuffed sweet potato doesn't usually involve ice cream? No caramel sauce either? Vegetables and beans and stuff, really? Are you sure!? Huh.
Because when I started brainstorming on a stuffed sweet potato recipe, ice cream was the first thing that came into my head. It was as obvious and nonnegotiable as frosting on a cupcake. The only real question was what flavor. And when faced with ice cream flavor indecision, the best course of action is usually to make them all. So I did.
An oblong edible vessel. Three flavors of ice cream. Extra caramel sauce in a jar in the fridge. The Sweet Potato Split was practically begging to be created!
Right now you are either thinking "Yum, yes, bring on this crazy concoction!" Or you are thinking "Um…this sounds very weird." Or possibly even "Why must you bring nicecream into everything you crazy lady!?"
If it's the first one, go pop your sweet potato in the oven now and come right back so you will already be on your way to making this funky fruit-filled feast by the time you finish reading.
If it's either of the others, then hear me out. Sweet potato brownies with ice cream on top–delicious! Sweet potato actually made into ice cream–a creamy treat! Sweet potatoes with marshmallows–a classic! Other warm, slightly-sweet carby things with ice cream (like oatmeal)–so yum! Ice cream is pretty much just a less sticky marshmallow. A sweet potato is pretty much just a less chocolatey sweet potato brownie. So by that logic, the Sweet Potato Split really was meant to be.
I love the texture contrast between dense starchy sweet potato and creamy light banana ice cream. And even moreso I love the temperature contrast between warm sweet potato and chilly fast-melting ice cream! Or you can chill your sweet potato first if you want to slow down the nicecream melting rate and give yourself more time to savor each deliciously temperature and texture diverse bite.
This recipe could of course be a tasty template for all kinds of flavor combinations, but I must say the ones in this particular split mingled very well. Cinnamon, blueberry, and chocolate ice creams + caramel sauce + blueberry compote + blueberries and mulberries on top = totally delicious! The addition of a few chocolate chips wouldn't have been a bad idea either.
The caramel sauce is my favorite Silky Sweet Date Caramel Sauce recipe from last week. I'm kinda putting it on everything if you hadn't noticed. The blueberry compote is a recipe by my friend Tiina from My Berry Forest that I make often as a topping because I absolutely love the flavor and simplicity of it. I think it is the addition of star anise–with the berries it is heavenly!
Other topping ideas…
– These roasted balsamic strawberries would be amazing (and kinda classy I think!)
– My top topping choice for just about everything. Or the grain-free version. Oooh or the lemon version even!
– Sprinkles obvs.
– To make you feel 8 again…magic shell!
– With some seasonally flavored ice cream scoops, this sauce would be insanely good!
– These little chewy chocolate guys.
– I think there might still be room for some cookie crumbles.
– And of course fruit of all kinds!
This particular Sweet Potato Split happened around 2:30 p.m. because gotta get that early afternoon photo lighting! But if your snacking schedule isn't dictated by the angle of the sun, then I think it would make for a killer breakfast. Or lunch. Or dinner. Oh heck, there are no mealtime rules with this melty mash-up.
Try it. For me. And your tummy. You're welcome.
This Sweet Potato Nice Cream Split is a healthy, funky, uniquely delicious snack you gotta try!
Click To Tweet
Print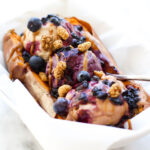 Blueberry Caramel Sweet Potato Split
Prep Time: 90 minutes
Cook Time: 60 minutes
Total Time: 150 minutes
Yield: 2 servings 1x
---
Cinnamon Nicecream
2–3 frozen bananas
1 tsp cinnamon
Blueberry Nicecream
2–3 frozen bananas
1/2–1 cup frozen blueberries
Chocolate Nicecream
2–3 frozen bananas
2 tbsp cacao or cocoa powder
---
Instructions
Preheat the oven to 400F.
Poke your sweet potatoes. Place on a pan and bake for approximately 45 mins to 1 hour or until squeezable.
Remove from the oven. Slice in half lengthwise. Let them cool for at least 30 mins or even chill overnight.
Blend each flavor of nicecream separately.
Transfer each to a shallow container. Freeze for 1-2 hours.
When you are ready to eat, place one large scoop of each flavor of nicecream inside each sweet potato. Top with caramel sauce and toppings. Enjoy!
---
Click Below To Pin
So whatcha thinking–crazy cool or crazy crazy?
What delicious flavor trio are you imagining scooped inside a Sweet Potato Split?
Also, nicecream or nice (space) cream? I think I've been doing it wrong….
SaveSaveSaveSaveSaveSaveSaveSave