This Purple Sweet Potato Ice Cream is a dazzlingly delicious vegan and paleo dessert made in the blender with almond milk so it's easy and healthy too!

Purple + ice cream. I cannot say no to a request that includes all my favorite things.
I told myself that this would be my last ice cream recipe for the summer. Made a mental promise to not post any more frozen scoop-able things. That lasted all of three days. Because then a lovely reader with very good ice cream tastes requested a purple sweet potato ice cream. And if you didn't know this about me, purple food is sorta my can't-resist weakness.
So here we are again – cone in hand, sweet stuff fast-melting, no churn recipe coming atcha!
I started this summer with mostly nice cream recipes plus one classically churned ice cream. But as the delicious season has carried along, I've come to love no-churn but banana-free ice creams best of all. Kinda like a combination of the two but no fancy machine necessary.
Plus there are so many different ways to go about making the blender base: nut butter, coconut, avocado, and this recipe is adding a low-fat option to that creamy dreamy list.
Because sweet potatoes are thick, sweet, blend-able, and (possibly) purple. Actually any kind/color of sweet potato will work here, although I do think the purple ones are especially sweet and tasty. Plus I have a sneaky-smart blender trick I stole from nice cream to turn banana-free ice creams into silky soft-serve consistency too.
With all of my no-churn ice cream recipes so far, adding a higher fat ingredient keeps the texture creamy even after freezing overnight. Even if it seems solid, ten or so minutes at room temp will soften it to scoop-able. But since this sweet potato version is made with from-a-carton almond milk and I skipped the dates for color purposes, thawing won't magically make it creamy. But a high speed blender will!
If you freeze the ice cream base in a pan and then break it into chunks the next day (or even use an ice cube tray for automatic chunks!), you can pop those chunks back in the blender and blend to luscious ice cream bliss. Or a food processor will work too, although it will take a bit longer and more stops along the way. After blending the texture will be very similar to nice cream, so eat it as is or refreeze for about 30 minutes then scoop.
If all of that blending sounds like too much work to you, use full-fat coconut milk to start with and the second blend won't be necessary. But we are talking about dazzling purpledelicious dessert-ness here, so it's worth the double blend effort if you ask me.
Enough about the purple process though, let's get to the ingredients in this good stuff…
Purple sweet potato. Obviously. I baked and mashed about five teeny tiny purple sweet potatoes. But if you have average-sized sweets, one or two will be enough. The microwave or oven works here, that's up to you. As I mentioned, any color sweet potato will be fine here – orange, white…okay those are really the only other options. But note that the purple ones are very sweet, so if you use a regular orange one you may want to up the sweetening amount a little bit.
Maple syrup. I opted for maple syrup as the sweetener because dates would've marred the magical color and maple syrup is my next favorite form of sugar after Medjools. A quarter cup was plenty with these very sweet potatoes, but taste and adjust as needed. Or perhaps even skip it if the natural potato sweetness is enough for you.
Almond milk. Any kind of non-dairy milk is fine, I just happened to have almond in my fridge at the time. Cashew would be great, coconut from a can or carton would be extra rich, and homemade would be delicious! You want to use equal parts mashed sweet potato to non-dairy milk, so for me that was 2 cups of each. But you can multiply to make a bigger batch too.
Vanilla + sea salt. Optional, but both amp up the flavor. So I suggest a dash and a sprinkle.
Purple potato perfection, no magic or unicorns required. But feel free to add either.
Print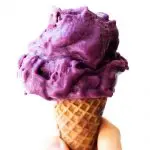 Purple Sweet Potato Ice Cream
---
Description
This Purple Sweet Potato Ice Cream is a dazzlingly delicious vegan and paleo dessert made in the blender with almond milk so it's easy and healthy too!
---
2 cups purple sweet potato ((baked and mashed))
2 cups non-dairy milk ((almond milk used))
1/4 cup maple syrup
1 tsp vanilla extract
Pinch of sea salt
---
Instructions
Add all the ingredients to a blender, and blend on high until creamy and smooth with no chunks.
Pour into a shallow dish or ice cube tray and freeze overnight.
The following day, remove from the freezer for 5 minutes to thaw. Then break into chunks.
Re-blend the chunks in a high speed blender or food processor until thick and creamy like soft-serve. You will need to use the tamper or stop and scrape down the sides frequently.
Serve immediately. Or spread into a shallow dish and re-freeze for 30-60 minutes until scoop-able.
Enjoy!
---