A five layered cold, colorful cotton candy cake! Made with gluten-free cake and vegan frozen desserts, this is a show-stopping (but simple!) summer dessert.
There are not many sugary things I have met and not instantly hit it off with. Naturally sweet or not-so-naturally sweet–I'm usually a fan. But there is one exception that comes to mind: cotton candy.
Do you know where the inspiration came for inventing cotton candy? Me either. But I'm guessing it was those little balls of fur and dust and fuzzy stuff that inhabit the 2 inches of darkness between the couch and the floor. Dust balls. Dust bunnies. Call them what you wish, every house is home to at least a few. Those of us with pets have double the population usually. But it's those little buggers that ruined cotton candy for me. They are all I can think about when I put that stringy sweet stuff in my mouth. Nope, no thank you. I'll take my sugar in a more normal texture please.
Aren't you glad I painted that lovely picture of dust bunny mouthfeel in your head? And on that note, I want to assure you that there is no actual cotton candy in this cake. However, with these two vibrant colors there was no more perfect name for this 5 layer frozen frosted cake feast. So for color and fun factor, it will still be called a Cotton Candy Ice Cream Cake.
Raise a Pint Recipe Contest
When Alisa from Go Dairy Free asked me if I wanted to be a part of the #RaiseAPint recipe contest hosted by So Delicious, of course I said yes in about negative 2 seconds! Come up with a crazy over-the-top dessert recipe using my favorite ice cream? Heck yeah!
I knew I wanted to use So Delicious Creamy Cashew Cashewmilk Ice Cream because its my favorite vegan ice cream. I'm also a big fan of Cocowhip because it tastes just like cool whip only vegan. And cool whip and I go way back.
So then all that was left to figure out was the over-the-top part…
One thing Instagram has taught me is when you want to make things pop and shine, color is the way to go. Lots of color. And layers. And ice cream now that I think about it. People seem to be drawn to cold, creamy, complex, and colorful.
Pitaya is one of the brightest fruits, so I knew that pretty pink puree had to be involved. And what better to pair it with than the rare but beautiful blue! This cotton candy cake is what sparked my entire exploration into the world of natural blue food colorings, so if you haven't seen my post about how to make natural blue food coloring, you can check it out -> here.
Cotton Candy Cake
The cake. I adapted my favorite Everything-Free Vanilla Cupcake batter to make this 6 inch vanilla cake, with just a few ingredient tweaks for optimal texture. To bake it as a cake instead of cupcakes, you will need to bake it slightly longer at a lower temp to make sure it cooks evenly. You can use your favorite vanilla cake recipe instead, as long as you have 2 layers of 6 inch vanilla cake.
The creamy layers. I had intended for this cotton candy cake to be 6 layers, but I ran out of pan height, so I just had to go with the cake stacking flow and stop after 5. If you are wondering why there are two Cocowhip layers and only one ice cream layer that's the reason. The blue layer could be made out of ice cream or Cocowhip. You could use homemade ice cream or nicecream and coconut whipped cream for the whole thing as well.
The process. Assembly of this cake is quite simple. All you are doing is adding coloring to your ice cream/Cocowhip, layering, and freezing in between. I suggest letting each layer freeze for about 1 hour before adding the next so you can easily spread the new layer without them mixing too much. After it's is completely layered, freeze overnight. Then take your cotton candy cake out of the freezer 10-15 mins before slicing and eating!
More About the #RaiseAPint Contest
This recipe is my entry into this summer's Go Dairy Free Recipe Contest, sponsored by So Delicious Dairy Free. I have a chance to win cash prizes, but I am not being compensated for my time. I only use and recommend products that I truly love, and all opinions are my own.
Twenty one talented bloggers, authors and recipe creators will be creating amazing recipes in this summer's #RaiseAPint recipe contest using So Delicious Coconut Milk Frozen Desserts or Cashew Milk Frozen Desserts. All recipes will be shared between July 10th and July 24th, and then you will be able to vote on your favorites! I will let you know on social media when voting begins, and I would greatly appreciate your votes!
Update: Voting is open!! VOTE NOW
Along with the contest, you can join in the #RaiseAPint Event, which will run from July 11th to August 5th. During this time, So Delicious will award 20 entries with an ice cream party prize pack. You can share your #RaiseAPint moments on Instagram, Facebook, or Twitter! Full details here.
>> Pin It <<<
Print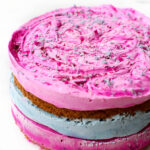 Vegan Cotton Candy Ice Cream Cake
---
Cake
12

pitted Medjool dates

1 cup

water

1 cup

oat flour

1 tbsp

baking powder

2 tbsp

tapioca flour*

1 tsp

vanilla extract
Blue Sprinkles
1/4 cup

unsweetened shredded coconut

2

tsps natural blue food coloring
Pink Sprinkles
1/4 cup

unsweetened shredded coconut

2

tsps pitaya puree**
Pink Ice Cream Layer
1 1/2 cup

So Delicious Creamy Cashew Cashewmilk Ice Cream

3

–

4

tbsps pitaya puree
Blue Layer
2 cups

Cocowhip OR

1 1/2 cup

Cashewmilk Ice Cream

1 tbsp

natural blue food coloring
Pink Cocowhip Layer
2 cups

Cocowhip

2

tbsps pitaya puree
---
Instructions
Cake: Blend the water and dates until smooth.
Transfer to a large mixing bowl. Add the rest of the ingredients. Stir to combine.
Lightly oil then fill a 6 inch round cake pan 2/3 of the way with batter.
Bake at 325F for approximately 30-35 mins or until the center bounces back when touched.
Let it cool COMPLETELY before slicing off the rounded top and slicing it into 2 layers.
Sprinkles: Mix each color separately until the coconut is well colored and coated. Spread in a thin layer on a plate. Leave out overnight to dry.
To assemble: Use a 6 inch round springform pan so you can easily remove the cake after it is frozen.
Place the bottom layer of cake in the pan.
Mix the pink ice cream layer. Spread on top of the bottom cake layer. Freeze for 1 hour.
Mix the blue layer. Spread on top of the pink. Freeze for 1 hour.
Place the second layer of cake on top of the blue. You can use a thin layer of ice cream to help it stick.
Mix the pink Cocowhip layer. Spread on top of the cake.
Finish with a few dollops of pitaya puree swirled into the pink and a showering of sprinkles.
Freeze overnight.
Remove from the freezer 10-15 minutes before slicing and eating.
Keep in the freezer for up to a week.
---
Notes
*Optional but makes for a better texture
**I took one Pitaya Plus pack, let it thaw to a liquid, and then used that for the sprinkles and both pink layers.