A soft, versatile gluten-free flatbread made with only 5 ingredients. No gums or oil needed in this vegan dough thanks to one key ingredient: potato!
Do you know what happens if you put boiled potatoes in a blender? Goopy potato paste, that's what. It's terrible if you are trying to make mashed potatoes. Possibly good if you need to spackle a wall. And great if you are making Vegan Gluten-Free Flatbread.
There is a recipe far far back in the savory archives for Gluten-Free Brown Rice Flour Tortillas. It was in dire need of a makeover. So many questions, concerns, and can I substitute _____ queries? But it was also one of my most viewed videos. The demand for gluten-free flatbread exists, but the recipe needed to be more foolproof.
I've probably tried about 20 different combinations, and I've finally found one that works. This gluten-free flatbread is soft and wonderful thanks to that potato puree! The dough is incredibly easy to work with. It's gluten and oil free. And it only requires 5 ingredients.
The starchy sticky-ness of blended potatoes is a perfect stand-in for gluten. If you have any experience with gluten-free bread making (or at least attempting to make) then you know how hard it is to get a soft easy to work with dough that isn't constantly trying to crumble apart. But you will be amazed by the texture of this one. Closest thing to glutinous dough I've ever felt, and it rolls out easily without even trying to crack or tear.
Making this Gluten-Free Flatbread
The flours. I used a combination of gluten-free all purpose flour and tapioca flour in this recipe. Why tapioca? Well even though the potato puree makes for a really sticky soft dough, tapioca flour is still necessary to keep that soft gluten-like texture after the flatbread is cooked.
How to cook. The method in which you cook the flatbread is really important for keeping it soft as well. If you cook it low and slow like most, then it will just dry out and be stiff. But if you cook it over medium-high heat (about 7-8 on my stove) then the outside will brown quickly and it won't have time to dry out.
When cooking over high heat, be careful not to burn it though. It only need about 1 to 1.5 minutes per side. When you see bubbles forming, it's time to flip!
Storing and reheating. This gluten-free flatbread is best fresh, of course, but you can store it in the fridge for up to 4 days. You have a few options for reheating…
1) Wrap the flatbread in a wet paper towel and microwave until warm. The paper towel almost acts as a steamer so the flatbread doesn't dry out. It will never be as soft as it was when fresh though.
2) Toast it! It obviously won't be soft anymore, but it's delicious as a crunchy toasty bread too. Think: pita chip.
Flatbread or Tortilla?
I am calling this a flatbread, not a tortilla on purpose. It's not a humongous, thin, wrap-up-a-big-burrito sort of bread. It's a small, soft, slightly thicker, can roll-and-do-some-wrapping sort of bread. It's not pretending to be something that it's not. So let's just love it for what it is.
Wait, are we still talking about bread? That just got deep for a moment, back to flatbread!
Ideas for eating!
-Toasting and dipping
-Making flatbread pizzas
-Spreading some PB&J for an open-faced sandwich
-Having alongside a bowl of soup
-Topping with hummus + veggies + lemon + a little S&P
-Just tearing up and eating (that's my favorite!)
Since bread of any kind can be slightly tricky, hopefully this video will help…
A soft, versatile #vegan gluten-free flatbread made with only 5 ingredients! Easy to make with a secret ingredient...
Click To Tweet
Print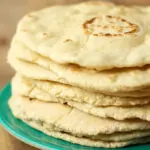 Vegan Gluten-Free Flatbread
Prep Time:

30 minutes

Cook Time:

3 minutes

Total Time:

33 minutes

Yield:

5

flatbreads

1

x
---
Potato Puree
2

medium gold potatoes

1 1/4 cup

water
Dough
1 cup

gluten-free flour

1 cup

potato puree (above)

3/4 cup

tapioca flour

1 tsp

salt

1 tsp

baking powder
---
Instructions
Potato puree: Roughly chop the potatoes. Put them in a saucepan, add the water, cover, boil until tender.
Transfer to a blender. Blend till smooth. If it won't blend, add 1/4 cup more water.
Immediately transfer to a bowl and clean your blender, otherwise it will just get harder and harder to clean.
Dough: In a large mixing bowl, combine all the dry ingredients. Stir.
Add 1 cup of the potato puree. Mix to form a soft, slightly sticky dough. Adjust the amount of flour and potato puree a little bit if necessary.
Divide into 5 balls. Roll out each ball to about 1 cm thickness. You don't want them too thin.
Heat a non-stick skillet to medium-high heat.
Place a flatbread in the pan and cook for 1 to 1.5 minutes or until bubbles start to show. Flip, then cook for another 1 to 1.5 minutes on the second side. There should be some brown spots on each side.
Remove from heat and place in a bowl under a damp towel to keep them soft while you cook the others.
Keep in an airtight container in the fridge for up to 4 days. Reheat as mentioned above.
Update: After many reader questions about replacing the GF flour blend, I have tested a few other flours and found that brown rice flour works too! Just flip the ratio so it's 1 cup tapioca to 3/4 cup brown rice flour.
---
Notes
UPDATE: After many reader questions about replacing the GF flour blend, I have tested a few other flours and found that brown rice flour works too! Just flip the ratio so it's 1 cup tapioca to 3/4 cup brown rice flour.
SaveSave