Healthy vegan rice crispy treats made with Medjool dates and almond butter instead of marshmallows for a sweet sticky refined sugar-free cereal snack!

Gather all your squishy mushy marshy-mallows…and eat them straight from the bag while you make these mallow-less crispy treats.
Just because these squares don't require a single marshmallow doesn't mean you shouldn't pick up a bag for casual snacking while you are in the area. And by area I mean the grocery store. Yes I do realize marshmallows aren't usually located on the cereal aisle, but if you take the long cut from produce to cereal I'm sure you can work in a nohcalant marshmallow stop. Last time I was grocery shopping the entire marshmallow aisle was scented with the most glorious aroma of sugar and squishiness and I practically had to be dragged out of there.
But enough marshmallow talk for a marshmallow-FREE recipe.
It's not that I don't love pillows of fluffy sugar, it's just that I love rice crispy treats even more (wait…did I just say that?) And I have been dreaming of the day I can finally make them without even a drop of non-fruity sugar for approximately my whole life.
Marshmallows have finally met their rice crispy-making match. A squishy sweet replacement to knock them right out of their sticky cereal treat spot. A replacement that is all natural. A replacement that is actually easier to find than vegan marshmallows. A replacement that makes these crispy squares taste like they accidentally fell into a bucket of caramel sauce only to be pulled out in the nick of time. I know you know what I'm talking about…
Medjool dates!
I am partnering with my friends at Natural Delights once again to bring you a deliciously date-sweetened recipe. A recipe that at one point I thought was impossible without sugar or syrup of some kind.
From someone as date-obsessed as me, why did i doubt the Medjool magic? Well lemme just tell you about my past experience trying to make unconventional rice crispy treats…
I've set out on this marshmallow-free and sticky syrup-less mission many times. The problem usually arises with the CRISPY part of the rice crispy treat goal.
Because you know how rice crispies will snap crackle and pop their way to sogginess if left in a bowl of milk for too long? Well the same sorta situation happens when they are mixed with a water-based date paste. Soggy. Sad. Mushy. Mess.
So water, milk, and cereal bowls were out.
Liquid things that will not make rice crispies soggy include: liquid sweeteners, oils, and nut butters. But I wanted these squares to be sweetened with only dates and oil-free as usual around here, so by process of elimination it had to be nut butter.
The key to preserving the crispy-ness is to make a date paste with only Medjool dates and nut butter, in this case I used almond butter. Obviously an especially runny nut butter is ideal here, as well as a high speed blender. A food processor will get you there eventually, but it may take some patience and lots of stopping to scrape down the sides. The end goal is a very thick sticky-sweet paste that will not turn the cereal soggy.
If you must add some kind of liquid because your nut butter is just too thick, maple syrup or coconut oil are your best options. Neither will ruin the crispy-ness, and just a few tablespoons should get things blending better. But hopefully that won't be necessary.
There is one seemingly minor but not-to-be-missed step that I need to point out before we get to the fun part, and that is to heat the date paste before mixing it with the cereal. It won't really melt or change in appearance at all, but trust me it's important!
I made one batch with and one batch without this 30 seconds of microwave time, and wow did it make a huge difference. The non-heated batch was much harder to mix, and I ended up crushing far too many rice crispies trying. Plus the bars didn't set as well in the fridge either. So whether you choose the microwave or stovetop method, heat up that sticky stuff and don't make the same mistake.
That's right, rice crispy treats can now officially be considered "wholesome" (whatever that means). So move them from the processed practically dessert list to the healthy practically breakfast list in your snack brainspace. Because cereal + fruit + nut butter is basically all that's in these crunchy cubes-o'-crispiness, and everything on that list sounds on-the-go morning munching approved to me. Or lunchbox packable. Or dessert perfect. There are no date-sweeetened rice crispy treat consumption rules here.
Happy sticky cereal square snacking!
Print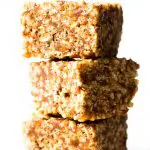 Date-Sweetened Vegan Rice Crispy Treats
Prep Time:

45 minutes

Total Time:

45 minutes

Yield:

6

squares

1

x
---
Description
Healthy vegan rice crispy treats made with Medjool dates and almond butter instead of marshmallows for a sweet sticky refined sugar-free cereal snack!
---
3 cups

crispy rice cereal

1 cup

Medjool dates, pitted

3/4 cup

nut or seed butter

1 tsp

vanilla extract
Pinch of sea salt
---
Instructions
In a high speed blender or food processor combine the Medjool dates, nut/seed butter, and vanilla extract.
Blend to form a thick sticky paste, you will likely need to use the tamper or stop and stir frequently. If absolutely necessary you can add 1-2 tablespoons of either maple syrup or coconut oil to get it to blend. Do not add water or the bars will turn out soggy.
Transfer the date paste to a bowl and microwave for 30-60 seconds to soften. Or heat on the stovetop until soft. It will not change in appearance, but makes it much easier to mix into the cereal so don't skip this!
In a large mixing bowl, combine the rice crispy cereal and salt.
Add the date paste and mix until evenly coated.
Press firmly into a baking dish lined with parchment or wax paper. Smaller dish = thicker bars, but any size works.
Refrigerate for at least 30 minutes or until firm.
Slice and enjoy! They do not need to be kept in the fridge, but will last longest that way.
---
Pin It
This post is sponsored by Natural Delights, but all thoughts and opinions expressed are my own. Thanks for supporting the brands that make Feasting on Fruit possible!