A dairy-free spin on the Ninja Creami trend! Rich vegan chocolate ice cream sweetened with dates, healthy and high-protein, ready in minutes!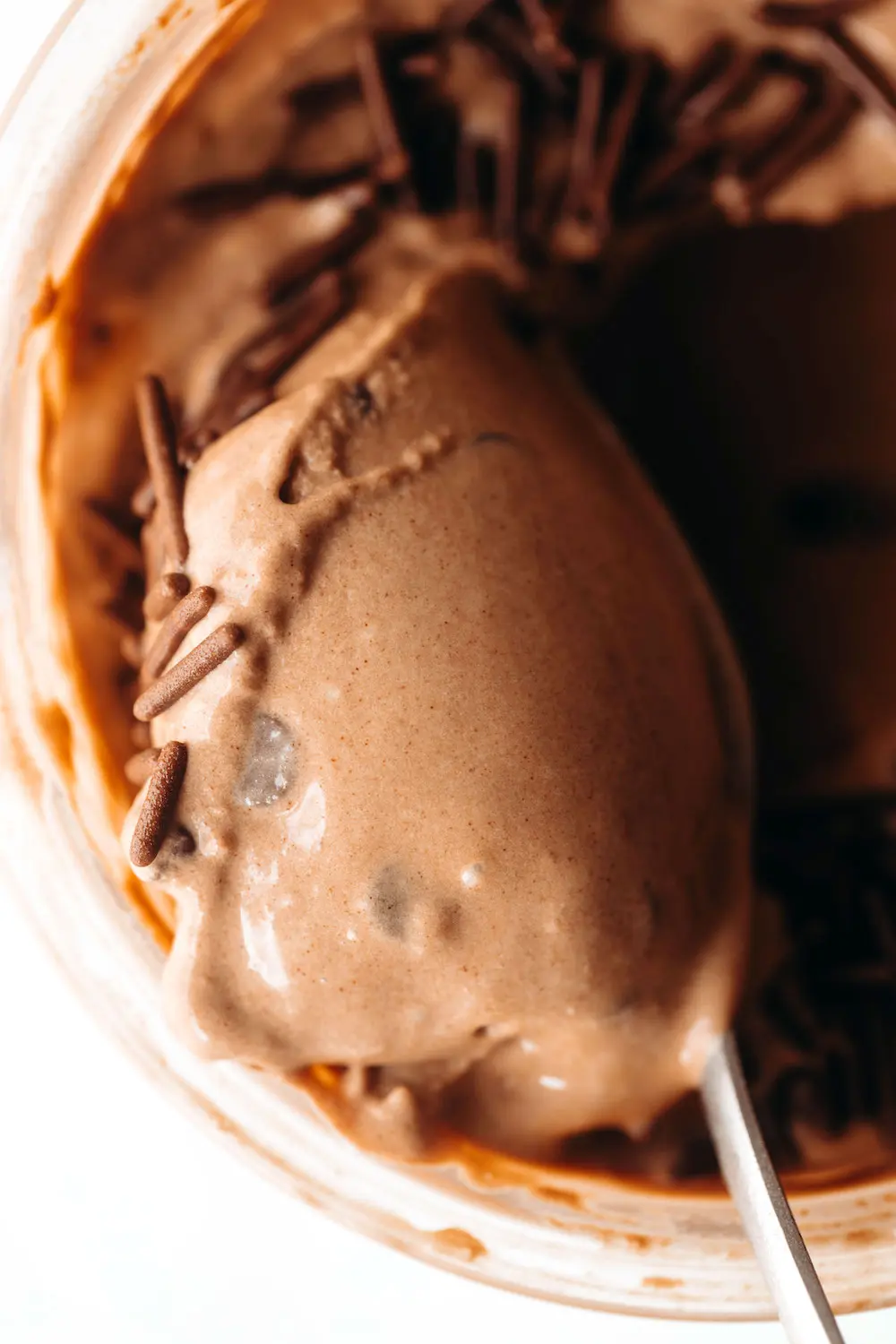 So after seeing enough swirly instagram posts of Ninja Creami creations, I finally justified to myself and my husband that this magical machine was something we NEEDed in our lives. And I have used it almost every day since the box showed up, so I think I was right. Finding the right dairy-free ratios started out a little bumpy (literally), but after a few weeks I figured out a recipe to get consistently creamy results! It had to be:
CREAMY – not too icy or powdery (part of this is about technique too!)
High-protein – you'll notice a common theme with Creami recipes and that is protein powder, which is part of why I wanted the machine in the first place. A bedtime snack that tastes like ice cream but also packs 30+ grams of protein? YES PLEASE. And yes it is possible to do with plant-based protein too
Healthy-ish – not too high in sugar or fat, I wanted that eat-the-whole-pint experience
Easy – prep every morning in just a few minutes easy
Dairy-free – almost every Ninja Creami recipe you'll see on the internet starts with "fairlife milk", so I wanted to bring a dairy-free option to the Creami recipe scene
I started with the classic: chocolate! With chocolate chips mixed in. But don't worry, I have plenty more flavors in the works…
Creating The Perfect Dairy-Free Chocolate Creami
Just a handful of simple ingredients you probably already have on hand, one blender, and 8ish hours of chilling time. The Ninja Creami instructions do say "freeze overnight", but I have found that if I pop it in the freeze by about 9am I am usually good to go by post-dinner Netflix time (8-9pm).
Dairy-Free Creami Ingredients
Cashew milk. Almond milk will work too, but cashew has a little extra creaminess that is even better here.
Coconut milk. Or coconut cream if you want it extra rich, you can sub with dairy-free yogurt or dairy-free creamer.
Chocolate protein powder. Your favorite brand or variety, I personally like Sprout Living Chocolate Maca Epic Protein.
Medjool dates. For natural sweetness, and a little extra thickness too
Cocoa powder. We want it extra chocolatey of course.
Vanilla and salt. Both add extra flavor balance and make it taste more like store-bought ice cream.
Ninja Creami Tips
The RE-SPIN function! If there is one tip/secret/key I can give any new Ninja Creami owner, it's the re-spin button on your machine. The first time you run almost any ice cream recipe, it's going to come out powdery. But do not lose hope there! Just give it a little stir, add a splash of milk, and re-spin. Still not perfectly creamy? Re-spin again, this time without milk. And then add your mix-ins. It makes ALL the difference.
Use enough fat. Yes we are going for a healthier ice cream, but you still need some fat/richness to get a creamy satisfying texture that isn't icy. The majority of the base is cashew milk, which is mostly water, so you need the coconut milk for that extra fat. Or if you want to skip the coconut milk, add a tablespoon or two of nut butter.
Sweeten with dates. I've made batches with maple syrup too, but blending in dates as the "sugar" adds extra thickness and creaminess too. Win win!
Don't over-fill your Creami cups. I stay a 1/4 inch or so below the max fill line even. You will still end up with plenty of volume, and it tends to blend better in my experience.
Have fun with mix-ins! Once you get a go-to base recipe down, the fun part is MIX-INS. Chocolate chips, sprinkles, brownie chunks, cookie dough, m&ms, granola, endless possibilities…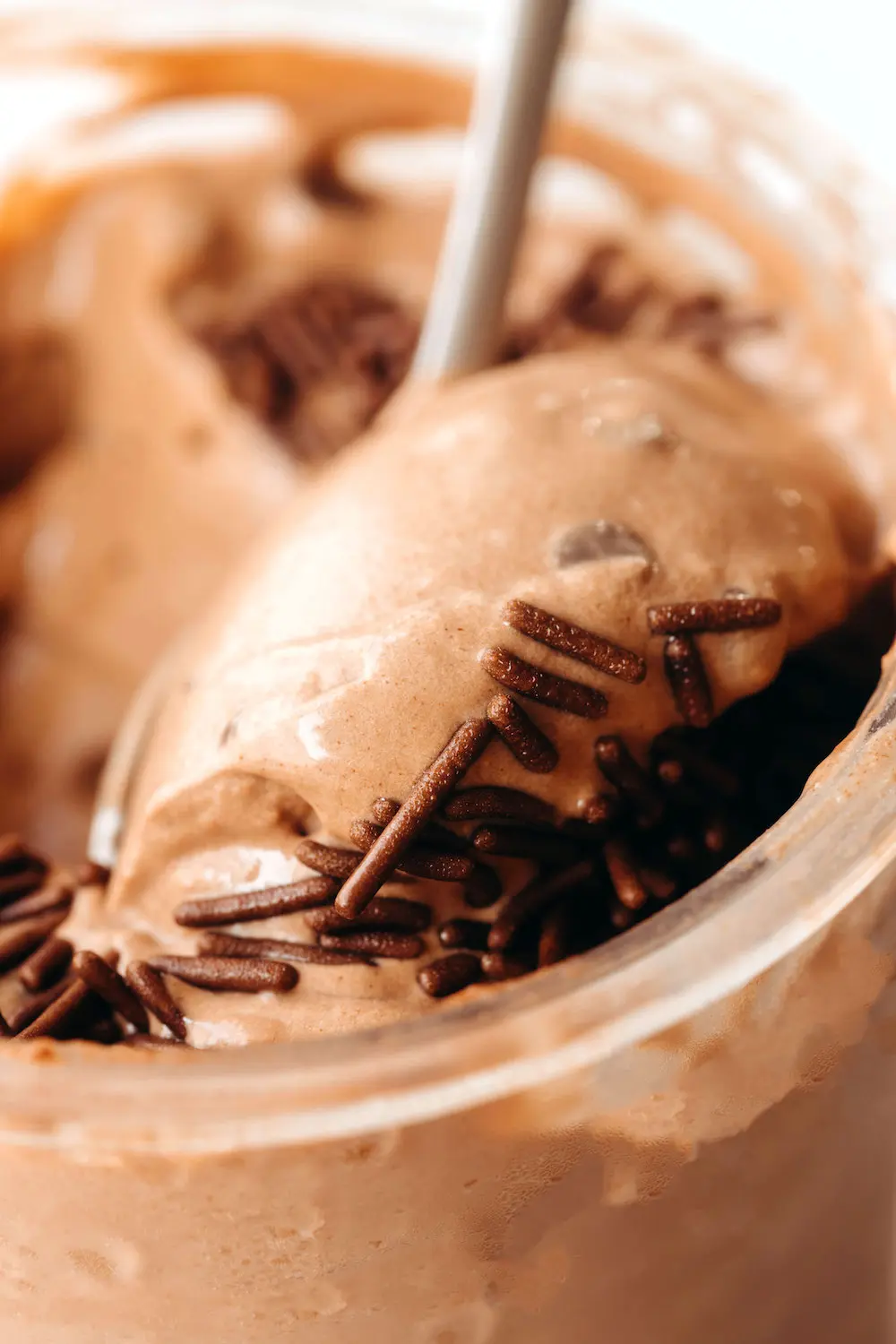 More Ice Cream Recipes You'll Love
Print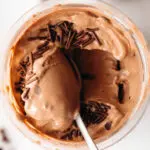 Dairy-Free Chocolate Creami Recipe
Author:

Prep Time:

10 minutes

Chilling Time:

8 hours

Total Time:

8 hours 10 minutes

Yield:

1

serving

1

x

Category:

ice cream

Method:

frozen

Cuisine:

american
---
Description
A dairy-free spin on the Ninja Creami trend! Rich vegan chocolate ice cream sweetened with dates, healthy and high-protein, ready in minutes!
---
---
Instructions
Blend all the ingredients until smooth.
Pour into a Ninja Creami container and freeze overnight.
Process on the "light ice cream" setting, it will be powdery at this point.
Add a splash of milk (preferably coconut) and "re-spin" once or twice as needed.
Add mix-ins of choice, and process on the "mix-in" setting. Enjoy!
---
Keywords: dairy free, chocolate, ice cream, soft serve, vegan, high protein, snack, dessert, medjool dates
CLICK BELOW TO PIN