If you think it's easy to go through an entire jar of nut butter with a spoon, just try it with a pack of dates. Sweet chewy fruit make creamy salty nut butter go down very easy. But peanut butter isn't the only thing that's good inside a date. Dates can be the perfect caramel-flavored container for fruity fillings too. And because I love the color that blueberries bring, I created Vanilla Blueberry Stuffed Dates!
Then center is just a simple blend of blueberries, dates, and some oat flour to thicken. Squeeze that purple mixture into the center of a split date and top with a few fresh berries and sprinkle of hemp seeds. If you can't tell already, I'm a little obsessed with hemp seeds right now. I've been sprinkling them all over my Instagram feed.
I much prefer the dates to be chilled before making these, because the less gooey more chewy outside is a better contrast to the purple-sweet center.
The topping options are endless here: nuts, seeds, fruits, coconut, chocolate chips, granola, all the usual sprinkle-able suspects. (And these blueberries were kind of on their way out, so excuse the wrinkly-ness. No fruit wasted just because it's not at it's prime anymore!)
And since the dates are really the star of the show here, make sure you choose high quality Medjools or something even fancier but still fresh. Dried out dates will just ruin the finger-food fun.
This is one of those snacks that requires lots of finger licking. There's no way around it, dates are sticky, so this snack is going to be a deliciously messy experience. I usually try to bite them in half to avoid mouth overload, realize that's just going to make a bigger mess, and end up shoving the whole date in my mouth for a big bite of fruity flavor fusion.
Incredibly easy snack in the making…
Of course there are other flavor directions this could go, and you better believe I already have some ideas in my head just waiting to be made!
Print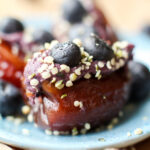 Blueberry Vanilla Stuffed Dates
Prep Time: 15 minutes
Total Time: 15 minutes
Yield: 15 1x
---
Filling
1 1/2 cup frozen blueberries
3/4 cup oat flour
1/4 tsp vanilla bean powder (or 1 tsp vanilla extract)
8 pitted Medjool dates (I used Natural Delights brand)
1 tbsps water if needed to blend
To assemble
15 Medjool dates (preferably chilled)
Hemp seeds
Fresh blueberries
---
Instructions
Filling: Defrost the frozen blueberries (I microwaved them for about 1.5 minutes on high).
Blend all the filing ingredients.
Transfer to a piping bag or a ziplock.
To assemble: Slice your dates open on one long side and remove the pit. Try to keep the opening fairly small so the filling will stay in.
Cut off one corner of your plastic bag. Insert the tip into the date and squeeze to fill. Repeat with all of the dates.
Top with fresh blueberries and sprinkle with hemp seeds.
Enjoy!
---
The no-bake sweet treat to quench all snack cravings! Blueberry Vanilla Stuffed Dates #vegan
Click To Tweet
SaveSaveSaveSave