With a crispy oat cracker crust and a luscious veggie-laced lemon filling, these tasty Vegan Lemon Bars are like no citrus dessert you've had before!


If we were to play a round of Guess the Secret Ingredient with this recipe it would be a short game. There are only so many things you can hide under the delicate color and flavor of lemon.
Banana would cancel out the citrus in a second. Tofu is not something I really use in my recipes these days. Dates aren't a sneaky secret around this site at all. Pineapple, while surprisingly good with lemon, is not it. Beans in desserts isn't really my style. And we are just about out of light-colored, mild-flavored possibilities already.
Except one. One that starts with a C and rhymes with sour. One that made this milkshake so thick and this pudding so creamy. One that had I mentioned it in the title might have sparked an involuntary ewwww! reaction–hence the mysterious name. You have my (not so) tricky lemon bar secret all figured out by now, don't you?
It's cauliflower.
But that is not the only thing that makes this recipe special.
So before we talk about how I steamed cauliflower and blended it into the lemon layer and it made for the most amazing creamy texture and you can't taste it at all, let's talk about that crispy oat crust…
To tell the full story of how this crust came to be, we have to rewind all the way back to June of last year when I went to Oregon to visit my sister.
The very first day I was there, we went into a health food store for some mid Portland-wandering fuel and I came out with fresh blackberries, oat crackers, and dark chocolate. I wish I could remember which health food store it was, but since I went into pretty much every single one I saw (and since it's Oregon, that's A LOT!) I can't keep them all straight. Sitting on the sidewalk snacking, getting funny looks from many humans and envious looks from many dogs, I discovered my favorite store-bought cracker: Nairn's Organic Oat Crackers.
And while that may sound a bit dramatic for a story about crackers, I am not exaggerating one bit. I went through 3 whole boxes on that trip and I was only there for 4 days. And when I got home I immediately stocked up on them from Amazon. It was cracker love level = obsession.
So when Nairn's reached out to me it was an obvious YES. Because me and these crackers have a history and I wouldn't pass up an opportunity to share their delicious crunchy snack-perfection with you.
Although I must admit, now that I have tried their Oat Grahams too the crackers have some stiff snack competition. Because those grahams are subtly sweet and scrumptious!
Oat cracker crust. I have complained in the past about how oat flour crusts never have the crispy texture that I am looking for as the base of a bar or pie. But I discovered that oat cracker crusts have exactly the crumbly toasty texture I want while still keeping things oat-based and easy.
The crust of these lemon bars is made of oat crackers ground into crumbs plus maple syrup to sweeten and hold it all together. The texture is reminiscent of a graham cracker pie crust and the taste is a little salty + a little sweet, which compliments the creamy citrus top layer beautifully.
The ingredients in these crackers are pretty simple: oats, oat bran, oil, and salt. While they are not oil-free, they are still quite low in fat. And it's that little bit of oil that makes them a much better crust base than plain oat flour, which just turns chewy when you bake it. So I do not recommend subbing in oat flour here.
If you don't want to use the crackers for the crust, I would suggest switching to this almond flour crust instead.
Lemon cauliflower cream. The filling gets some of it's creaminess from the cauliflower, but there is coconut involved too. I first tried using coconut milk in this recipe, but with all the lemon juice it was just too much liquid. So I switched to coconut cream, a.k.a. the thick part scooped out of a can of full fat coconut milk that has spent a night or two in the fridge. Thickness and richness without all the extra liquid.
In addition to the creamy coco-cauli base, there is lots of lemon flavor with a combination of lemon zest and freshly squeezed lemon juice, maple syrup for sweetness, and arrowroot starch to help the bars set and slice cleanly.
A quick note! The first batch of these bars I made in the smaller rectangle pan you see in the video, but the crust was too thick and I had extra filling that would've overflowed the pan. The second time I used a larger square pan and it worked perfectly. So don't let the pan in the video confuse you–8×8″ square is the way to go!
These bars need to be baked and chilled overnight, so they aren't exactly the quickest of desserts. But the wait is worth it my lemon treat lovers! Maybe make some oat graham ice cream sandwiches in the meantime.
P.S. Thank you for all the love and support on my last post. You guys are seriously amazing!
Print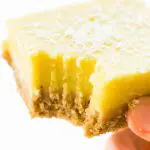 (Secret Ingredient) Vegan Lemon Bars
Prep Time:

15 minutes

Cook Time:

45 minutes

Total Time:

60 minutes

Yield:

9

bars

1

x
---
Description
With a crispy oat cracker crust and a luscious veggie-laced lemon filling, these tasty Vegan Lemon Bars are like no citrus dessert you've had before!
---
Oat Cracker Crust*
1 1/2 cup

Nairn's Oat Crackers, ground ((about

18

crackers))

1/4 cup

maple syrup
Lemon Cream
Cream from a 15oz can of full-fat coconut milk ((chilled overnight))

2 cups

cooked cauliflower

1/2 cup

maple syrup

1/2 cup

fresh-squeezed lemon juice
Zest from

one

lemon

3 tbsp

arrowroot starch

1/4 tsp

turmeric ((optional for color))
---
Instructions
Preheat the oven to 375F.
For the crust, grind the crackers in a blender or food processor and slowly drizzle in the maple syrup until you have a sticky crumbly mixture.
Press into an 8×8″ square pan lined with parchment paper. Set aside.
For the filling, blend all the ingredients on high until smooth and creamy.
Pour on top of the crust.
Bake for 45 minutes at 375F.
Cool then chill overnight.
Slice into squares and enjoy! Keep in the fridge.
---
Pin It
SaveSave