Sweet banana base, cold brew kick, and lots of chocolate chips make these vegan + paleo Banana Mocha Chip Muffins an ultra fluffy indulgent breakfast or sweet treat!

If only life came with a homemade muffin on demand button I feel like the whole affair would be much more manageable.
You think I am joking. I am not. Just consider for a moment – they are the ideal cozy, cute, can't-be-mad-while-consuming food. I have yet to find another baked good that can check all those boxes quite so effortlessly.
What's that? You need a bulleted list of hypotheticals to convince you…
Monday morning when you didn't meal prep (shocker!) and breakfast is like: I'm here, it's time for me! Muffin.
Busy 4pm when you are trying to squeeze as much productivity as possible out of the last little bit of your workday motivation but need sustenance that tastes like cake NOW. Mocha muffin.
Lazy day mug of warm cozy coffee or tea that is just begging for a caffeinated companion. Mocha chip muffin.
Just casually being a human doing your human thing with impeccable taste in snacks. Banana Mocha Chip Muffin.
So now that you just saw your entire week flash before your eyes, I think we can agree the 5 minute effort investment it takes to throw this batter together in the blender more than pays for itself in snack problem-solving and overall positive vibes.
You're feeling all Monday We Got This now too, right?
See here's my dilemma with coffee in baked goods. In the past I have used instant espresso powder, but instant espresso powder is a) not something I typically have in my pantry and b) not something I feel good about consuming after 3pm. And if there are muffins in the house I am going to want to eat one after 3pm. Instant espresso definitely delivers on flavor, but I prefer to have my muffin and sleep sometime in the near-ish future too.
Hey, what's coffee and super trendy and less potent but still so good in muffins?
Why yes, I do mean COLD BREW.
No I didn't choose cold brew mostly completely because it's really really easy. Effort level = unscrewing a lid. Fun fact: it also comes concentrated which means more flavor without over-liquidifying the recipe. And the caffeine equivalent of one full cup of coffee spread across six muffins means napping later is a very real possibility.
The flavor is certainly more subtle than the BAM-POW spoonful of espresso in your muffin batter route, so if you want to add that I will not stop you. If you don't have cold brew concentrate, a half cup of very strongly brewed coffee will work too. If coffee isn't your jam (wait…why are you still reading?) then swap it out for non-dairy milk and enjoy your coffee-less chocolate chip banana muffins like this.
The cold brew concentrate I used happened to be already mocha. Which means it happened to have chocolate flavor in it too. Which means I happened to not add cacao powder to the batter. Which happened to be the best decision because with mini chips in every bite the muffins were plenty mocha for me but not overpoweringly CHOCOLATE.
You do you though. As long as "you" involves chocolate chips and lots of them.
It feels a little late in the game to bring this up, but these are BANANA mocha chip muffins btw. No maple syrup. No dates. Just bananas – sweet and simple.
This entire batter-made-in-a-blender situation is heavy on the simple. Only 7 ingredients (including chocolate chips!), a couple of buttons to press, and a few spoonfuls to plop into a pan. Does this still qualify as baking even?
I used almond flour to keep these mocha chip muffins grain-free. You will need either ground flax or tapioca starch too, personally I prefer the texture with the tapioca. I did not test it with oat flour so you will have to experiment on your own. But almond flour + tapioca starch does make for the most amazing muffin texture ever…just sayin.
If you really want an oat flour muffin/cupcake with coffee flavor, I'd recommend this recipe instead -> Vegan Caramel Espresso Cupcakes
Muffins emerging from the oven perfect golden domes with a tiny bit of overflow and just a few crusty crackles on top. Those tell-tale signs before even prying them out of the pan that this is it. This is THE batch. The culmination of all those trials finally coming together in the ultimate soft fluffy inner surround by subtly crisp outer. This moment of muffin victory fills my heart with joy on a puppies and rainbows level.
Happy mocha muffin baking joy-creating to you!
Print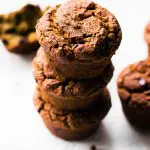 Banana Mocha Chip Muffins
Prep Time:

10 minutes

Cook Time:

35 minutes

Total Time:

45 minutes

Yield:

6

muffins

1

x

Category:

muffins

Method:

baking

Cuisine:

american
---
Description
Sweet banana base, cold brew kick, and chocolate chips make these vegan and paleo Banana Mocha Chip Muffins an ultra fluffy indulgent breakfast or sweet treat!
---
3

(325g) ripe bananas

1/2 cup

(

120g

) cold brew concentrate (*)

1 tsp

baking soda
Pinch of salt

1/2 cup

(

70g

) tapioca starch (**)

2 1/4 cup

(

250g

) almond flour (***)

1/3 cup

(

65g

) chocolate chips
---
Instructions
Preheat the oven to 350F.
In a high speed blender or food processor, blend the bananas briefly until no large chunks remain. (Or you could mash/mix by hand.)
Add the rest of the ingredients (except the chocolate chips) and blend until combined. The batter should be very thick and barely able to blend, so if it seems too pour-able add an extra 1/4 cup almond flour.
Stir/mix in the chocolate chips.
Spray or line a muffin pan with paper liners. Divide the batter between 6-8 muffins filing each to the top if you want nice rounded domed muffins.
Bake for 30-35 minutes at 350F or until golden brown and bounce back when lightly pressed in the center.
Remove from the oven. Cool for 30 minutes before removing from the pan. Enjoy! Keep in the fridge in an airtight container for up to a week.
---
Notes
*Or very strongly brewed coffee. Or 1/2 cup non-dairy milk + 1 tsp instant espresso powder. Or if you don't like coffee at all, just use non-dairy milk. **You can sub with arrowroot or cornstarch. Or an equal amount of ground flax (60g) although they will be a bit more delicate/crumbly. ***I have not tested these with oat flour. You can experiment on your own, but since there is no nut butter or oil they will be quite dry. I'd recommend this coffee cupcake recipe instead that is designed for oat flour.
Keywords: baking, snack, dessert, banana, chocolate, paleo, vegan
CLICK BELOW TO PIN
SaveSaveSaveSaveSaveSaveSaveSaveSaveSave
SaveSave