A cozy spin on everyone's favorite addictive cereal snack! This Chai Snickerdoodle Puppy Chow is coated in white chocolate, SunButter, coarse sugar, and ALL the warm fall spices. Vegan, gluten-free, and nut-free!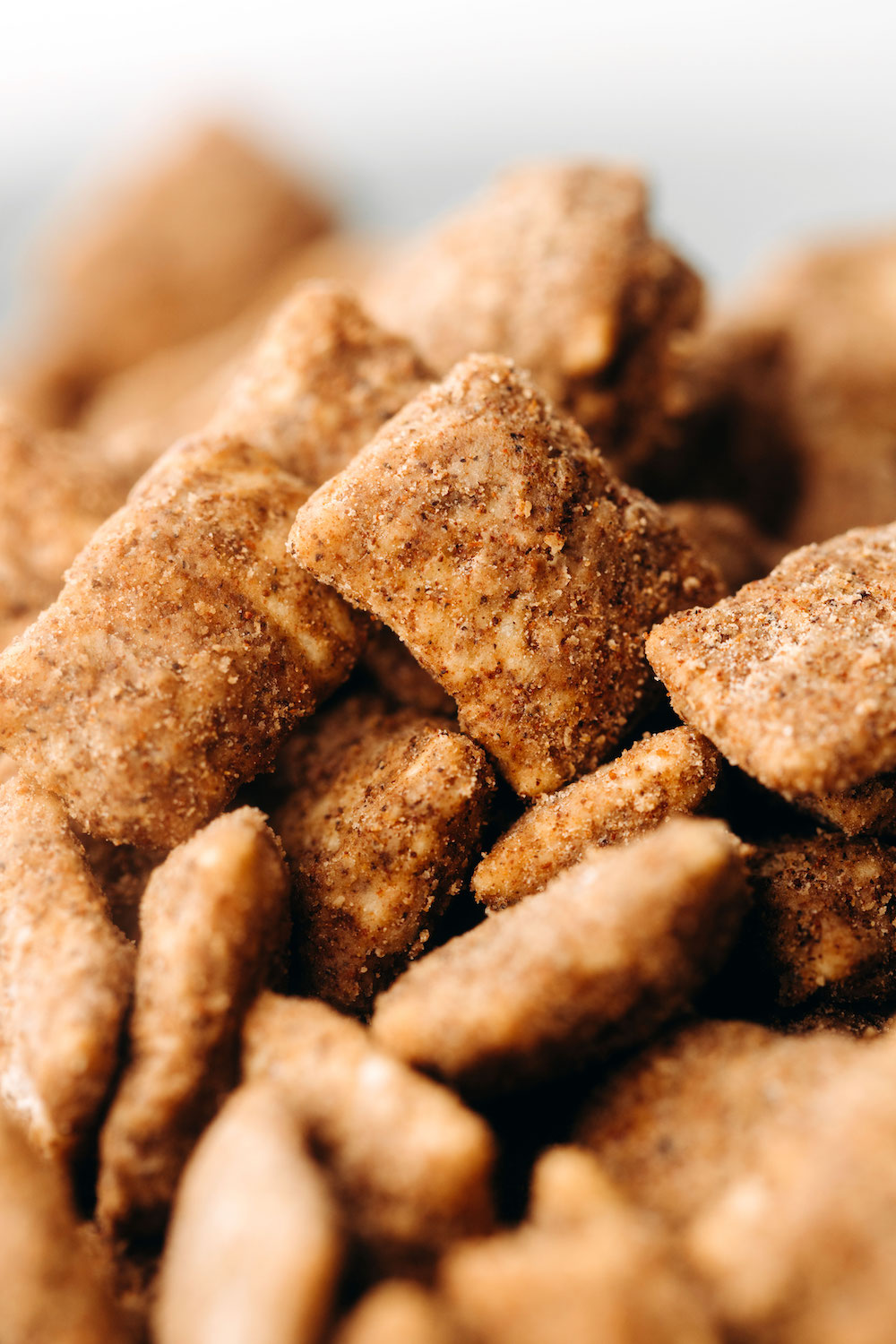 ---
There is nothing more perfectly designed for sharing BUT simultaneously reallyyyyyyy hard to share than puppy chow. It is one of the sweetest homemade edible gifts (hello holidays coming up way too soon!), and also one of the most delicious things to devour solo and before you know it poof the whole pan is gone like holiday magic. The only solution I have found for this problem is to always make a double batch! But while you're at it, let's not make the classic peanut butter/chocolate/powdered sugar kind. No, let's make a cozier, cookie-inspired, sparkly spicy spin: Chai Snickerdoodle Puppy Chow.
How To Make Chai Snickerdoodle Puppy Chow
The process is almost identical to classic puppy chow, but a few of the ingredients are different. We are swapping chocolate for white chocolate, peanut butter for SunButter, adding lots of spices, and choosing one of two options for the sweet sugar coating. This version is a little lighter on the sugar (one cup instead of two!) and we skipped the butter to make it ever so slightly healthier too, but I promise neither of those additions subtract from the deliciousness.
DIY Chai Spice Blend
You could definitely buy a premade chai spice blend, but it's pretty easy to mix up yourself especially if you have a lot of baking spices already on hand. The spices include are:
cinnamon
ginger
cardamom
nutmeg
cloves
allspice
Some chai mixes also include black pepper – I tested both with and without and personally I found a black pepper was a little too strong in this context, but you can add 1/2 teaspoon if you like.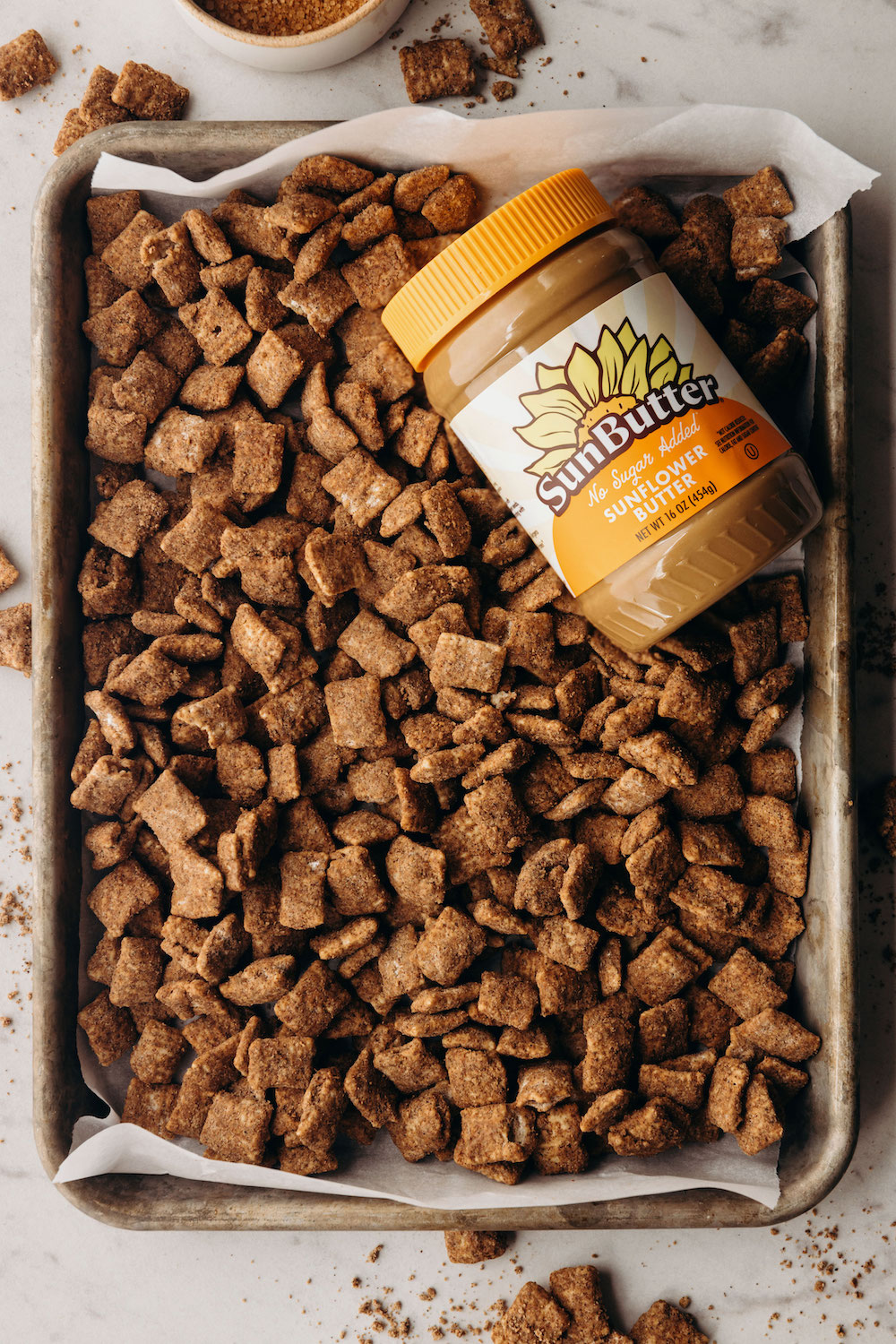 The Puppy Chow Process
Step 1: Make Your Chai Spiced Sugar
I like to make this first so it's ready to go once your hands are all messy from mixing the cereal. After you mix up the spices we discussed above, you have a choice to make: coarse turbinado sugar like a snickerdoodle cookie OR powdered sugar like classic puppy chow?
Neither is right, neither is wrong, both are delicious. The coarse sugar will make for a more clumpy puppy chow with a sparkly snickerdoodle-like texture on the outside. The powdered sugar will keep the pieces more individual with the infamous puppy chow finger-licking effect. There are photos of each version included below so you can see the textural difference!
Either way you will combine one cup sugar plus the spices, stir it up and set aside for later.
Step 2: Make Your Cereal Coating
This is where we are veering away from the classic puppy chow ingredients with some healthier vegan and nut-free swaps…
Semi-sweet chocolate chips > dairy-free white chocolate chips. I wanted the chai flavor to be front and center, so I chose the more neutral flavor of white chocolate for this chai snickerdoodle spin. But chocolate and chai are delicious together, you could definitely use dairy-free semi-sweet or dark chocolate chips too.
Peanut butter > SunButter. This was a no-brainer for me since I love SunButter so much, and it works as a perfect one-for-one swap for peanut butter. I used No Sugar Added SunButter, I do recommend an unsweetened variety in this recipe. This swap also makes the recipe nut-free!
Butter > coconut oil (and it's optional!) If you want to make the cereal coating easier and more even, a couple tablespoons of coconut oil melted with this mixture makes it slightly thinner and easier to work with. But it's totally optional, up to you.
Step 3: Mix White Chocolate SunButter With Cereal
Mix it up, it's gonna be messy, using your hands highly recommended. And the biggest bowl you own!
Step 4: Coat With Chai Sugar
You can do this in the same bowl (hands still recommended), or transfer to a ziplock bag and shake it up instead. Either way, you want to coat each piece as evenly as possible.
Step 5: And Chill
Spread out on a baking sheet lined with wax paper in as much of a single layer as you can manage, so it can chill and set into somewhat-clustery-but-not-too-clumpy delicious little chai snickerdoodle chunks. Four hours is usually enough time, but overnight is awesome. You can also freeze it to speed this up if you wish (and have that kind of freezer space!)
After it's set, break apart (or don't if you like the big pieces) and transfer to an airtight container to store. It does need to stay in at least the fridge, but you can store it in the freezer too.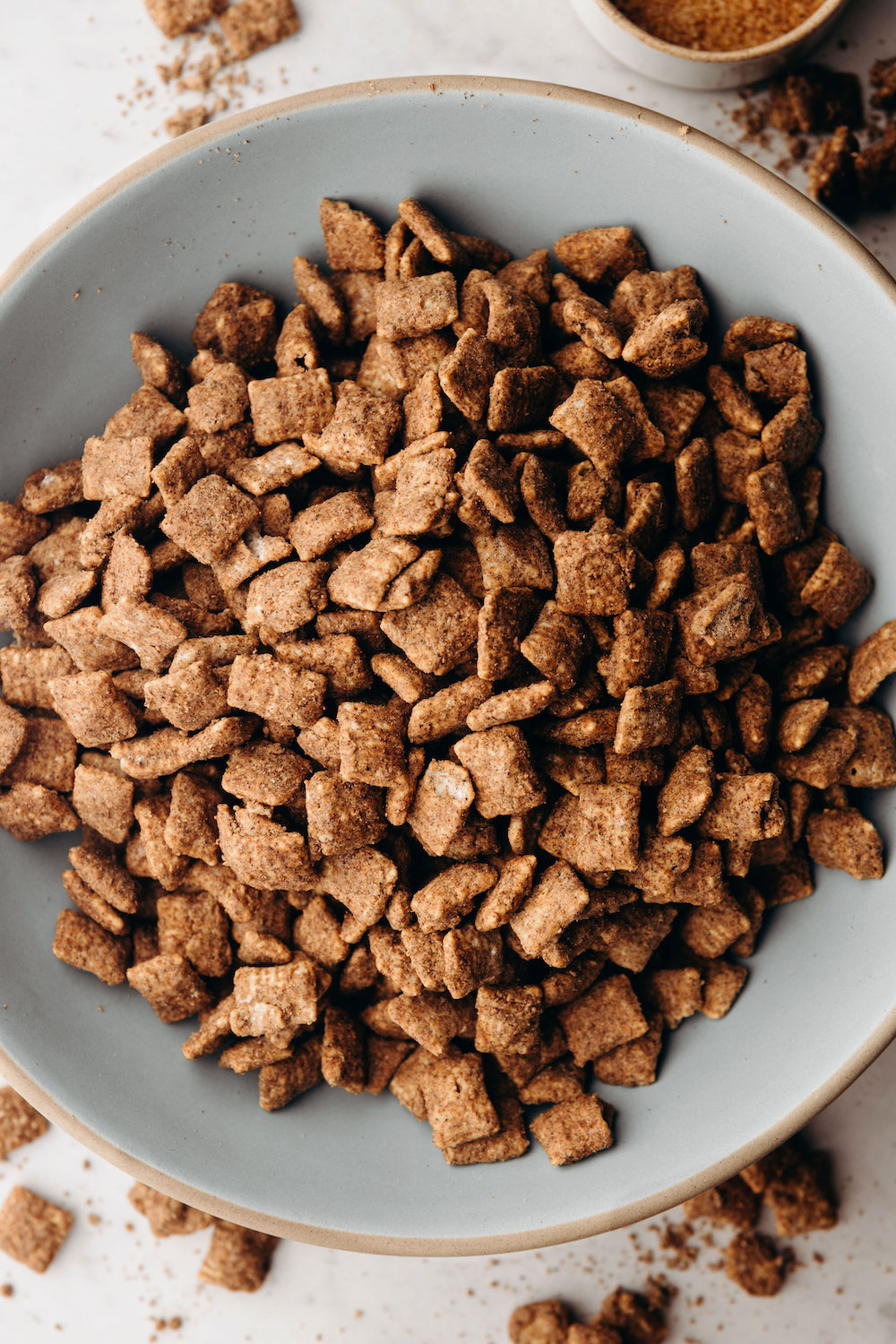 More Sweet Cereal Snacks You'll Love
Print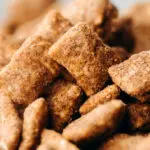 Chai Snickerdoodle Puppy Chow
Author:

Prep Time:

20 minutes

Chilling Time:

4 hours

Total Time:

4 hours 20 minutes

Yield:

10

servings

1

x

Category:

snack

Method:

no bake

Cuisine:

american
---
Description
A cozy spin on everyone's favorite addictive cereal snack! This Chai Snickerdoodle Puppy Chow is coated in white chocolate, SunButter, coarse sugar, and ALL the warm fall spices. Vegan, gluten-free, and nut-free!
---
Chai Spice Mix*
3 tbsp

cinnamon

2 tbsp

ginger

1 tbsp

cardamom

1 tsp

nutmeg

1 tsp

cloves

1 tsp

allspice
Puppy Chow
---
Instructions
In a small bowl, mix together the spices. Set aside.
In a medium size bowl, microwave the white chocolate chips with the SunButter, vanilla extract, and coconut oil for 1 minute on high to melt. Stir until smooth.
Pour cereal into a a large bowl, add the SunButter mixture, and mix until the cereal pieces are evenly coated.
Stir together the spice mixture and the sugar. Add to the cereal mixture, and mix to evenly coat.
Spread out on a large baking sheet lined with wax paper (more spread out = less big clumps).
Refrigerate 4 hours.
Break apart and enjoy. Keep leftovers in an airtight container in the fridge.
---
Notes
*I find this to be a perfect amount of spice, but I am someone who LOVES warm spices. If you don't want as strong of a chai flavor, only use 2/3 of this mixture.
**You could absolutely make this with semi-sweet or dark chocolate too, chocolate and chai are delicious together imo!
***It will make it easier to mix/coat the cereal but not essential. If you are towards the end of the jar of SunButter so it's a bit thicker, I do recommend adding the oil.
Keywords: gluten free, easy, snack, cereal, halloween, fall, muddy buddies, white chocolate, cinnamon, dairy free
CLICK BELOW TO PIN