Sweet jammy blueberries plus cinnamon oatmeal streusel combine in the yummiest Blueberry Crumble Bars. Vegan, gluten-free, date-sweetened!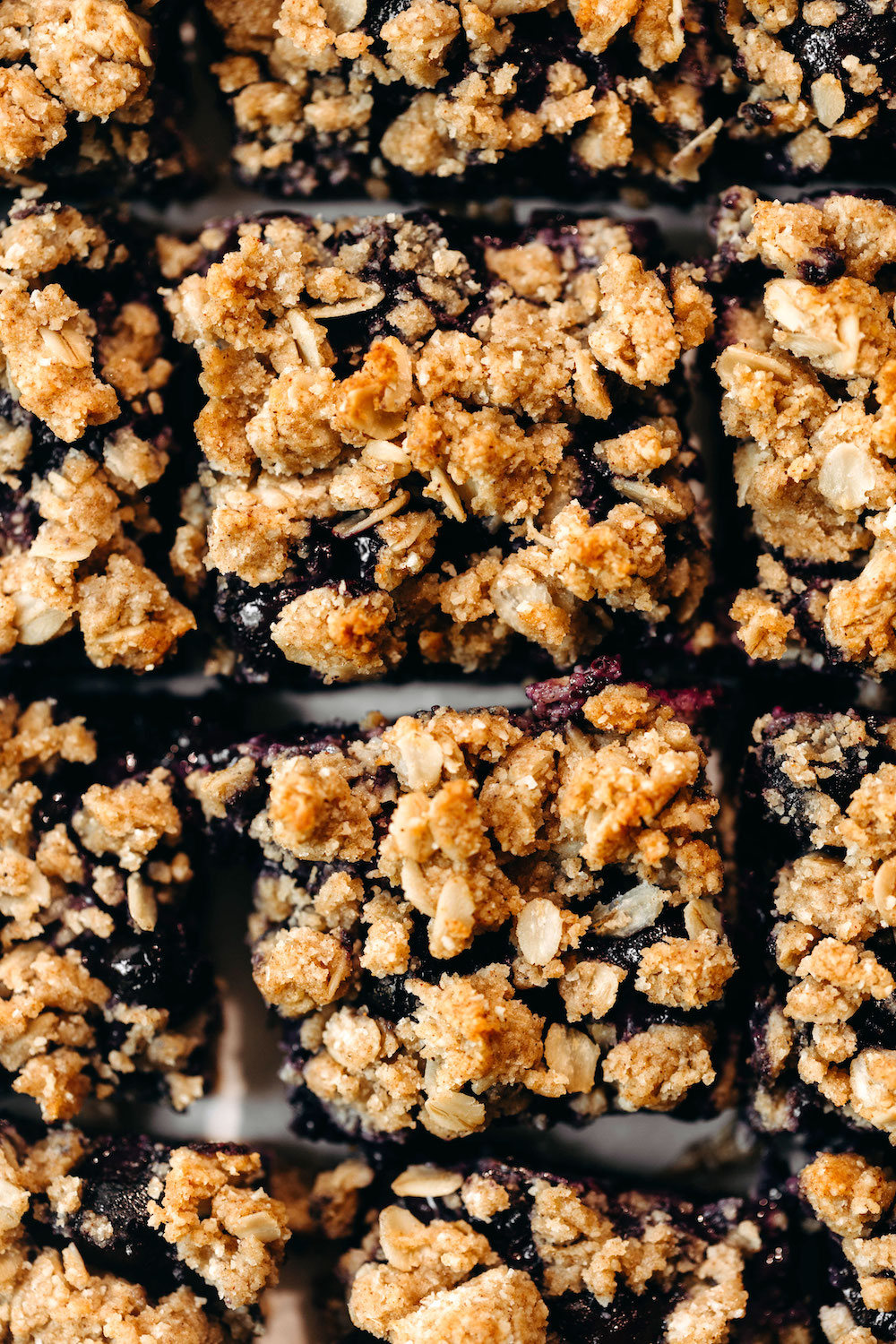 ---
Three wonderful things happen when you swap sugar for Medjool Dates in your berry crumble bars: 1) the usually just sticky/jammy filling layer becomes ever so slightly creamy in the best way and 2) the bars go from mostly dessert to very much breakfast approved 3) you never want to make berry crumble the old way again.
The Best Vegan Berry Crumble Bars
This recipe is vegan, gluten-free, and simple to prepare in 3 steps!
Step 1: Making The Medjool Date Paste
Making the Medjool Date paste. Blend once, sweeten twice. We are using one creamy blender full of caramel-y date goodness to sweeten both the crumble and the filling. But we are making a couple of upgrades to the typical date paste recipe:
swapping water for canned coconut milk
using only the very best Medjool Dates from Natural Delights
Natural Delights Pitted Medjool Dates are sweet and moist and always easy to blend, plus the already pitted pack saves so much time so we can get to the berry crumble bar devouring faster. Coconut milk instead of water makes for the CREAMIEST dreamy date paste you have ever seen in your life (don't worry, I worked a little extra into the recipe so you can steal a spoonful or two!)
Step 2: Making the Oatmeal Crust and Crumble
This salty-sweet, subtly-spiced, sticky streusel step is my favorite part. Instead of preparing a crust and a crumble, we are using the same mixture for both – one pressed on the bottom, one crumbled on top. We are using a combination of almond and cassava flours, so these bars are gluten-free and will bake to a perfect golden color. Rolled oats for texture, cinnamon and ginger for a little spice, baking powder for a little puff. And then coconut oil for moisture and date paste for moisture and sweetness. Mixing with a fork or your hands works best for getting that sticky crumble consistency.
Step 3: Making the Blueberry Filling
The sweetest part! Since we are sweetening this layer with our Medjool Date paste too, you won't have as much liquid as if we were using sugar or a liquid sweetener. You can just aggressively mash the berries in the saucepan while they cook. Or (what I recommend!) gently pulse the blueberries in a blender so you get a little juicy-ness but still have plenty of whole berries too. I like to heat them up with the rest of the filling ingredients, pulse, then transfer back to the saucepan and cook until thickened. And yes, other kinds of berries would be delicious here too!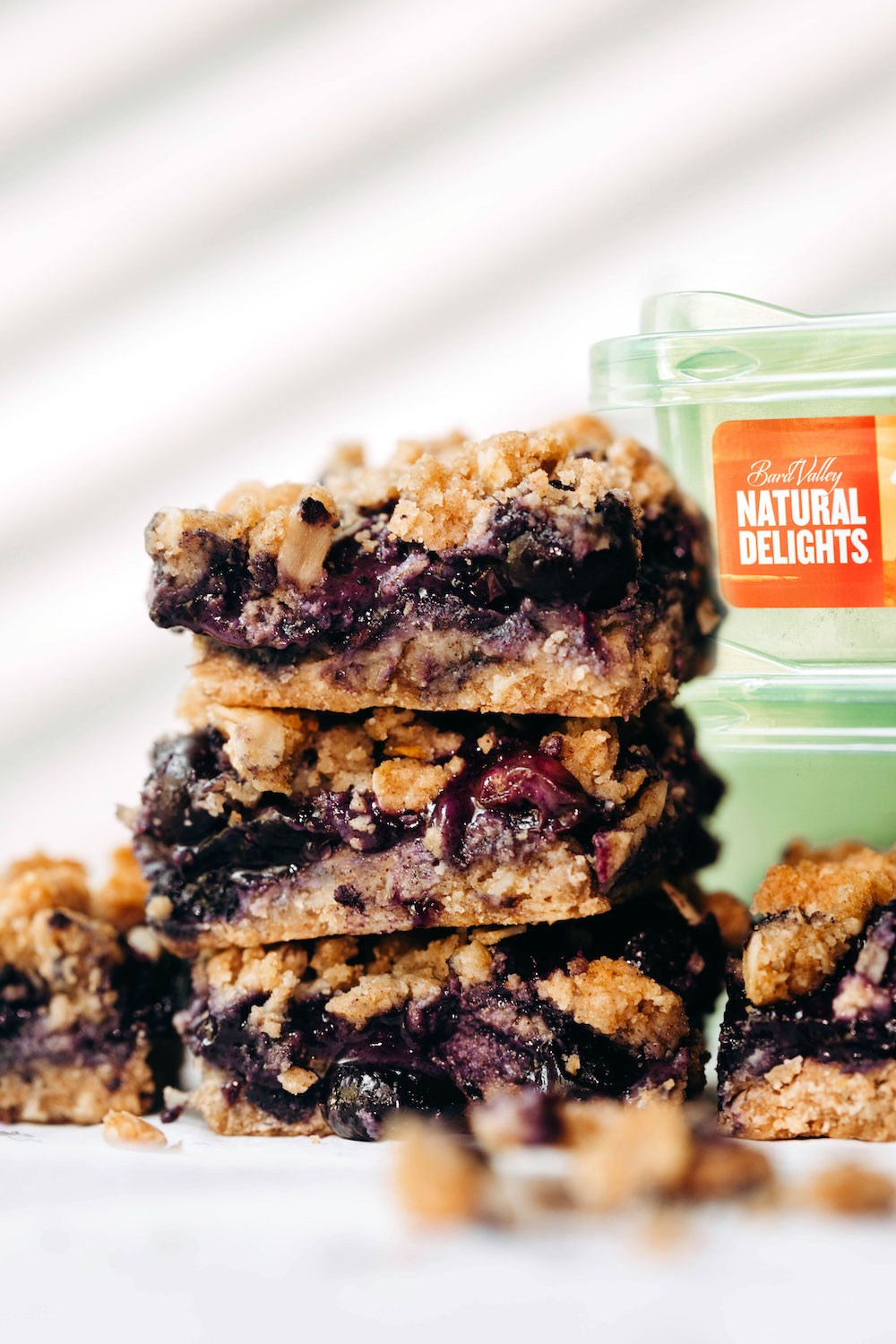 I almost ALMOST topped these berry bars with the classic summer garnish: a scoop of vanilla ice cream. But after a bite or two I decided they didn't even need it. Too good without. So that pint will just remain tucked in the freezer for another occasion, and these berry bars will continue to shine all on their own.
More Blueberry Recipes You'll Love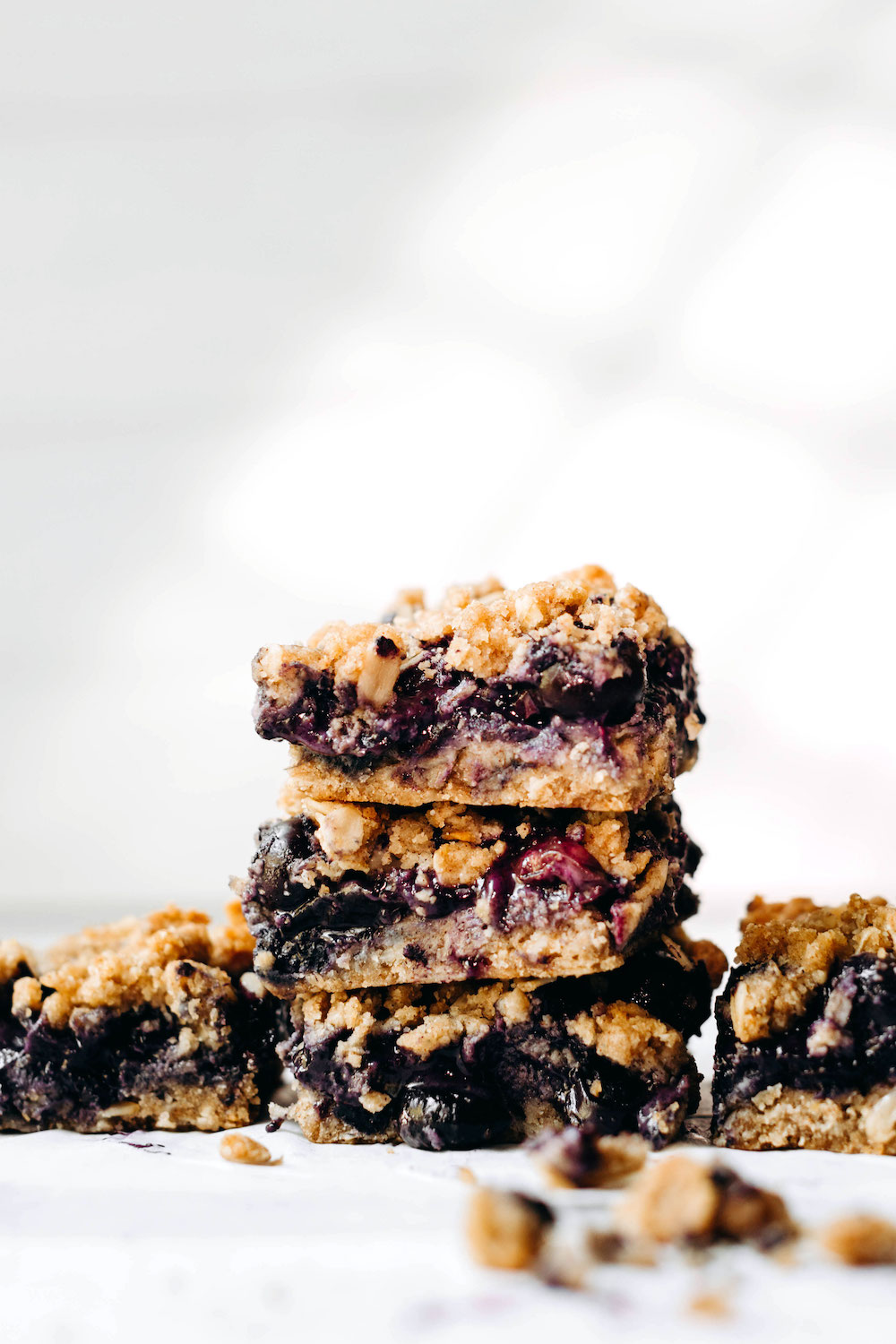 Print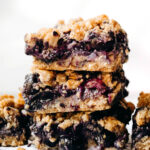 Healthy Blueberry Crumble Bars
Author:
Prep Time: 30 minutes
Cook Time: 25 minutes
Total Time: 55 minutes
Yield: 16 bars 1x
Category: bars
Method: baking
Cuisine: american
---
Description
Sweet jammy blueberries plus cinnamon oatmeal streusel combine in the yummiest Blueberry Crumble Bars. Vegan, gluten-free, date-sweetened!
---
Date Paste
Crust/Crumble
1 cup (110g) almond flour
1/2 cup (60g) cassava flour
3/4 cup (75g) rolled oats
1 tsp cinnamon
1/2 tsp ginger
1 tsp baking powder
1/4 tsp salt
1 tsp vanilla extract
1/2 cup (140g) date paste
1/2 cup (100g) coconut oil
Blueberry Filling
3 cups (420g) fresh blueberries
1/4 cup (70g) date paste
1 tbsp lemon juice (+ a little zest)
1 tbsp water
1 1/2 tbsp tapioca starch (or arrowroot/cornstarch)
---
Instructions
Blend the date paste ingredients until very smooth and creamy, stopping to scrape down the sides of the blender as needed.
Preheat the oven to 350°F.
Whisk together almond flour, cassava flour, oats, cinnamon, ginger, baking powder, and salt.
Add date paste, coconut oil, and vanilla. Mix until sticky and clumpy.
Line an 8×8″ baking pan with parchment paper. Press 2/3 of the crumb mixture into the bottom of the pan, and set aside.
Combine the blueberry filling ingredients in a medium saucepan over medium heat.
Once the berries are warmed and plump, transfer to a blender and pulse very briefly to slightly puree but leaving some whole berries.
Return to the saucepan, continue cooking and stirring until it starts to bubble. Remove from the heat and cool 5 minutes.
Pour the berry mixture on top of the crust, crumble the remaining crumble mixture evenly on top pressing in slightly.
Bake 25-30 minutes at 350°F.
Cool completely before slicing (or scoop for more of a crumble, less of a bar experience…still delicious!)
---
Keywords: gluten free, oatmeal, healthy, summer, easy, sugar free, dates, streusel, pie
CLICK BELOW TO PIN